One of the comments to previous installments of this series was that there isn't much left for the merchant suppliers of smart mobile SoCs, considering Apple and Samsung have majority share and design their own parts. The theory is this makes it hard for many suppliers to continue investing at the resource levels needed to bring a complex SoC to market.
Unless, the market we're talking about is China.
Gartner has put out a new study on mobile phone sales worth a good, hard look. Here's Table 1 from their press release: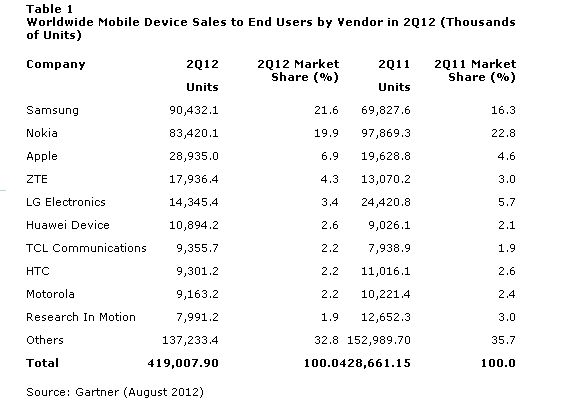 The names like ZTE and Huawei and TCL on that list, relatively obscure consumer electronics brands outside of China, but with strong in-counrty branding and telecom pedigrees, is of interest. Also, looking at just Chinese sales, Lenovo shows up in the top five.
Combine this new data with IDC data showing for the first time, smartphone sales in China surpassed feature phone sales, and the prospects for rapid growth are in place.
The Chinese government has noted the trends and is backing Chinese companies to design SoCs. This spells trouble for Marvell and Freescale who have sold heavily into Chinese phone and tablet markets to date, and possibly trouble for Intel who has secured some smartphone wins in Lenovo and ZTE. Most of these Chinese-based SoC suppliers are using ARM cores but there are a couple notable entries with MIPS cores.
First, some info on some of the ARM-based companies:
MediaTek has their MT6577, a dual core Cortex-A9 with an Imagination PowerVR Series 5 GPU and complete 3G baseband integration, fabbed in TSMC 40nm. According to Strategy Analytics, MediaTek is current #5 globally in smartphone processors, trailing only Qualcomm, Samsung, TI, and Broadcom, and having just displaced Marvell.
Huawei is driving to be vertically integrated, making their own chips under the HiSilicon brand and featured in the about to be released Huawei Ascend D Quad smartphone. The K3V2 is a quad-core Cortex-A9, in TSMC 40nm. Huawei has a rumored Cortex-A15 part coming soon.
ZiiLABS – with its roots in 3DLABS – has their ZMS-40 quad-core Cortex-A9, in TSMC 40nm, with an interesting twist. They have something they call their StemCell media processing array, a group of 96 hardware accelerator cores, supporting HEVC among many other things.
RockChip, more formally Fuzhou Rockchip Electronics Ltd., has the RK3066 dual core Cortex-A9, again on TSMC 40nm.
NuFront has the NS115 with a dual-core Cortex-A9, again on TSMC 40nm.
WonderMedia, part of VIA Technologies, has the 8950 PRISM with a single Cortex-A9 core.
Leadcore, part of the Datang Group, claims a Cortex-A9 offering – I couldn't locate a lot of detail.
Amlogic has the AML8726-MX with a single Cortex-A9 core.
Allwinner has their A13, with a Cortex-A8 core targeting the very low cost tablet market.
Vimicro has the VC882 with a Cortex-A8 core.
Then, a couple MIPS contenders, which is interesting because MIPS has been in the set-top box segment for quite a while and is now making a mobile device push.
Ingenic has their JZ4770 XBurst with a MIPS32 core and Vivante GC860 graphics, on a 65nm process currently. It's inside a phone from TCL.
Actions Semiconductor has the ATM7019 with the MIPS32 74Kf core inside.
Is your head spinning? That's a lot of companies in the mix, and about half were new-to-me in researching this for about an hour. One thing is clear: not all these companies can survive. It'll be interesting to see if a captive model, like Huawei, prevails, or if a supplier like MediaTek is able to continue displacing the better-known global firms to a large degree, or if several firms succeed within the borders of China in a burgeoning market.
Smart mobile SoCs: Apple
Smart mobile SoCs: NVIDIA
Smart mobile SoCs: Texas Instruments
Smart mobile SoCs: Samsung
Smart mobile SoCs: Qualcomm

Share this post via: