A recent blog about the Hearables market covered how expansive and far reaching the product opportunities promise to be. Of course, consumer purchase criteria will drive the product realizations, adoptions and consequently the market success of each of these envisioned products.­ Whether it is the earbud product or one of those futuristic life augmenting hearables products, there are a few core requirements that need to be satisfied to achieve massive market adoption. For the earbud application, refer to Figure 1 below.
Figure 1: Purchase criteria when choosing wireless headphones or earbuds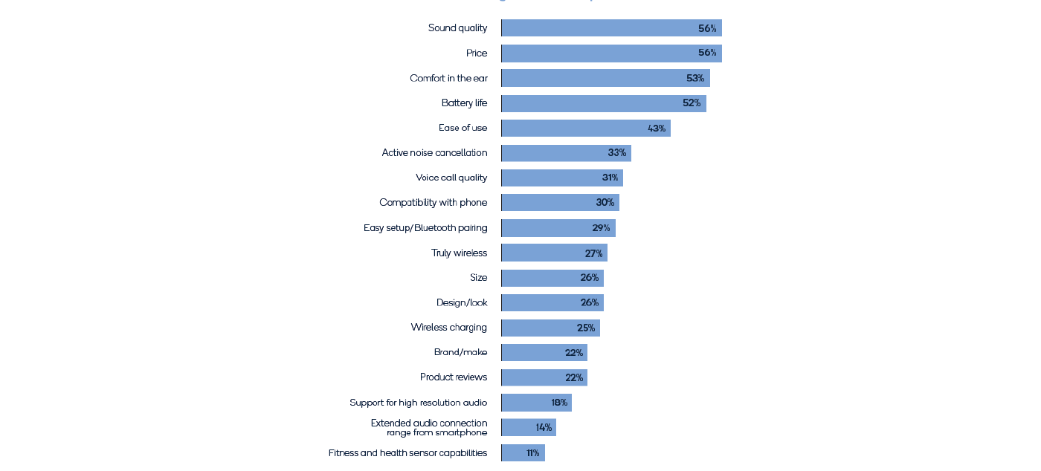 Source: The State of Play Report 2020, Qualcomm
Six among the top criteria are sound quality, price, comfort in the ear, battery life, ease of use and active noise cancellation. Comfort in the ear and ease of use are basic requirements without which the earbud will not gain widespread use. For purposes of this blog, we will focus on how to deliver on the other top four criteria and how semiconductor companies can play a key differentiating role through the solutions they offer to hearables product manufacturers.
It's in this context that I recently reviewed a whitepaper by Hai Yu and Clement Moulin of Dolphin Design. That whitepaper does a thorough job of not only describing the challenges in delivering on the purchase criteria but also offers compelling solutions to overcome the hurdles. In this blog, I'll highlight just some of what I gathered from my review of the whitepaper.
For starters, the whitepaper addresses lot more aspects than what a quick glance of the title may lead one to assume. It goes into details, not only about selecting optimal ADC architecture for the audio codecs application but also on how to choose the active noise cancellation (ANC) algorithms to execute, how to manage power consumption and how to design quickly and effectively to deliver a cost-effective chip.
Excellent sound quality:
With Bluetooth 5.2 specification and the introduction of Low Complexity Communication Codec (LC3) LE Audio protocol, developers now have greater flexibility in balancing key attributes such as sound quality, multiple independent audio transmission channels, battery life, etc., when designing products. Along with this flexibility comes tradeoff choices that must be made when specifying the components that go into the audio signal chain. The whitepaper goes into lots of details about how to choose the right ADC architecture for implementing the audio codec, how to implement the Voice Activity Detector (VAD) and how to choose the best microphone for an application to get the fullest performance, among other things.
Active Noise Cancellation (ANC):
TWS earbuds use case introduces complexity to ambient-noise suppression. This combined with voice-activation feature necessitates processing a large amount of audio data which in turn will increase power consumption.
Dolphin Design's WhisperTrigger is a patented Voice Activity Detector (VAD) which detects the presence of voice in a sound and triggers a system wake-up interrupt signal. This solution offers on-the-fly customization to adapt to any kind of environment and optimizes power consumption. This solution also does not need any DSP resource support, thereby reducing power demand on the battery. An Always-on-Voice (AOV) device implemented using WhisperTrigger IP would consume only a fraction of the power that a traditional software algorithm and/or conventional DSP implementation would require.
Additionally, Dolphin Design's Ultra-low I/O latency codec dramatically eases the ANC software development effort and enhances power efficiency of the signal/noise processing workload.
Managing Power Efficiency:
Dolphin's PowerStudio platform provides an easy way to implement power management design and integrate into an SoC. Their Power Controller IP is a CPU-less, event-based architecture that consumes ultra-low power and offers high-flexibility to scale with any SoC complexity.
Power efficiency management (refer to Figure 2 below) is accomplished through Always-ON Cluster (low leakage in sleep modes) and Active Cluster (for best energy efficiency in active modes) partitions.
Figure 2: Overview Block Diagram of Dolphin Design's Power Controller

Source: Dolphin Design
All of the things that were highlighted above should translate to long play time on the earbuds (extended battery life between charges) and reduced silicon area of the chip.
Whether you are product developer at a Hearables product company or a chip developer for the Hearables market, you would gain a lot of very detailed knowledge by reading the entire whitepaper. You can download the whitepaper "Paving the way for the next generation audio codec for True Wireless Stereo (TWS) applications" from Dolphin Design's website.
Share this post via: