You may have seen this Press Release (see below) announcing that Dolphin Integration (Dolphin) has been acquired by Soitec (60%) and MBDA (40%) – you can see more information about these two companies at the bottom of this blog. Founded in 1985, Dolphin had some recurrent cash flow issues during the last couple of years, that they solved by using bank loans. Even if the company was doing profitable business, the bottom line was negative.
Like it frequently happen in the US when a company goes to Chapter 11, Dolphin Integration management initiated in June an insolvency recovery process. Dolphin is one of my customers, I know their IP port-folio and also their new CEO since February, Christian Dupont, that's why I want to share my personal opinion about the company.
This acquisition is an opportunity, a great opportunity for Dolphin to deploy their Energy efficient IP based new strategy and satisfy their European customers in the Defense/Aeronautic industry by delivering top class ASIC design & supply services. Let's concentrate on their impressive IP port-folio: Dolphin has developed 600 IP (mostly mixed-signal) for about 500 customers WW! These IP can be ranked in three categories: Foundation, Features and Power Management IP.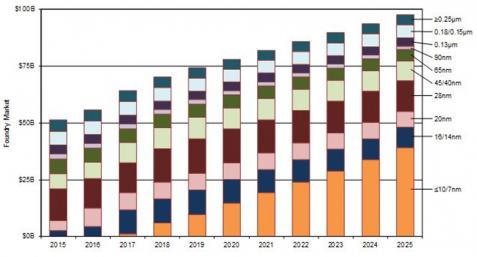 Thefoundation IP, libraries and memory compilers, optimized for the best trade-off between power consumption and area support major Silicon foundries, all the way down to 22nm. Such foundation IP are even available foundry sponsored in major node, and Dolphin development team has a very good reputation. In fact, there is no other option than targeting the highest quality level when you deliver this type of IP to a foundry, as their customers will use it to design their SoC. No doubt that this business will expand if you consider the multiple process variants built around a single process node, and the diverse technology options, bulk or FD-SOI.
By Features IP, Dolphin consider an IP family, mostly built to support audio chip, where mixed-signal design expertize is key. Thanks to 30+ years experience of the company in this field, requiring an unique understanding of application-related audio challenges, they can do better and faster than new-comers, leading to better differentiation and faster TTM for their customers.
The Power Management IP family deserve an explanation: we talk about all these functions that you have to use to efficiently design energy optimized IC. To my opinion, this family has a huge growth potential as it target most application and is critical for the battery powered SoC. Decreasing the power consumption is becoming the next goal, like offering always higher frequency in the 2000's. In fact we should say making better power efficiency, it's more accurate.
In the Moore's law golden age, a chipmaker had just to re-design to the next technology node to automatically benefit from higher performance and lower power consumption-at the same time! This is still true, but only for those who can afford to move from 10nm to 7nm, and this is not the majority. The others will have to be smarter, integrating Dolphin's Power Management IP is a way to design more power-efficient SoC. This is true for IoT edge SoC and for battery-powered chip in general, and this is also true for automotive advanced application, where power consumption is a real concern.
By the way, Dolphin has already more than 10 customers in this automotive segment, and there is no doubt that they will quickly develop this customer base. The company is European based, which will certainly help.
Let's mention this quote, from E. Lozano, Sr. Director of Business Development and IP Solutions with Open Silicon: "Dolphin Integration is a leading silicon IP provider for low power IoT SoCs. In view of the growing demand for low power consumption in IoT devices, we intend to leverage the unique solutions offered by Dolphin Integration to meet the challenges of our IoT customers."
From an organization standpoint, Dolphin will operates independently from Soitec and MBDA, while obviously benefiting from each company ecosystem. But that doesn't means that Dolphin will limit to FD-SOI based SoCs! It would be a mistake to do so… They are and will stay multifoundry and they will follow their customers in term of process or CPU choice.
In term of positioning, Dolphin will have the opportunity to focus the marcom resource where it's needed the most to sell on a WW market, the IP products. The group in charge of ASIC design services will satisfy existing customers in Europe, but has not the charter to develop a WW business.
In fact, the Dolphin's strategy is simply to be the best "Energy Efficient IP Company". If you look at their port-folio, that makes sense at 100%: Power Management IP are allowing to architect SoC for better power efficiency. This will be well complemented by their feature IP like Audio IP (frequently integrated into battery-powered IC), and power-optimized libraries or memories. Power efficiency is becoming as important as pure performance, as you can see with this extract from a PR from Huawei (August 2018) about the Kirin 980:
"Debuting with the Kirin 980, Mali-G76 offers 46 percent greater graphics processing power at 178 percent improved power efficiency over the previous generation."

Despite this summer insolvency recovery process, Dolphin acquisition by Soitec and MBDA is a real opportunity for the company to rebound and focus on what they do best, efficient IP development. Their positioning on power efficiency IP targeting battery-powered SoC as well as automotive and probably infrastructure application (which suffer from power dissipation limitation) is well aligned with the next decade strong market trend to develop power efficient SoC (in my opinion).
To see the PR, use thisNasdaq link
ByEric Esteve fromIPnest
About Soitec
Soitec (Euronext, Tech 40 Paris) is a world leader in designing and manufacturing innovative semiconductor materials. The company uses its unique technologies and semiconductor expertise to serve the electronics markets. With more than 3,000 patents worldwide, Soitec's strategy is based on disruptive innovation to answer its customers' needs for high performance, energy efficiency and cost competitiveness. Soitec has manufacturing facilities, R&D centers and offices in Europe, the U.S. and Asia.
Soitec and Smart Cut are registered trademarks of Soitec.
For more information, please visitwww.soitec.com and follow us on Twitter: @Soitec_EN
About MBDA
MBDA is the only European group capable of designing and producing missiles and missile systems that correspond to the full range of current and future operational needs of the three armed forces (land, sea and air).
With a significant presence in five European countries and within the USA, in 2017 MBDA achieved revenue of 3.1 billion euros with an order book of 16.8 billion euros. With more than 90 armed forces customers in the world, MBDA is a world leader in missiles and missile systems. In total, the group offers a range of 45 missile systems and countermeasures products already in operational service and more than 15 others currently in development.
MBDA is jointly owned by Airbus (37.5%), BAE Systems (37.5%), and Leonardo (25%).
For more information, please visitwww.mbda-systems.com
Share this post via: