One of the recent live events I attended was the 2022 GSA Silicon Leadership Summit on May 12th at the Santa Clara Convention Center (my favorite location). This was the first GSA live event in two years so it was a must attend gathering. This event targets semiconductor ecosystem executives (200+ people attended) so there were many familiar faces, it was really was great to network again.
There was a day full of presentations and great food. The presentations covered: The Metaverse, Silicon Photonics, Market Outlook, AI Compute, Data as IP, Security, Connectivity, Sustainability, Supply Chain, AI Ethics, Entrepreneurship/Investment Landscape and the Global Economy. Speaker presentations are now available so I will be writing about them over the next few weeks.
One of the new faces I saw this year is Stephen Rothrock, Founder and President/CEO of the Advanced Technology Resource Group (ATREG). ATREG is a world wide company that helps with the disposition and acquisition of semiconductor manufacturing assets. Stephen has done this for more than 20 years so he knows where all of the semiconductor manufacturing bodies are buried so to speak.
The ATREG customer list includes Onsemi, TI, Cypress, Micron, Qimonda, NXP, Renesas, Atmel, IBM, LSI Logic, Fujitsu, Philips and Sony amongst others. The list really brought back some semiconductor memories, absolutely.
Stephen's presentation was titled "The New Normal for Global Semiconductor Manufacturing" where he talked about the 2022 global semi market outlook, the state of global fab assets, and semiconductor capacity and feature size.
Here are the three slides that I found most interesting: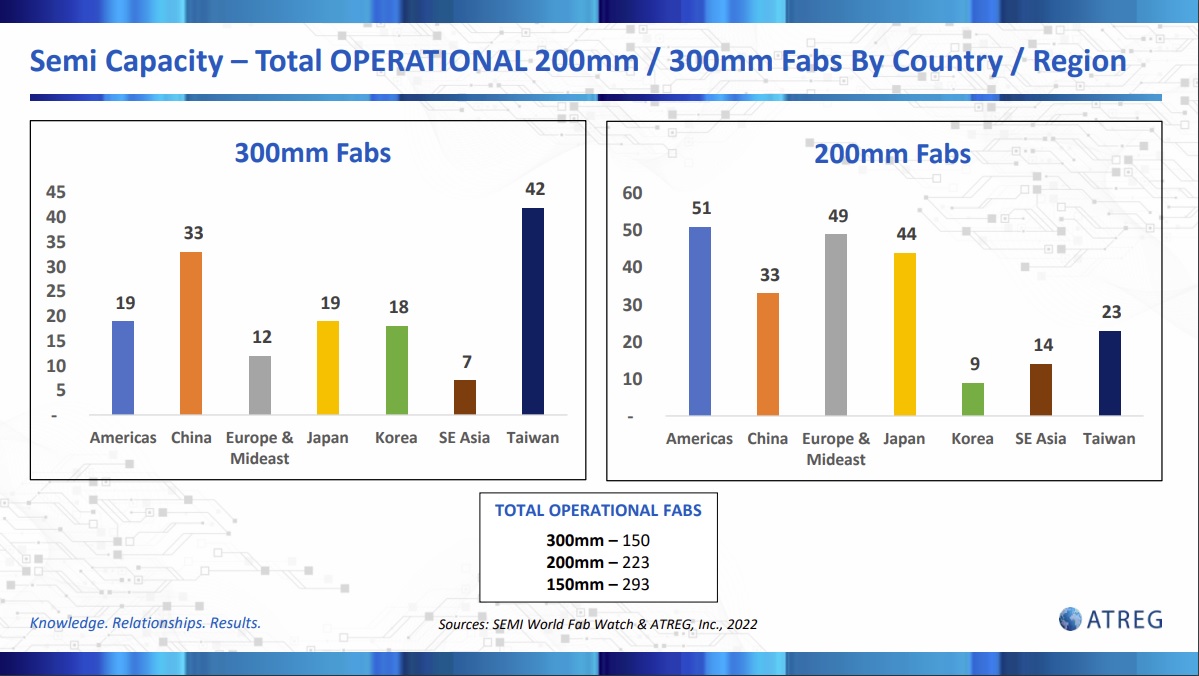 The United States has 70 operational fabs which would make us #1 in the world. Does Joe Biden know this? That number will increase in the coming years thanks to the arms race between TSMC, Intel, Samsung, and Globalfoundries.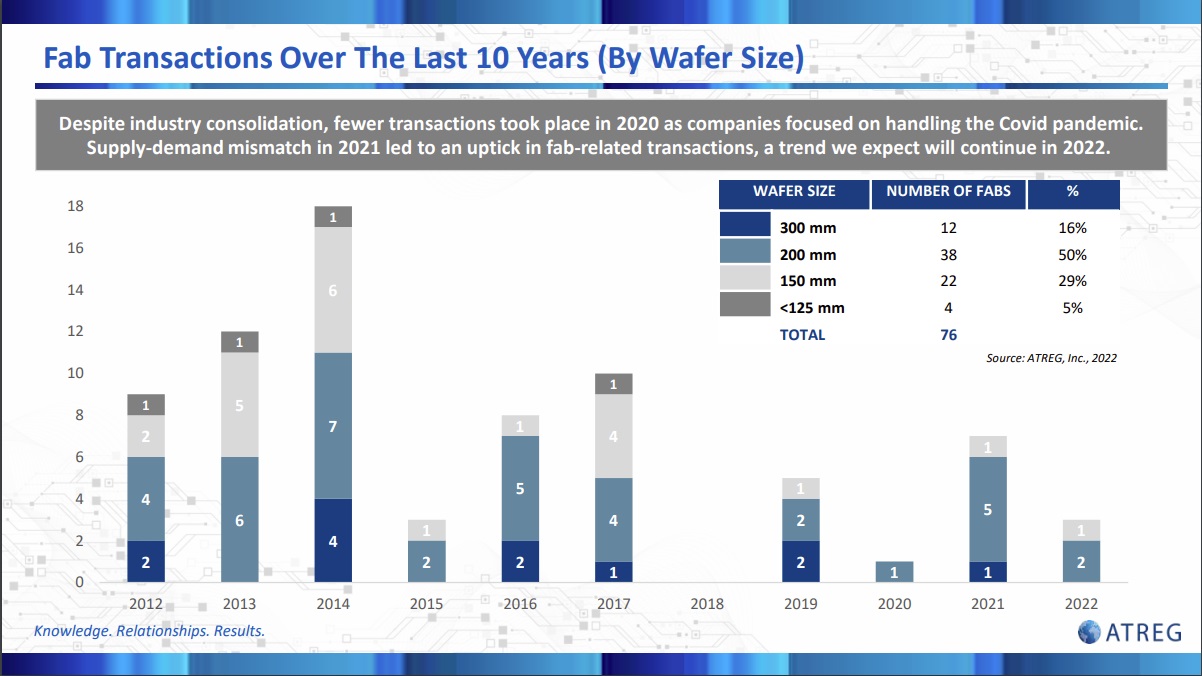 There will definitely be more transactions this year than 2021 and I agree with Stephen that it will continue to trend up given the number of fabs in operation and the importance of improving the semiconductor supply chain.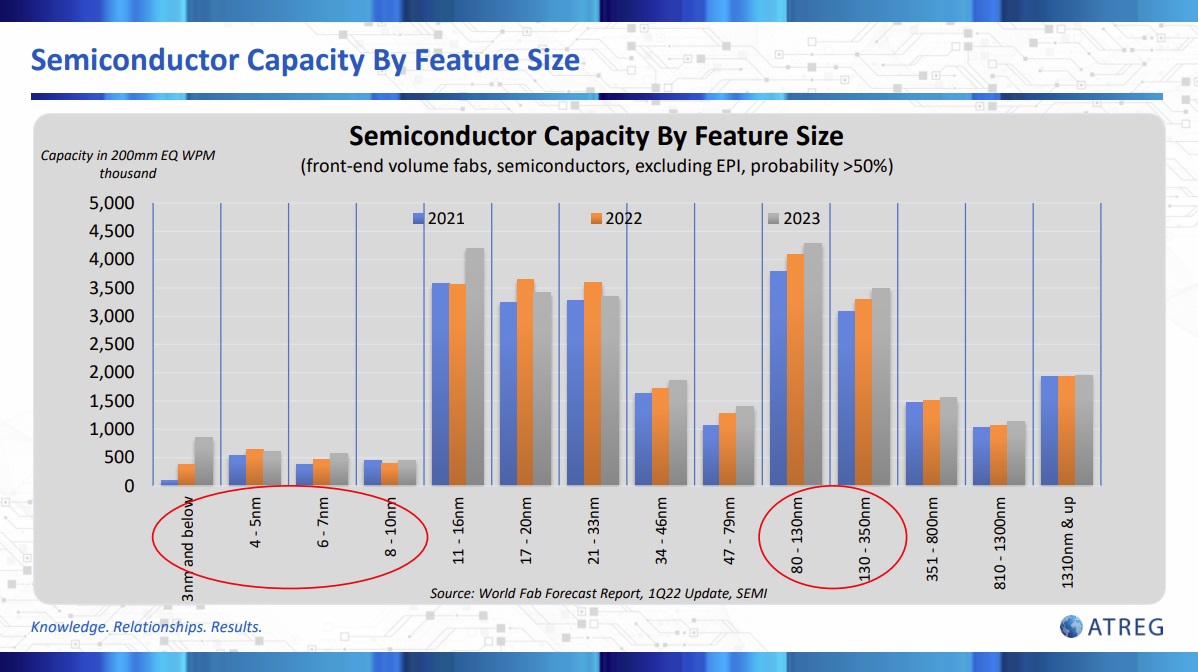 This is the most interesting of the three slides in my opinion. I wish it included pre pandemic numbers but the shear capacity and growth of the so called mature nodes is impressive. There are more than five hundred 200mm and 150mm fabs in operation, many have not been at full utilization or have been upgraded until recently. It is very hard for me to believe that mature node wafer constraints will continue given the increased capacity and utilization we are now experiencing. Unfortunately, chip packaging, test, PCB, and system assembly is still Covid constrained so "chip" shortages will continue until demand softens but it will not be due to lack of wafers.
The only compelling issue I see, and Stephen mentioned this as well, is the US talent shortage for all of these fabs. The semiconductor industry is very top heavy with a baby boomer based workforce that are now retiring. We had better get the H1B Visa program back in high gear and push the University EE based programs or chip shortages will be a normal part of life, just my opinion of course.
About ATREG, Inc.
Headquartered in Seattle, USA, ATREG, Inc. specializes in helping global companies divest and acquire infrastructure-rich advanced technology manufacturing assets, including front-end and back-end semiconductor fabs, cleanroom facilities, and technology campuses in North America, Europe, and Asia. For more information, please visit our web site, read our blog, or follow us on LinkedIn and Twitter.
Also Read:
Protecting High-Speed Interfaces in Data Centers with Security IP
Double Diffraction in EUV Masks: Seeing Through The Illusion of Symmetry
Share this post via: