Webinar: System Simulation of Versal ACAP Designs (US)
November 16 @ 11:00 AM

-

12:00 PM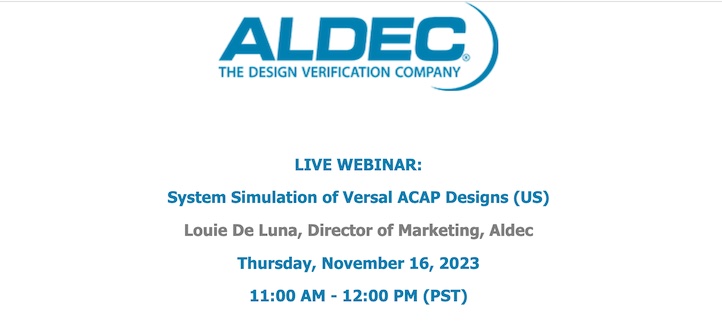 LIVE WEBINAR:
System Simulation of Versal ACAP Designs (US)
Louie De Luna, Director of Marketing, Aldec
Thursday, November 16, 2023
11:00 AM – 12:00 PM (PST)
Abstract:
AVersal ACAP, developed by Xilinx/AMD, is a groundbreaking adaptable platform composed of AI Engine (AIE), Processing System (PS), Programmable Logic (PL), Network on Chip (NoC) and a wide range of hardened domain-specific IPs. Versal ACAP enables the efficient execution of complex algorithms and accelerates workloads, including machine learning, embedded computing, and high-performance computing.
In this webinar, we will introduce Versal ACAP (and discuss the different types of simulation flows and models available) and QEMU (the open-source system emulator) and its co-simulation interface with Riviera-PRO. We will also show how to run a system simulation of a Versal example design.
Riviera-PRO supports system simulation of Versal ACAP designs based on the Vitis™ hardware emulation flow for testing the interactions between PL, PS and AIE. The entire hardware emulation setup and system integration is done within the Vitis environment. It runs the AIE simulator for the graph application, Riviera-PRO's simulator for the PL kernels, and  QEMU for the PS host application. SystemC models are also available for the AIE and NoC, which can also be simulated in Riviera-PRO.
Agenda:
Versal ACAP Overview
Versal Simulation Flows and Simulation Models
Introduction to QEMU
Hardware Emulation (System Simulation)
Demo
Conclusions
Q&A
Webinar Duration
45 min presentation/live demo
15 min Q&A
Presenter Bio:
Louie De Luna is Aldec's Director of Marketing with 20+ years' experience in FPGA/SoC design verification and EDA tools. He currently directs the overall product and technical marketing of Aldec's design verification solutions. He earned his B.S. in Computer Engineering from University of Nevada, Las Vegas, in 2001.  His practical engineering experience includes simulation-based verification, linting, CDC analysis, and hardware-assisted verification.
Share this post via: