Introduction from Hezi Saar: Eric's latest viewpoints and reports are host onIPnestas well as on Semiwikiand you can find information related to various Interface IP: USB 3.0, PCIe, SATA, DDRn, MIPI, HDMI and more.
Q: Eric, give us a quick introduction about your background as it relates to interface IP
A: I have spent 20 years working as a designer, then FAE, then Marketing for TI and Atmel, before working as a WW Marketing Director for PLDA, where I have launched their PCIe Controller IP.
Working day to day in marketing for Interface IP, I was missing key information about the market size and trends, the vendors, and so on. Thus, when I have started IPnest, three years ago, I have decided to focus on the Interface IP market, and to provide comprehensive market surveys dedicated to IP for USB 3.0, PCIe, SATA, MIPI, DDRn etc… Now, I can say that IPnest is the leader analyst in this niche segment. IPnest has customers all over the world, the list includes: Sony, Inventure, KSIA, Cadence, Cast, Evatronix, PLDA, Rambus,Mentor Graphics, Arasan, Denali, Snowbush, MoSys, Mixel, Intel, Fujitsu, LSI Logic, nSYS, HDL DH… and Synopsys!
Q: What are your high level thoughts about the semiconductor industry in general and mobile segment in particular?
A: The semiconductor industry is still growing, with an 8% CAGR for the last 20 years or so, but it is a matter of fact that there is a consolidation, and the ASIC or ASSP design starts are slightly declining. Along with this decline, we can see two major trends: the production level per ASIC are growing, and even more important, the chip complexity (gate count, number of functions) is increasing. If you look at the mobile segment, taking for example the latest platform from TI, OMAP5 (see: blog) you realize that this device is extremely complex.
The chip architecture is based on no less than FIVE CPU cores, related Cache Memory, and several dozens of IP functions, including a "shopping list" for the major Interface IP (several USB 2.0, USB 3.0 OTG, SATA 2.0, HDMI 1.4, LPDDR2 by 2, almost all MIPI specification: CSI-2, CSI-3, DSI, LLI, HSI…). Such a design start is probably equivalent, in terms of design power, to a dozen of ASIC design starts in the 2000. So, yes there are less design starts, but these are in general more complex designs, especially for applications like Wireless Smartphone or Set-Top-Box. In fact these are so complex than the only way to comply with the time to market requirements is to massively rely on design reuse, or IP.

Q: What do you believe are the challenges facing the mobile electronics industry?
A: Eventhough I have worked for TI for 7 years, I am not necessarily an expert of the mobile electronic industry. I think some of the challenges the mobile electronic industry is facing are almost the same than for the other electronic segments: at first, close the "design gap", which means design chips larger and larger, but with almost the same headcount and design resources and do it when always using the most advanced technology nodes (today 28nm and tomorrow 22nm). These needs push to use the latest techniques, like Design For Manufacturability keeping in mind the huge production volumes expected with a single device, ASIC or ASSP. The requirements which are unique to the Wireless industry are: how to design always more complex application (like 3D Video) keeping the system battery life long enough and try to meet the incredible Time To Market for handset applications, which is probably the more stringent of the industry: on the end user market, the typical delay between two product launch from the same OEM is about 6 months, which is not the delay from concept to engineering samples which is much larger, but obviously push for a design cycle as small as possible, for product being incredibly more complex!

Q: You raise a very interesting point, what is a typical design cycle for SoC targeting mobile electronics (From concept to tape-out and to engineering samples)?
A:see above

Q: Since you (and Synopsys) are focused on interface IP what do you see as the overarching trends for interface IP?
A: Being strongly focused on Interface IP, since 2005, I have seen the massive adoption of the differential, high speed, serial communication techniques inside and outside the box (whichever is "the box"). This has been true for PCI Express replacing PCI, initially at 2.5 Gbps now up to 8 Gbps, for SATA replacing ATA at a speed moving from 1.5 up to 6 Gbps. Outside the box, HDMI is now a standard used in PC, Consumer and Wireless handset and USB is –finally- closing the gap and moving to 5 Gbps with USB 3.0. Amazingly the Memory Controller Interface and memory devices is still based on parallel communication, even if this physical interface is at the edge in terms of feasibility with 3200 Mhz for the DDR4. I don't know when this interface will move to the same type (high speed, differential, serial) like the other, but I don't see how it could stay the exception in the future! This will probably be the next "hot topic" for the Interface IP market.

I am also watching closely the different MIPI Interface specifications, as using a standardized communication technique in the mobile industry certainly makes sense, not only from a technical point of view but also as this is a more rational approach.

Q: Which are the most promising interfaces for used semiconductor SoCs targeting mobile market segments and why?
A: Lets take TI's OMAP5 an an example, we have pretty much the list of most promising interfaces for Application Processor SoC targeting mobile market segments:
· LPDDRn to access external DRAM
· USB 2.0 and USB 3.0 if you want to exchange data with your system, as well as for battery charging.
· HDMI when you want to display video with the system being the source.
· SATA has been freshly introduced, that you will use when you want to store data coming through the system on an external SSD
· MIPI functions, the list of supported specifications is long:
· LLI/uniport to interface with a companion device or/and with a Modem in order to share the same external memory and save a couple of $ on each handset
· CSI: to interface with one or more cameras, one or more CSI-3 and CSI-2 function
· DSI or Display serial interface
· SlimBus, a low performance, serial, low power interface with Audio chips
· UFS: MIPI Interface for mass storage devices

There are also other Interfaces (UART, SDIO and a lot more) which are used in Mobile, as well as in other segments, that I would qualify of being part of a second type, which can be reused internally or acquired through an IP vendor, for a fraction of the price of the above listed interfaces. If we look at the market for the "first type" Interfaces IP listed above, we can see that it is expected to grow up to almost $500M by 2015.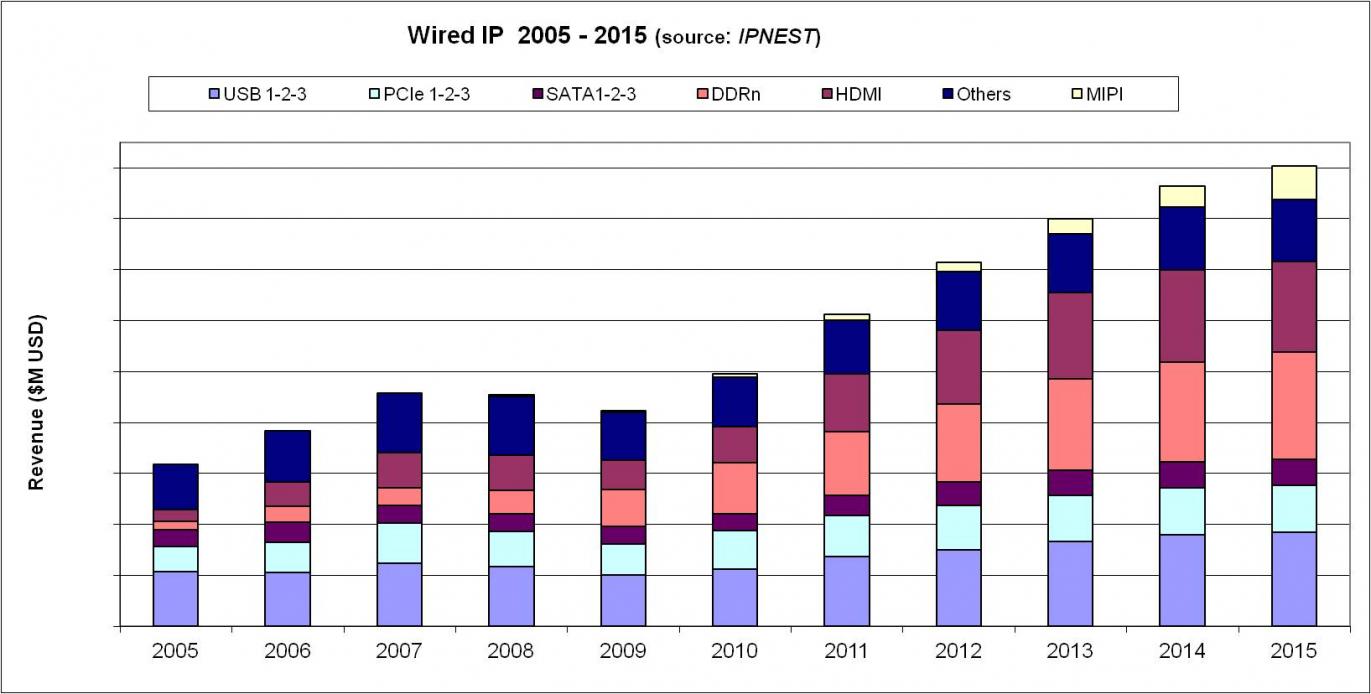 This is the end of Part 1… not the end of the interview. More to come later!
Eric ESTEVE from IPNEST

Share this post via: