Bluetooth®, WiFi, LTE, and 5G technologies enable wireless connectivity for a range of applications. While each offer unique features and advantages, designers need now to decide which protocol to integrate in a single chip after having test the market by using wireless off-chip solutions. Bluetooth 5 builds upon the success of Bluetooth-enabled audio, wearable, and other small portable devices. Bluetooth 5 expands into smart home applications, extends beacon capabilities, and opens the door to many other new and feature-rich applications requiring wireless technology. The adoption of Bluetooth by the mobile phone has positioned it as a leading candidate to solve interoperability hurdles and the use of Bluetooth has grown beyond traditional applications and into audio, wearable, and other small portable device and toy applications. The benefits of wireless integration into a single SoC for Internet of Things (IoT) applications in term of power, performance and cost is becoming evident, especially as designs move to more aggressive process nodes like 55nm and 40nm.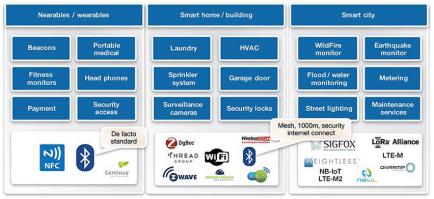 There are many wireless standards including ZigBee, wirelessHART, Z-Wave, WiSun and more, that have served niche applications such as smart homes, remote controls, building automation, and metering, but the industry is having difficulty finding interoperability between the Internet of Things devices among the fragmented set of standards and options available. In 2016, the SIG addressed the key requirements of simple and secure wireless connectivity by introducing Bluetooth 5, which "quadruples range, doubles speed, increases data broadcasting capacity by 800%" according to the June 2016 Bluetooth SIG press release. The evolution of Bluetooth to Bluetooth 5 continues to build momentum and "will deliver robust, reliable Internet of Things (IoT) connections" that make wearables and now smart homes a reality.
In fact, increasing operation range offered by Bluetooth 5 will enable connections to IoT devices that extend far beyond the walls of a typical home, while doubling the speed allow supporting faster data transfers and software updates for devices. Bluetooth 5 specification is also defining key features like adaptive frequency hopping, to pave the way for operation in densified wireless installations anticipated with the development of future IoT solutions, including 5G.
Some of the key features of Bluetooth 5 are listed below:
Data rates from 1Mbps to 2Mbps with more flexible methods to optimize power consumption
Longer range via larger link budget and supporting up to 20 decibel-milliwatts (dBM) where local law allows
Higher permission-based advertising transmission to deliver Bluetooth messages to Bluetooth-enabled devices, especially beacons
Adaptive Frequency Hopping (AFH) based on channel selection algorithm to improve connectivity performance in environments where other wireless technologies are in use
Limited high duty cycle non-connectable advertising using intervals of less than 100ms for limited periods of time re-connectivity to improve user experience and battery life with faster connections
Slot availability masks to detect and prevent other wireless band interferences
In the past, Bluetooth has been implemented in systems via combo chipsets that include WiFi and other wireless technologies. As a result, a vast number of implementations are dual mode (low energy and classic) combo wireless chipsets, but solutions only supporting the Bluetooth low energy specification are rapidly moving to be fully integrated into a single monolithic system, or a SoC. This approach allow to take full advantage of power consumption, process node alignment and higher performance. We can see that MCUs are now adopting Bluetooth low energy IP into their chipsets. There is a clear trend that Bluetooth low energy will continue to penetrate MCU solutions as a de facto standard feature, and process nodes such as ultra-low power 55-nm and 40-nm processes play a critical role in the ability to integrate Bluetooth.
Last but not least, the DesignWare Bluetooth Low Energy IP is qualified by the Bluetooth SIG and has gone through a rigorous validation process from a complete design verification flow to full characterization of power, voltage, temperature (PVT) corners and interoperability with the ecosystem.
You can get more information in this article from Ron Lowman:
https://www.synopsys.com/designware-ip/technical-bulletin/bluetooth5-dwtb-q217.html
Eric Esteve from IPNEST
Share this post via: