Some of the various MIPI specifications are now massively used in mobile (smartphone or tablet), especially the Multimedia related specs like Camera Serial Interface (CSI-2), Display Serial Interface (DSI) and D-PHY. You have to implement with CSI-2 or DSI controller a serial based physical interface, D-PHY specified up to 2.5 Gbps. In fact we have named the Top 3 MIPI specification by adoption rate: DSI, CSI-2 and D-PHY. Mentioning MIPI technology adoption in Mobile is not breaking news as the M in MIPI acronym stands for… Mobile.
It becomes very interesting to see that several MIPI specifications are being used beyond mobile applications: IoT, wearable and automotive are specific segments where MIPI technology is pervasive. Synopsys will explain from a technical perspective how certain specifications like DSI, CSI-2 or I3C can be implemented into new applications in this webinar "New Use Cases and Advantages of MIPI Specifications in Mobile, Automotive and IoT SoCs", to be held on September 7th.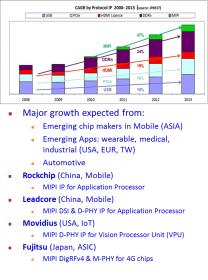 The above picture has been extracted from a paper that I have presented at the DAC 2015. You can notice at first that MIPI IP segment is very dynamic, growing at 47% CAGR for 2010-2013 (and still 17% YoY growth for 2015/2014). The next point is MIPI adoption by chip makers in Asia (Rockship, Leadcore) targeting pure mobile applications. I would guess that Hezi Saar, presenting the Synopsys webinar, will focus on these emerging market segments like wearable or IoT, as well as automotive. Automotive is not an emerging segment, but some applications like surrounding view are emerging and adopted by the car makers. It seems that this application has been developed to leverage two MIPI specifications: Camera (CSI-2) and Display (DSI), as it involves at least one front camera, two (right and left) side cameras and two rear cameras, and maybe more. Image sensors interfaces with camera modules thanks to MIPI CSI-2, and the camera modules send information to MPU where an Image Signal Processor (my guess) send the data to Display thanks to MIPI DSI specification.
The Synopsys webinar will address technical question around MIPI, and Hezi will review how to implement MIPI (DSI, CSI-2 and I3C) in various applications: Mobile, IoT, automotive (surrounding view) and multimedia.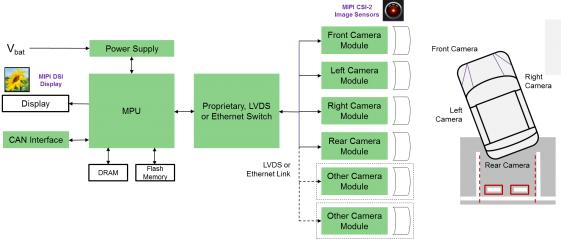 You will learn how DesignWare MIPI DSI Device Controller implements low-power and high-speed modes for video and command displays, how MIPI CSI-2 Device Controller enables merging of multiple video streams at high bit rates. If you don't know about MIPI I3C sensor interface, you will discover that I3C is not only much more power efficient than I2C, but also that the new specification provides data rates enhanced by at least one order of magnitude, and more, as I3C offers communication modes like HDR-DDR, HDR-TSP and HDR-TSL able to support sensor interface architectures that mobile industry will need in the future.
These IP, compliant with the latest MIPI specifications, complements Synopsys' MIPI CSI-2 and MIPI DSI host controllers, MIPI I3C and MIPI D-PHY IP for complete camera and display interface IP solutions. Synopsys has strongly invested into automotive and these IP solutions have been further enhanced to meet the requirements of automotive-grade applications.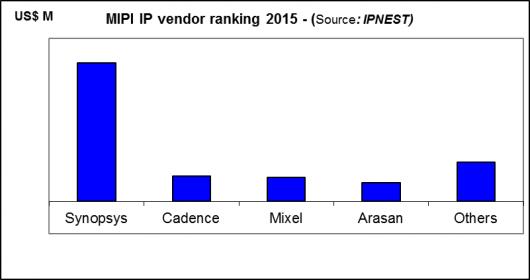 Following the MIPI IP market since 2010, I have seen this segment starting from scratch, but I was confident from the beginning that the MIPI IP sales should grow, because the technology adoption should grow. If you look at the semiconductor market today, you realize that the concept of "performance efficiency" has replaced the raw performance feature in many applications. In fact, MIPI technology is at the heart of this quest for performance efficiency, and will bring a couple of very interesting features, like EMI reduction and interoperability through interface standardization. Apparently I was not the only one to think that way, as Synopsys has started to offer MIPI IP (and Verification IP) at the beginning of the 2010's.
Synopsys is leader is most of the interface IP segments, if not all (USB, PCIe, DDRn, HDMI, SATA…) and MIPI as well, as you can see on the above graphic (extracted for the "Interface IP Survey" V8, to be released soon by IPnest).
Attending to a webinar about MIPI adoption in segments beyond mobile, given by MIPI IP lead vendor is certainly a good idea! Register here
From Eric Esteve from IPNEST
More about DesignWare MIPI IP Portfolio here
Share this post via: