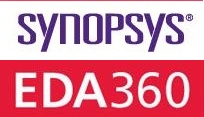 Before I get too snarky here, I would like to thank Synopsys for the invitation to SNUG 2012 and including me with the professional editors at a 75 minute roundtable discussion with Synopsys CEO Aart de Geus. While Aart is not my favorite big EDA CEO (Wally Rhines of Mentor bought me lunch and returns my email), he is definitely the most authoritative CEO within the semiconductor ecosystem. Aart has the breadth and depth of the Synopsys product line to back him and his experience in birthing Synopsys and rising to top of the industry is well documented.
Okay, now for the snarky part, pictures were not allowed and I do not have a copy of the slides so this is from my notes, but the slide in question came at the end of Aart's keynote with the title:
BOTTOM LINE:
Synopsys Key Focus
Sound familiar?

EDA360
System Realization

SoC Realization

Silicon Realization
Maybe it's just me, having spent way too much time with the EDA360 Manifesto:
I still say had Cadence not immediately productized EDA360 it would have been a wonderful roadmap for the semiconductor ecosystem and would have definitely helped us get a bigger piece of the $300B+ semiconductor pie. Oh well, spilled milk, I'm sure John Bruggeman will appreciate Aart's mention.
Anyway, there was lots of good stuff in the presentation and roundtable afterward which I will document in my trip report HERE.
Post your SNUG 2012 Trip Report and qualify to win a brand new iPad2. Before we give away the new iPads I need to come up with a waiver for burns and other possible injuries 😉 JUST KIDDING APPLE LEGAL DEPARTMENT!!!
Here is the progress of the new iPads thus far, they are earning some serious frequent flyer miles:
Mar 26, 2012 8:00 AM
On FedEx vehicle for delivery
PLEASANTON, CA
Mar 26, 2012 7:24 AM
At local FedEx facility
PLEASANTON, CA
Mar 25, 2012 11:10 AM
Departed FedEx location
OAKLAND, CA
OAKLAND, CA
Mar 23, 2012 4:57 PM
Departed FedEx location
ANCHORAGE, AK
Mar 23, 2012 11:53 AM
In transit
ANCHORAGE, AK
Package available for clearance
Mar 23, 2012 9:13 AM
Arrived at FedEx location
ANCHORAGE, AK
Mar 23, 2012 7:01 PM
In transit
INCHEON KR
Mar 23, 2012 12:49 PM
In transit
CHEK LAP KOK HK
Mar 22, 2012 11:40 PM
At local FedEx facility
LANTAU ISLAND HK
Mar 21, 2012 11:21 PM
In transit
LANTAU ISLAND HK
Mar 21, 2012 9:07 PM
Left FedEx origin facility
SHENZHEN CN
Mar 21, 2012 4:20 AM
Shipment information sent to FedEx
Mar 21, 2012 10:54 AM
Picked up
SHENZHEN CN
Share this post via: