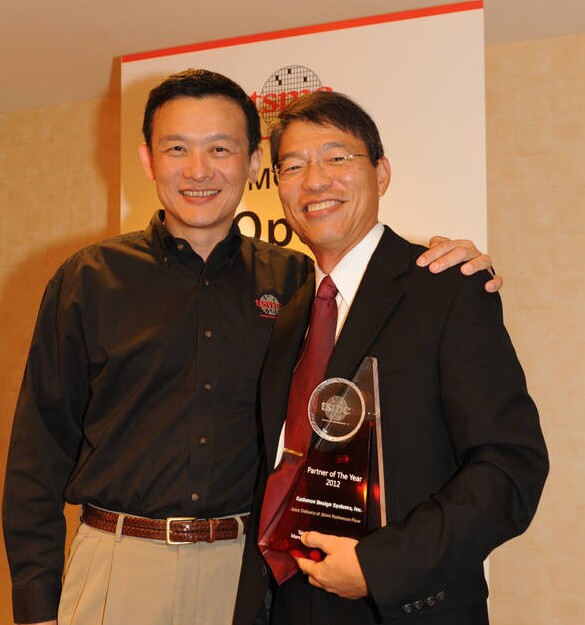 In a shocking move TSMC now favors Cadence over Synopsys! Okay, not so shocking, especially after the Synopsys acquisitions of Magma, Ciranova, SpringSoft, and the resulting product consolidations. Not shocking to me at all since my day job is Strategic Foundry Relationships for emerging EDA, IP, and fabless companies.
Rick Cassidy, President of TSMC North America, keynoted the Cadence 2013 sales kick-off and had some very flattering things to say about Cadence. The most notable thing, for me anyway, is that TSMC will use more Cadence tools internally. Who cares? TSMC's top customers care since EDA tools are an important form of communication, especially on the emerging process nodes. Even more important now since the days of multi-vendor reference flows may be a thing of the past.
Two big data points:
[LIST=1]
SpringSoft Laker Layout will be replaced with Cadence Virtuoso!
HSPICE will be replaced by Cadence Spectre and BDA AFS!

According to my friends at SpringSoft, the Laker layout tool had a 70% market share in Taiwan including the foundries. Circuit design was still done with Cadence Virtuoso so the link between the two tools is critical. From what I understand, Synopsys will integrate the Laker layout tool intoCustom Designer so the interface between Laker and Virtuoso is in question. Why would Cadence or Synopsys want to spend precious resources supporting that interface? This should bring the Virtuoso market share number up a few points. The other winner in this product transition is Tanner EDA who now owns the affordable layout tool market segment.

HSPICE has been the gold simulation standard ever since I can remember. I met the Meta Software guys in 1984 when I worked for Data General. We supplied them a machine to get HSPICE ported over for a common customer. A $1M computer was delivered to their garage for the port and the paperwork was signed on their kitchen table. Avant! acquired Meta, Synopsys acquired Avant!, and the HSPICE dynasty continues to this day.

Magma FineSim was the biggest challenge to HSPICE and one of the reasons Synopsys paid a premium for Magma (my opinion). There were literally thousands of FineSim licenses doing the heavy simulation lifting while HSPICE was used for sign-off. The FineSim customer list included top semiconductor companies, top IP companies, and foundries alike. After the Magma acquisition, quite a few FineSim customers turned to Berkeley Design Automation in order to get the speed of FineSim and maintain two SPICE vendors. SPICE models bridge the information gap between semiconductor design and manufacturing so customers want to know what a foundry uses internally making this is a VERY big opportunity for BDA.

Before you get too excited about the TSMC ♥ Cadence thing take a look at who is keynoting CDNLive next month: Young Sohn, President & Chief Strategy Officer, Samsung Electronics. Even more interesting, Cadence recently announced the election of Young K. Sohn, president and chief strategy officer of Samsung Electronics to its board of directors. Given that Samsung is TSMC's biggest threat to their foundry dynasty I find this all intriguing. Certainly better than the reality TV shows that my daughters make me watch!
Share this post via: