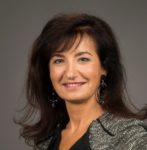 Isabelle Geday is the Founder and CEO of Magillem Design Services, headquartered in Paris, France. Isabelle has over 40 years of experience creating innovative platform solutions, in various industries such as oil, telecommunications, IT and EDA. She has a proven track record in managing startup companies internationally, leading them to growth, sustainability and profitability. Isabelle has led strategic programs across product management, platform software, mobile device engineering in an international arena, improving product competitiveness, reliability and product profitability while building a loyal set of customers. Magillem customers now include 18 of the 20 largest semiconductor companies.
Isabelle is a graduate from Ecole Nationale Superieur d'Ingénieurs en Informatique d'Entreprise. She completed her post-graduation in Microprocessors Architecture from CNAM and has received the Certificate from IFA in Board Administration. She also attended the School of Art of Le Louvre.
As a company, Magillem has done reasonably well, figuring prominently as an EDA vendor in most of the top 20 semiconductor companies. What makes Magillem so successful?
Let me start by giving a brief history about Magillem. It was founded by five engineers and myself in 2006 with a dream to build an enterprise SoC design platform aimed at tying together the basic design elements namely Specification, Design, and Documentation. We wanted to use IP-XACT (IEEE 1685), since it was an open standard and based on XML as it allowed specifying, programming and documenting with one software platform. Our goal was to shorten the development cycle for SoC/IP designs by enabling design teams to reuse IPs and have a single source of input which could automatically generate the desired outputs in various formats such as RTL (Verilog, VHDL, System Verilog), System C, UVM, RAL models, documentation etc. By providing design teams an easy way by which they could automate their custom design flows, manage design complexity, interoperability and re-use, our tools ensured software, hardware and verification engineers were in-sync and collaborated efficiently. These days, given the current pandemic, design collaboration and automation are becoming even more critical for tapeout success.
At heart, we remain an engineering firm with a passion for solving problems. Over the years, our solutions have tried to address the problems faced by design teams from a flow perspective identifying areas in the SoC design flow where the outputs can be automatically generated in a number of desired formats from a single input source. This enables all members of the hardware, software and verification teams to be more productive.
Some of the reasons behind why 18 of the top 20 world leaders in semiconductor and microelectronics are using our solutions include:
Customer focus: We obsess over customer problems trying to solve their pain points and striving to provide them with the best possible support. We never stop asking our customers and partners about their needs, so as not to lose sight of their evolutions and paradigm shifts.
IP-XACT: By using this as an underlying data-model, we offer reassurance to our customers that their design data is not held hostage to a proprietary format. We also provide them with a number of means by which they can easily customize our tools for their design flows.
Our integrated design platform offers a non-disruptive framework, providing fluidity, flexibility and seamless execution of the entire flow, providing better control to designers.
We have always taken a long-term perspective when engaging with potential customers, and have been transparent and honest in our relations. This has helped ensure customer loyalty. In fact, ST Microelectronics, our first customer in 2006, still continues to be a customer. We are also a public company, which inspires confidence among our customers.
Where does Magillem fit into the SoC design flow?
Our software platform is architected to meet the unique requirements and flows of SoC design teams while providing them seamless design solutions from architectural concept to physical implementation. Our products are used by a number of teams in the SoC design flow. These include the design specification/architects, RTL designers, SoC integrators, verification and validation teams, the physical implementation team and tech pubs team. From a physical implementation standpoint, our tools are used to modify the logical hierarchy of the design and map the logical hierarchy to the physical hierarchy.
Magillem is known as "The IP-XACT company". With the growing emphasis on IP reuse, what is Magillem's perspective on design reuse and IP Management?
The IP-XACT consortium was formed with the intent of improving the exchange of IPs between companies and increase reusability. However, the notion of IPs and reusability has evolved over the last decade. In the SoC world, the term IP is no longer restricted to merely silicon IPs but has been extended to include specifications, scripts, flows and documents as well. For example, a memory map specification developed is an IP by itself for a design platform. It should be reusable across several versions or generations of the design and generate the desired RTL and documentation automatically. IP-XACT, being extremely versatile and equipped with Tight Generator Interfaces (TGI) serves as an ideal data-model for IP reuse and provides companies with an ability to manage and customize IPs easily while generating outputs catered to their needs.
Going forward, we believe that reusability will be the new mantra, not just for the silicon IPs but also for the associated collateral such as scripts, flows, ideas etc. Companies will strive to strike a balance between new and legacy IPs and will look for new ways of managing all their IPs. IP management will take a whole new meaning as design teams within a company will look at ways to seamlessly add their IPs to the IP library as well as extrapolate key metrics from their design database to determine whether the IP meets their current design requirements.
IP-XACT has grown in popularity in the recent years with a number of companies using it for a diverse set of solutions such as IP reuse, hardware-software interface, SoC integration, verification, traceability etc. How do you envision IP-XACT's role in SoC designs in the years to come?
IP-XACT has been around for the past 16 years and is gaining quite a bit of momentum in recent years with the next major changes to the standard coming up next year. In the last decade or so, the semiconductor industry as a whole is witnessing a change and embracing open standards and software. Advanced Interface Bus (AIB), IP-XACT (IEEE1685), Git are some examples. One of the primary reasons behind the departure from proprietary technologies is the cost associated with constantly having to modify the data-model to accommodate changes to the flow, scripts or generators. The flexibility of IP-XACT along with TGI to accommodate the necessary customizations required by design companies makes it a compelling reason for companies to adopt it. With a growing number of member companies in the IP-XACT consortium coupled with the increased adoption, it is but natural for the IP-XACT standard to continue to evolve. I expect it to be the cornerstone of successful design flows and help shorten the design cycles by enabling designers to be more productive.
Magillem provides a number of solutions to enable design teams to successfully develop their SoCs faster. However, none of its competition provides anywhere close to the entire range of solutions which Magillem provides. Any comments?
I don't want to comment about our competition as such. At Magillem, we have never believed in selling piecemeal solutions as it has limited value. There is more power in offering a software platform which provides designers with a complete solution and brings more value to the user. But developing a software platform for the entire SoC flow is never easy. When we started Magillem, we had the vision to integrate specifications, designs, documentation and automation for the entire SoC design cycle. Our mission was to streamline design flows for the benefit of all teams involved and shorten the design development cycle. Committing to a vision such as this, enabled us to plan better, employ people with the right skills and work in partnership with the right companies to develop our software solutions.
There are several factors which have helped us reach where we are. First and foremost, the credit for this goes to our team. Throughout our history, I have believed in investing in the people who work for us and motivating them. For me, our employees come first. In the current pandemic we are in, I want them to be safe first and be comfortable working from home. Our rather low attrition rate also speaks volumes of our work environment. With motivated employees, it becomes easier to develop better solutions.
Our customers are another factor which has helped us be where we are. We have worked hard with them to ensure their problems are solved. This has been the breeding ground for new ideas as well as the driver to ensure our tools are mature and can successfully fit into their custom design flows. Needless to say, we also support our customers very well and remain committed to helping them be successful.
Last but not the least, we have never believed in using proprietary data models as there is always a big downside whenever enhancements have to be made. We believe in transparency and hence our commitment to using IP-XACT, an IEEE standard as the data-model of choice.
Aside from the big four EDA companies, Magillem is the only other EDA company listed on a stock exchange. You are currently also the only woman CEO of an EDA company. What do you foresee for Magillem's business over the next 3 to 5 years considering the current business climate?
"Faced with crisis, the man of character falls back on himself. He imposes his own stamp of action, takes responsibility for it, makes it his own." Charles de Gaulle
I strongly believe in this quote. In 2009 during the financial crisis, when everyone was cautioning us against going public, we still went ahead with it since we believed it was the time to get funded and invest. And we have not regretted our decision. In fact this move has enabled us to earn credibility with our customers. In the current economy, business will no doubt be tough. We will have to work hard to find new opportunities. Our enthusiasm will help us open new doors, and we have chosen, once again, to impulse a strong dynamic, keep hiring new resources and move forward with energy.
I strongly believe in our company and the people who work there. We are also financially well placed unlike our competition. New opportunities in bio-medical, defense, AI, Automotive are beckoning. In the next couple of years, we will focus on upcoming industries and invest in them while retaining what we already have. A few years from now, I assure you that you will see a Magillem which has weathered the storm and grown.
Also Read:
CEO Interview: Ted Tewksbury of Eta Compute
CEO Interview: Ljubisa Bajic of Tenstorrent
CEO Interview: Anupam Bakshi of Agnisys
Share this post via: