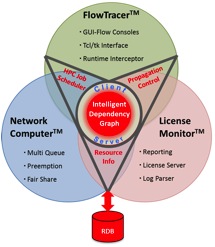 Andrea Casotto, the CEO of RTDA, started the company in Alameda in 1995, initially by himself, to market the FlowTracer software technology.
The early version of the technology was created as part of his PhD thesis at UC Berkeley, when Andrea sought automated ways to help engineering students who were having problems using EDA tools in the wrong order. In 1993 he co-authored a paper with Alberto Sangiovanni-Vincentelli titled "Automated Design Management Using Traces". And with the support of highly regarded EDA luminaries he decided to start Runtime Design Automation.
The first commercial sale of FlowTracer was in March 1996. From then through about 1999 RTDA continued to add customers. One challenge those days was that customers could not appreciate the full potential of the technology, since they viewed design flow methodology to be their proprietary competitive advantage. But a few early adopter visionaries hacked their way through early versions of FlowTracer and managed to greatly shorten their design cycles.
Through these early adopters, FlowTracer evolved into a product that enables customers to capture their proprietary methodology knowhow, turbocharge it, and proliferate it to end users. By using FlowTracer, customers can capture their expertise in design methodology by implementing efficient flows on top of their existing EDA tools and IT infrastructure, and then standardize them throughout the company.
One challenge is that customers regard using the product as a competitive advantage and refuse to go on the record as references. In fact, everyone at RTDA was surprised when I managed to persuade AMD to say how they used the product (although a certain amount of "editing" was suddenly required, most of my blog post about AMD survived the corporate blender).
One thing that early RTDA customers kept asking for was to use part of the technology to offer a lower cost, multi-user workload scheduling system. So, in 2002 RTDA created NetworkComputer, a high-performance small footprint job-scheduler that is aware of EDA licenses, This proved to be a more scalable architecture for complex chip design applications compared to general purpose workload management systems.
As customers adopted NetworkComputer they discovered that it kept internally lots of cool info related to tool license usage, which could be extended to all licenses, not just those managed by the scheduler. This led to the creation in 2005 of LicenseMonitor, which provides a lot of insight into software license utilization, helping customers make smarter decisions in capacity provisioning.
Today, based on its unified architecture and full suite of tools, RTDA is helping customers to manage design resources and accelerate design flow process execution. RTDA has morphed from the technology vision of the mid 90's, into a potential force in the infrastructure enabled application markets for the engineering enterprise. RTDA's customers using the full RTDA suite can make better trade-offs in managing resource capacity utilization and design flow process turnaround time, a first step toward optimizing complex design environments.
RTDA has been completely self-funded. Apart from Andrea, the other employees were users of RTDA products. Like that guy that bought the Remington Micro-screen razor, they liked the product so much they joined the company. The company has been independent for the 17 years of its existence and, unsurprisingly, there have been various offers to acquire it (which have never obviously come to closure).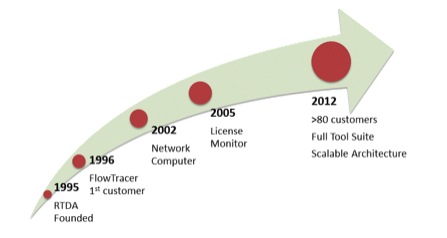 From Berkeley's R&D labs, to the tiny office in Alameda, to its first customer in 1996 and all the way to its current headquarters in Santa Clara and several international distributors, RTDA has come a long way. I'm not allowed to name RTDA customers, but the company has grown from about 10 customers in the late 90's to over 80 of them today. These include some Fortune 50 and several well-known semiconductor and electronic systems companies.
RTDA today has three products sharing the same scalable architecture:
LicenseMonitor, a system to report real-time and historical license usage
NetworkComputer, an extremely high-performance job-scheduler
FlowTracer, a platform for developing and accelerating complex design flows

Share this post via: