Mobile World Congress (MWC) is the world's largest gathering of mobile industry innovators where one can hear the latest on advanced technologies and solutions. This year, it took place from February 27 through March 2. Soitec was there to share their insights on how mobile communications are going to evolve with 5G and beyond and showcase their innovative solutions. The company highlighted the critical role semiconductors will play to deliver on the full promise of 5G and beyond and corresponding silicon opportunities. It also demonstrated its commitment to sustainability by showcasing a number of initiatives it has implemented to reduce its environmental footprint.
5G Transforming the World
As the technology world continues to advance, 5G is quickly transforming the way we think, work, and interact. 5G is creating a new era of connectivity and enabling us to experience faster, more reliable networks and data speeds. It has significantly increased the demand for reliable, high-performance RF Front End (RFFE) solutions.
RF at the Heart of 5G Mobile
RFFE circuitry is what processes the radio frequency signals in a mobile device. It is responsible for transmission and reception of signals, amplification of signals, and noise reduction. In other words, it is the heart of mobile communications and is essential for providing seamless connectivity. With every new generation of mobile connectivity, the demand for higher speeds, wider bandwidths and better performance has been increasing. 5G will be the key engine powering our connected society through the end of this decade, in a wide range of markets. Public and private 5G networks, fixed wireless access (FWA), smart transportation, non-terrestrial networks, massive IoT, and XR (VR/AR/MR) are markets to name a few. The RFFE circuitry has increased in complexity over the generations and will continue to increase in complexity as 3GPP's new releases for 5G are announced. The main challenges for 5G RFFE for mobiles are high-speed communications, long battery life and circuity footprint optimization.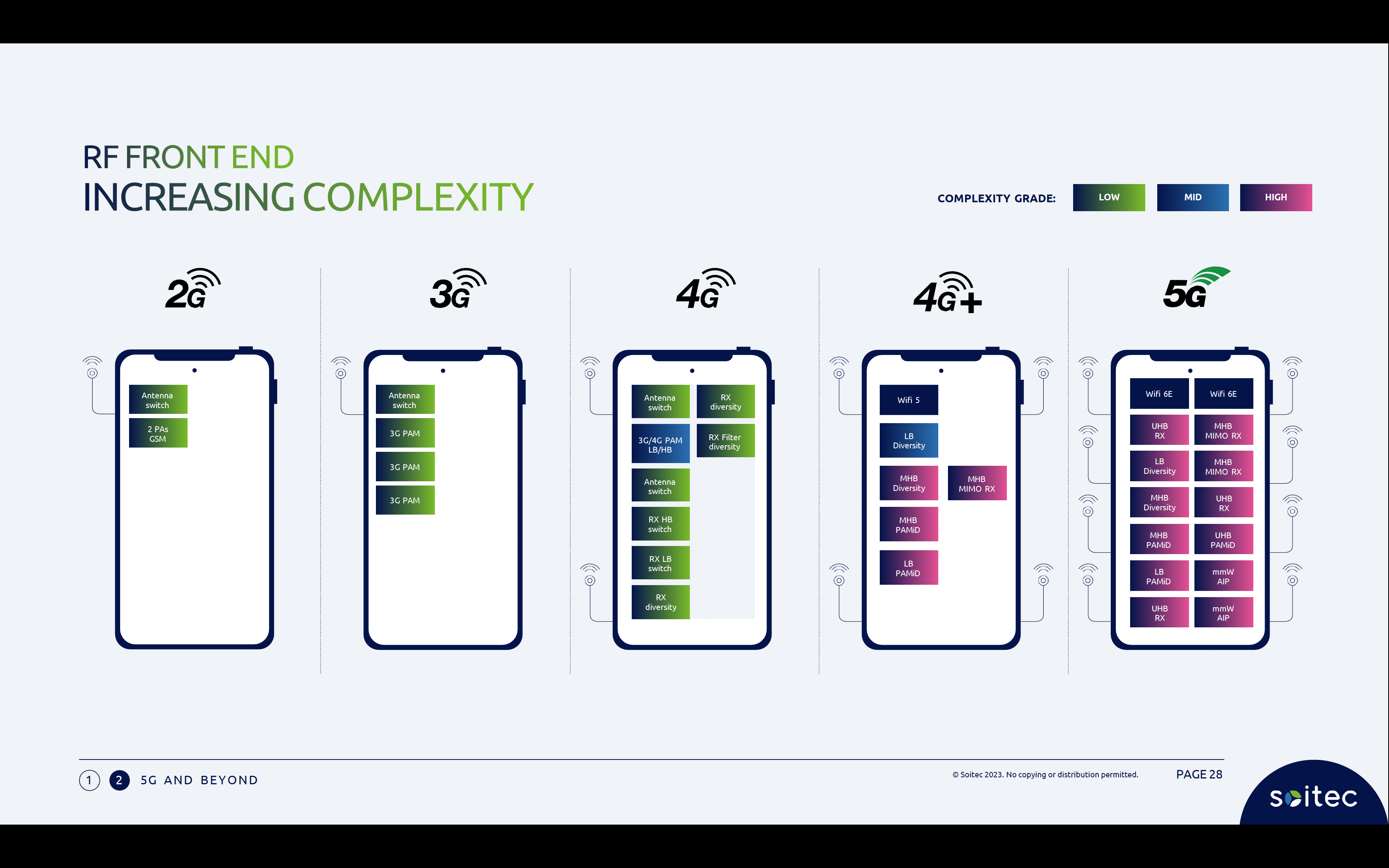 About Soitec
Soitec is a world leader in designing and manufacturing innovative semiconductor materials. Its strategy is to produce engineered substrates to address the different segments of the semiconductor value chain. By combining physical properties such as current, wave and light, engineered substrates create value at the system level in terms of high data rates, power efficiency and sensing accuracy. By supporting foundries, design houses and fabless semiconductor companies, Soitec stands at a $1B in revenue as of FY2022. With about 10% of its revenue dedicated to R&D, Soitec files about 300 patents each year. Over the next three years, Soitec will be increasing its global fab capacity to about 4.5 millions wafers a year.
The top end markets supported by Soitec are mobile communications, automotive & industrial and smart devices. Soitec's comprehensive portfolio of engineered substrates are of course geared to support the mobile connect, automotive & industrial and smart devices markets. The following chart shows Soitec's broad product portfolio.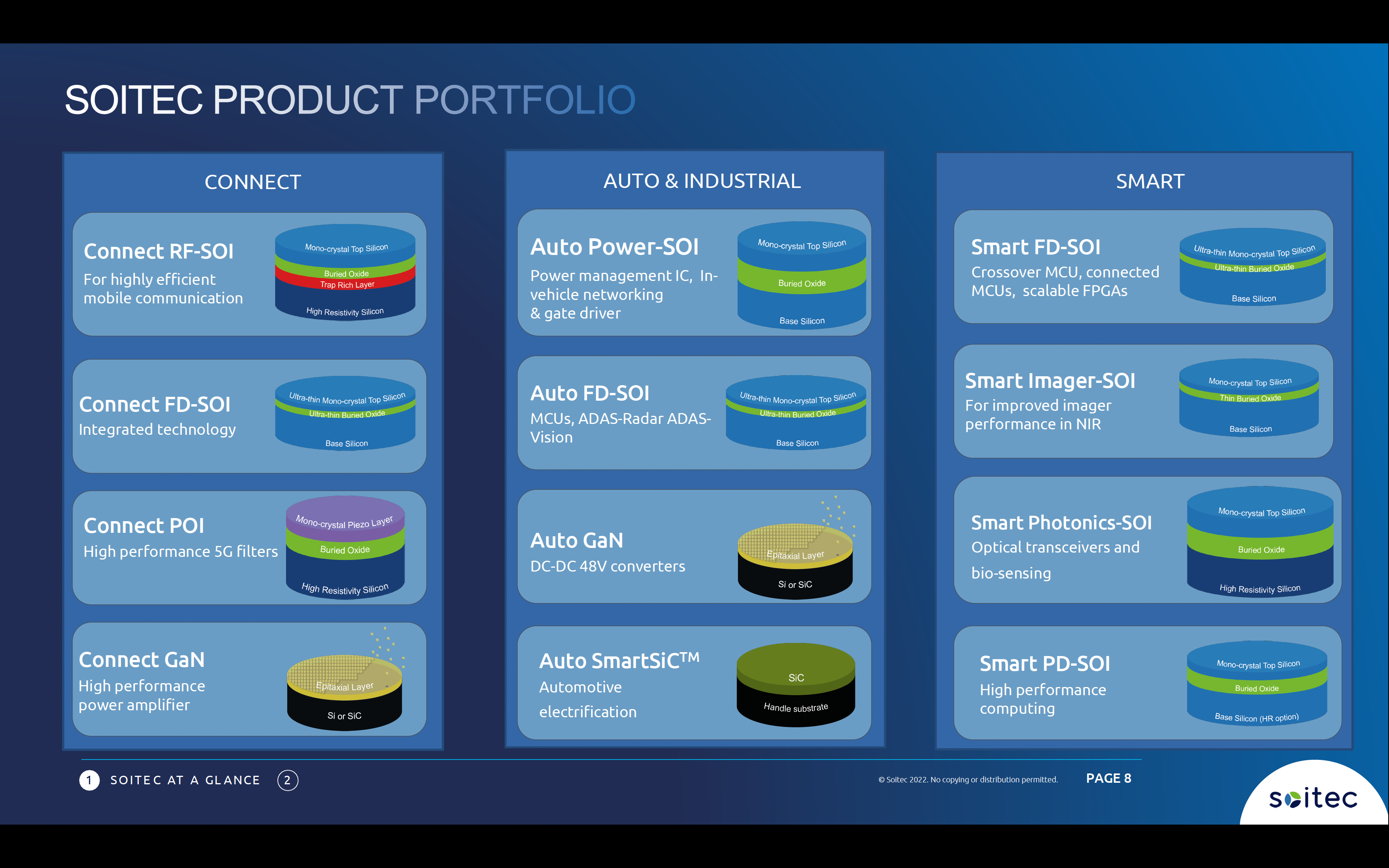 Soitec's Unique Position
Soitec's RF-SOI has already become a standard for implementing front-end modules in smartphones. Its RF-SOI, FD-SOI, Piezo-on-insulator (POI) and Gallium Nitride (GaN) technologies are specifically designed to address the challenges of 5G RFFE.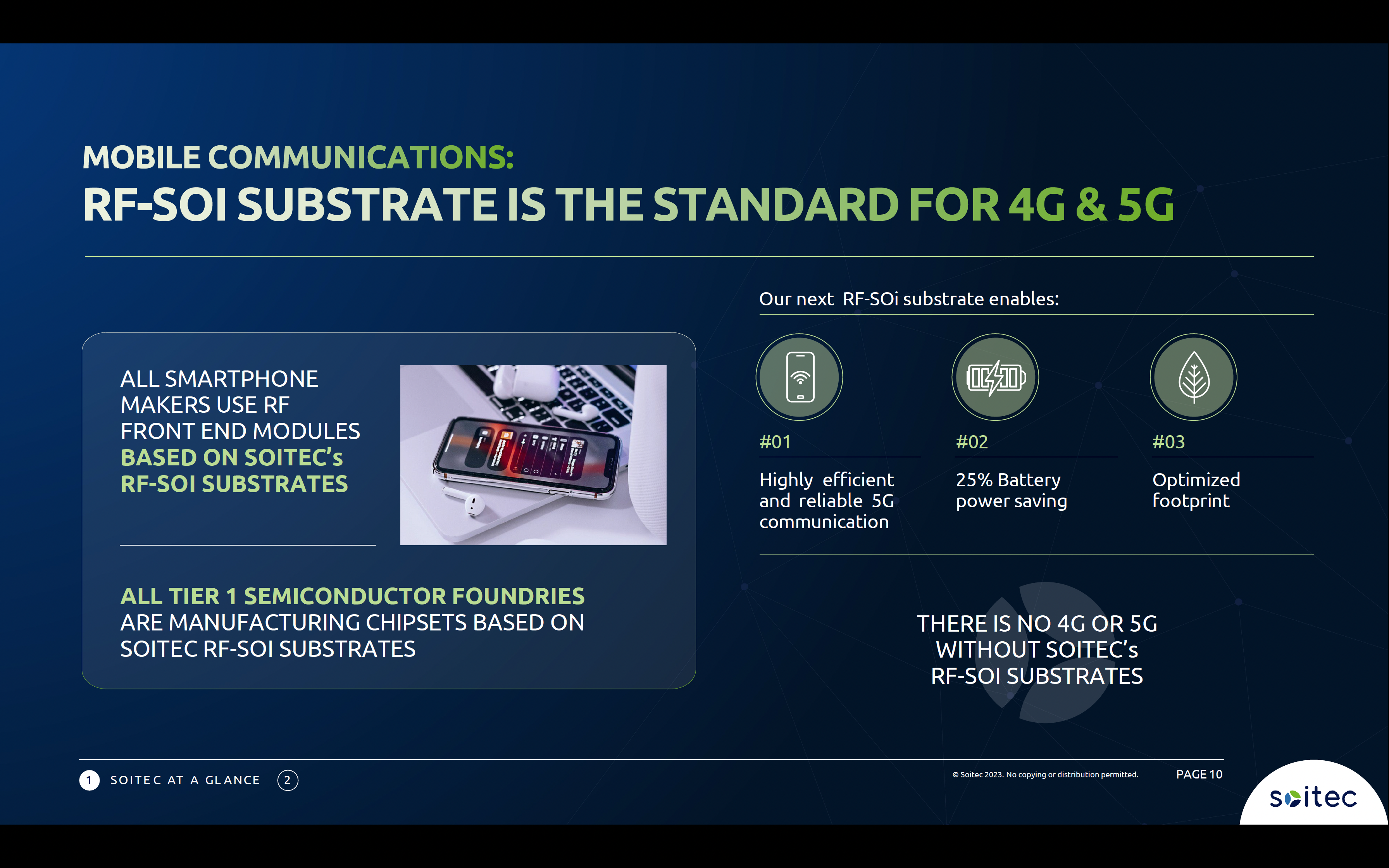 Together, the RF-SOI and FD-SOI solutions will enable high-performance 5G RFFE at reduced power consumption and lowest cost. The POI technology from Soitec enables implementation of high-performance 5G filters to support a wide range of upcoming 5G applications in the sub-6GHz spectrum. The GaN technology is designed to enable extremely high-speed and low-power solutions for 5G RFFE.
The following chart highlights the semiconductor opportunity for Soitec's above mentioned technologies in high-end smartphones over the next four years.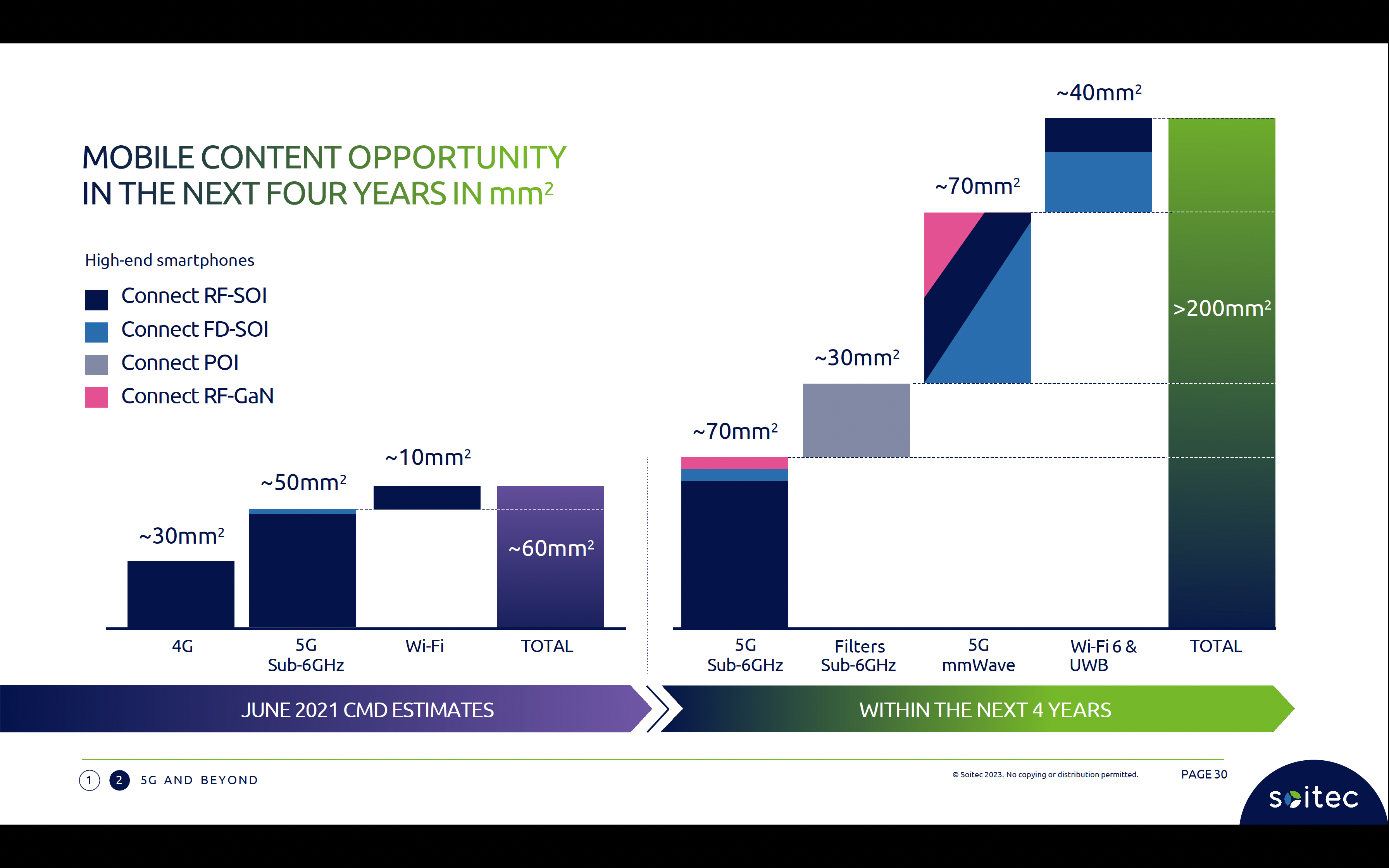 Summary
With its broad range of technologies and solutions, Soitec is helping to push the boundaries of mobile technology and make it easier and more cost-effective for manufacturers to produce high-quality, reliable devices. By addressing the complexity of the 5G RFFE, Soitec's RF-SOI, FD-SOI, POI and RF GaN solutions will enable customers to quickly and reliably deploy their 5G applications.
Contact Soitec to learn more about how it is helping end-customers derive the full benefits of 5G and Beyond in a more sustainable manner.
Soitec (Euronext, Tech 40 Paris) is a world leader in designing and manufacturing innovative semiconductor materials. The company uses its unique technologies and semiconductor expertise to serve the electronics markets. With more than 3,500 patents worldwide, Soitec's strategy is based on disruptive innovation to answer its customers' needs for high performance, energy efficiency and cost competitiveness. Soitec has manufacturing facilities, R&D centers and offices in Europe, the U.S. and Asia. Fully committed to sustainable development, Soitec adopted in 2021 its corporate purpose to reflect its engagements: "We are the innovative soil from which smart and energy efficient electronics grow into amazing and sustainable life experiences."
Also Read:
3DIC Physical Verification, Siemens EDA and TSMC
Advances in Physical Verification and Thermal Modeling of 3DICs
Samsung- full capex speed ahead, damn the downturn- Has Micron in its crosshairs
Share this post via: