Being an internationally recognized industry blogger (IRIB) does have its benefits, one of which is free invites to all of the cool industry conferences! The presentations are canned for the most part but you can learn a lot at the breaks and exhibits if you know the right questions to ask, which I certainly do.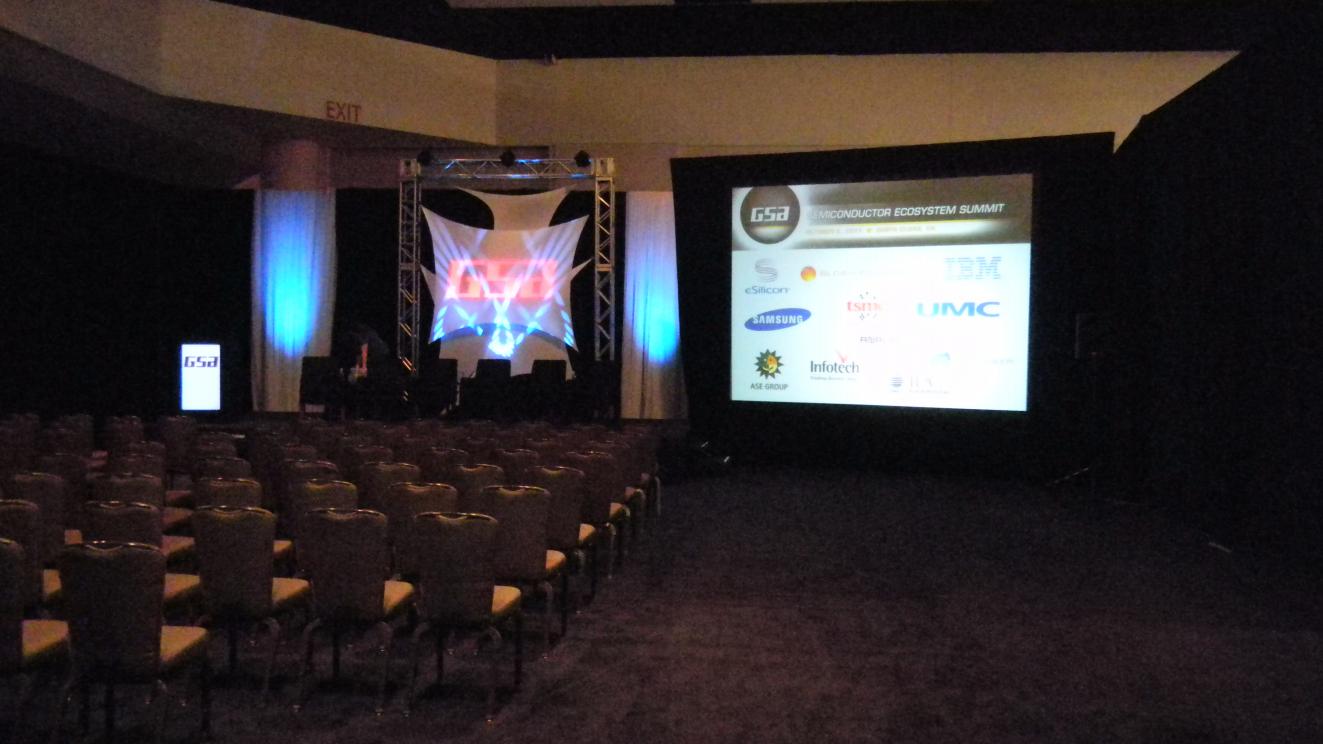 The GSA Semiconductor Ecosystem Summit is an executive conference focused on three core components of the semiconductor business model – supply chain practices, technology evolution, and financial trends. Distinguished executives from leading semiconductor companies will address critical topics including collaboration in the mobile ecosystem, supply chain practices for sustainable partnerships, smart technology development, hardware/software integration and redefining the funding model, to name a few. Visit with supply chain partners on the show floor in between sessions and end the day with a VIP networking dinner.

The GSA itself is an impressive organization, much more so than the EDA Consortium or the other EDA organizations that are supposed to be helping our industry prosper, but I digress……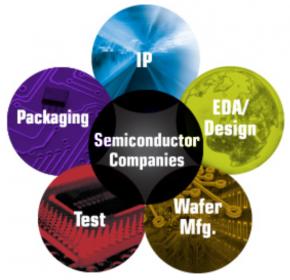 In fact, I give partial credit to the GSA for the over whelming success of the fabless business model. Spend some time on the GSA website, specifically the Ecosystem Portals and you will find out why.


The conference started with a very nice breakfast! Not the usual "continental" garbage. Sometimes I wonder if the people who organize these conferences are trying to kill us slowly with bad food.
I was a bit disappointed that John Bruggeman did not show up. He was scheduled to moderate a panel but was replaced by Richard Goering. I had lunch with John last month, expect him to reemerge in the cloud in Q1 2012. I also spoke to Richard, asked him to blog on SemiWiki when he has something to say other than Cadence. We all miss Richard's industry insight.
First up was Len Jelinek, Chief Analyst IHS/iSupply:
Clearly business is worsening around the world with the exception of China. Blame the global debt crisis, unemployment, Justin Bieber's new haircut. Stagnation is coming from advanced countries versus emerging countries. So the cheap tablet and phone business will prosper?
Although challenges exist, the semiconductor industry is a great place to work. Corporate spending used to drive semiconductors before 2001 but now people drive our industry (consumer electronics). Mobile phones started it. Tablets are still under way. What is the next semiconductor driver? Ultrabook? Kindle Fire?
Forecast for 2011 = 2.9%, 2012 = 2.9%, 2010-2015 = 5.4% CAGR – Q3 boom, Q4 inventory control, Q1 debt hangover. Business management is key. 2011 growth is all about mobile. Image sensors, actuators, microprocessors, LEDs, PLD, etc….
Foundry market will outperform the semiconductor industry: 4.3% in 2011, 7.4% in 2012.
Manufactures have the ability to outpace semiconductor demand. Even Apple suppliers? Short term outlook remains challenging. First 450mm equipment will ship in 2014? Will shape CAPEX in 2015 and 2016.
Next was Sanjay Mehrotra, SanDisk CEO.Flash is a key enabler of the mobile market, mobility revolution! Relentless cost reduction will continue! SanDisk flash replaced film (Kodak). The rest of the presentation looked like a SanDisk pitch so I went back for more food and cruised the exhibits and asked those questions I mentioned earlier.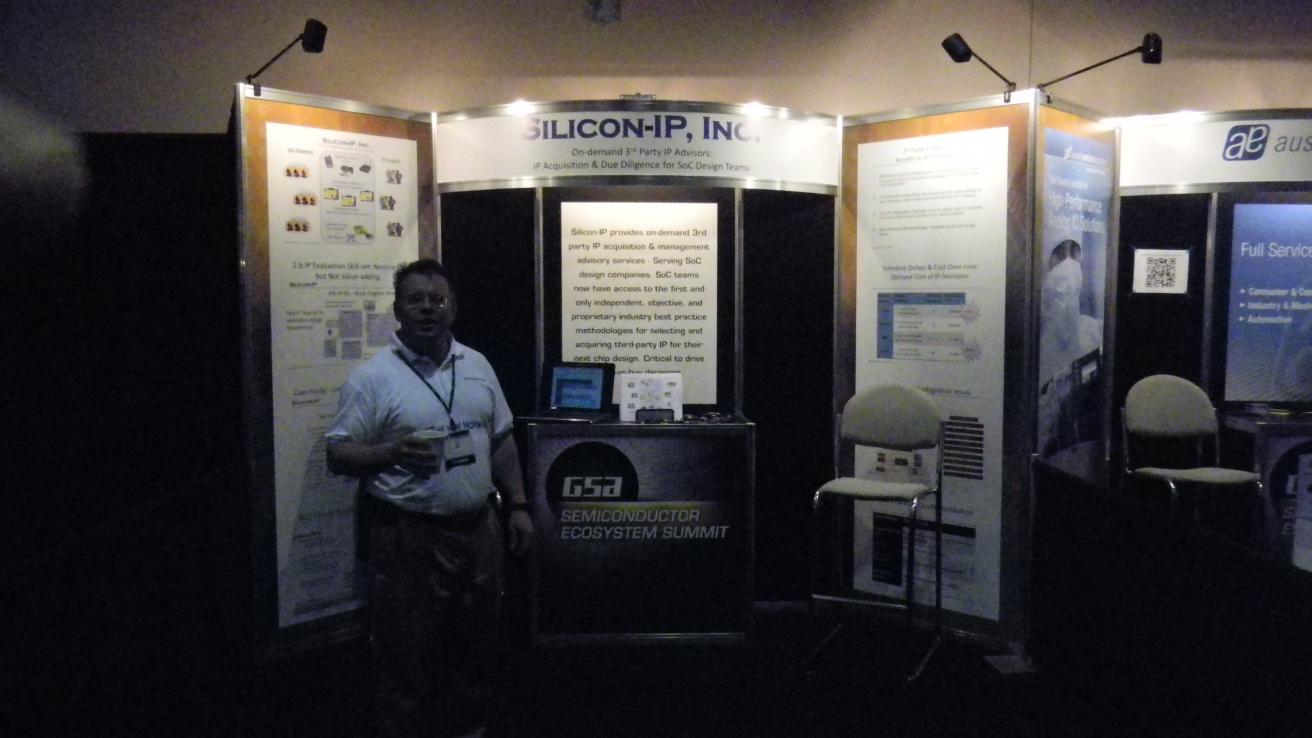 First I talked to Kurt Wolf from Silicon-IP. Kurt is a long time IP guy, we worked together when he was the Director of IP at TSMC. If you have any questions about IP outsourcing, vendor & product due diligence, contract negotiation, etc… talk to Kurt, absolutely.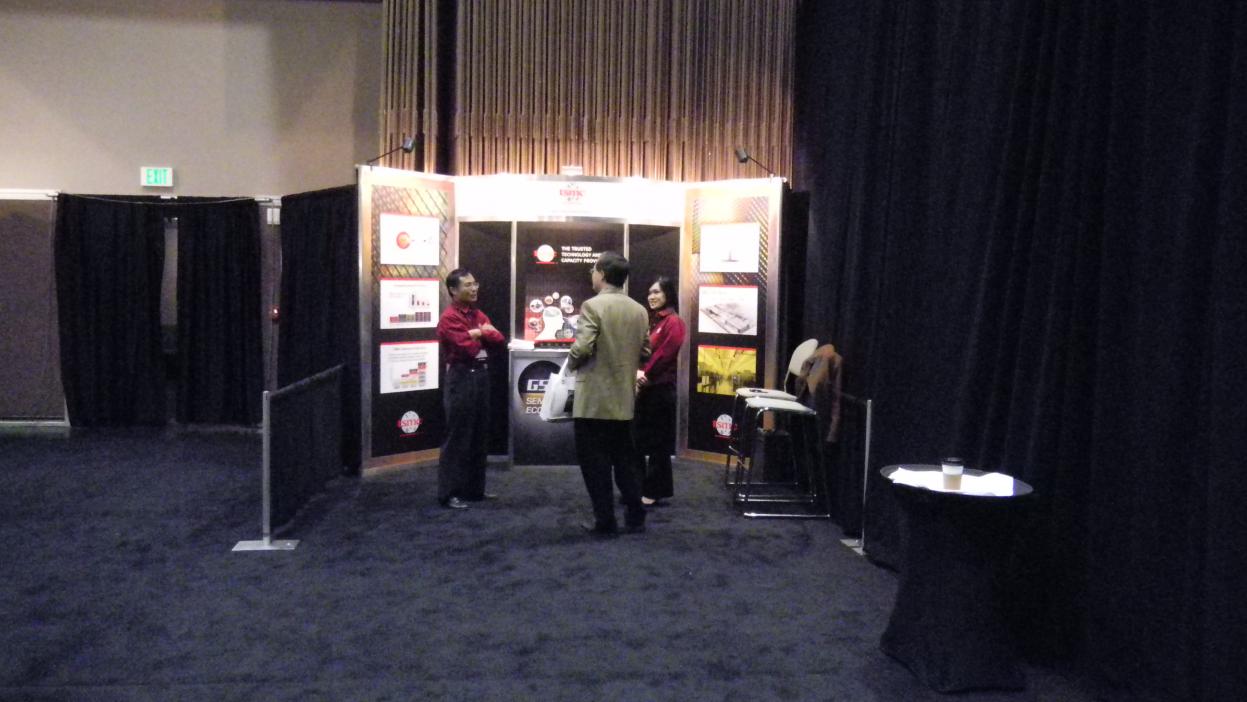 I didn't really talk to TSMC because their booth was very busy. The TSMC OIP conference is next week so I will speak to them there.
I didn't talk to Samsung because I don't consider them a credible foundry, sorry.


I did talk to GlobalFoundries. I have high hopes for them, TSMC needs the challenge! I'm really pissed off at how AMD treated them recently, blaming 32nm yield and revenue shortfalls on GlobalFoundries. For the record: the 32nm process is SOI, it was developed by AMD, and the poorly yielding design (Llano) was designed by AMD, so who's to blame here? Bad AMD, bad bad bad AMD.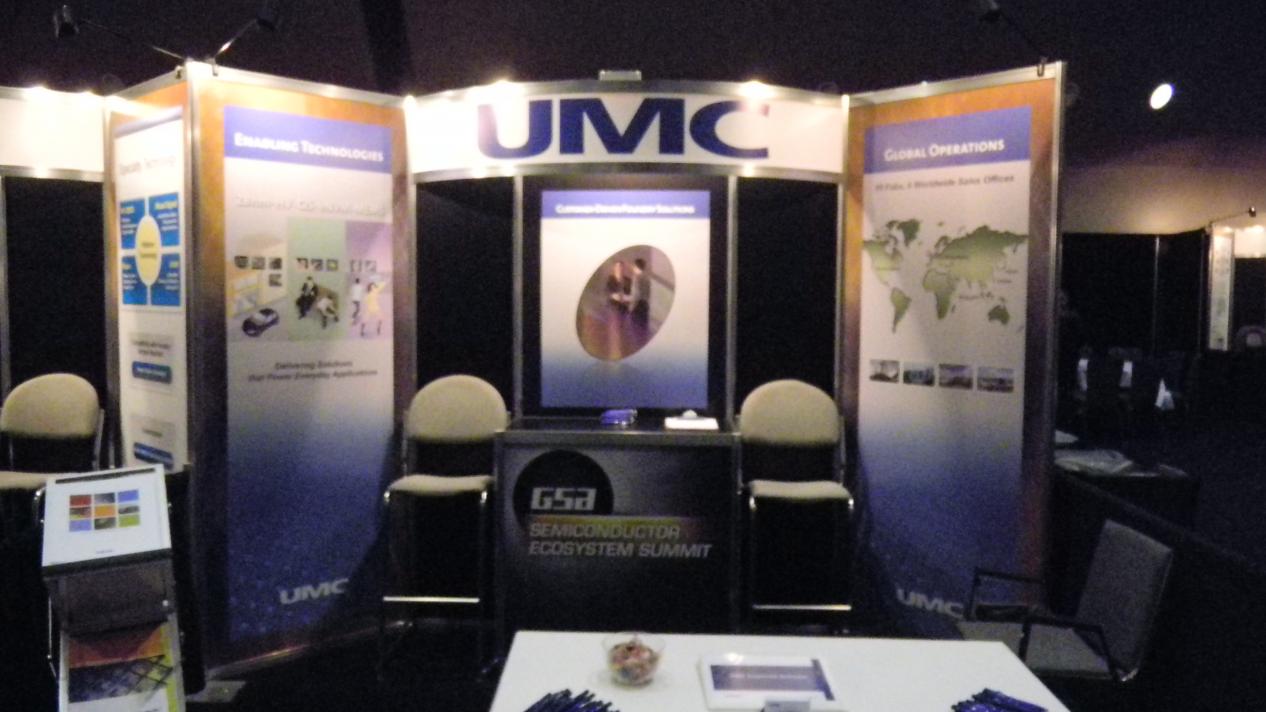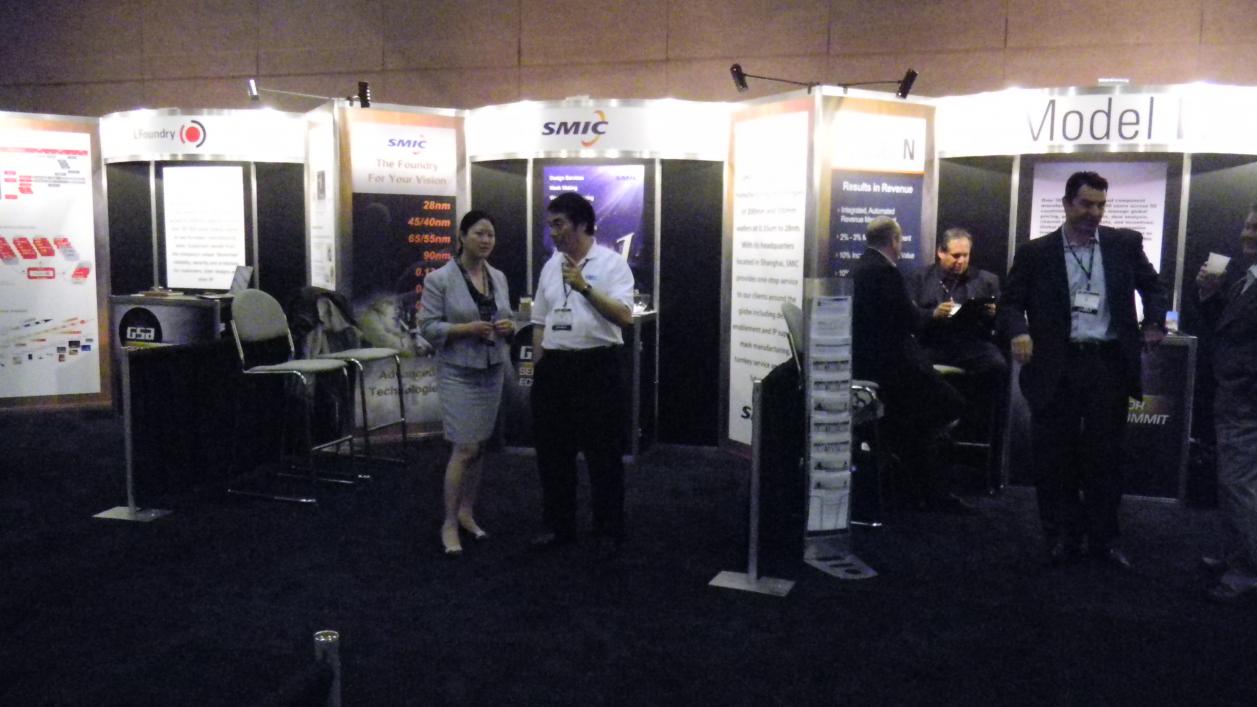 I also visited UMC, SMIC, TowerJazz, LFoundry, and have the same feeling as GlobalFoundries, we really need them to be successful. That is how our industry continues to grow!
Lots of IP companies showed up but these are the ones that followed up with me on email, in alphabetical order:
I spoke with Mahesh Tirupattur, CEO of Analog Bits. Mahesh and I are friends, great guy and a pleasure to work with. Analog Bits is the leading supplier of low-power, customizable analog IP for easy and reliable integration into modern CMOS digital chips. When asked why he was here, Mahesh actually gave me a bloggable answer:
Participating in the GSA Semiconductor Ecosystem Summit provides us an opportunity to meet with other semiconductor industry leaders and understand each others' perspectives on the technical and business issues impacting our industry. More importantly, the event provided us with an opportunity to explore more in-depth discussions with current customers on how our integrated clocking and interface IP product can resolve their current challenges and to revive some relationship opportunities that have fallen dormant."

I spokeAlvand Technologies CEO Mansour Karamat. Alvand is a leading analog IC company that specializes in high-performance data converters (ADC/DAC) and Analog Front End (AFE) for a broad range of applications, such as wireless (Wi-Fi, WiMax, LTE) and wireline (10GBASE-T) communication systems, ultrasound, mobile TV and advanced semiconductor inspection equipment. Several of the top semiconductor companies that I work with use Avland IP and highly recommend it, yes they do.


I know Infotech from SemiWiki, quite a few of their engineers are registered members. Infotech is also a GSA Ecosystem Summit premier sponsor which I greatly appreciate. In case you don't know Infotech, they are a single-source provider of end-to-end services for the semiconductor industry providing "concept to silicon and system prototype" solutions that support ASIC/FPGA engineering and embedded software development. I had an interesting SEO discussion with Jennifer Lund, Marketing Director. She is very sharp and totally gets social media. You can tell by their website, check it out.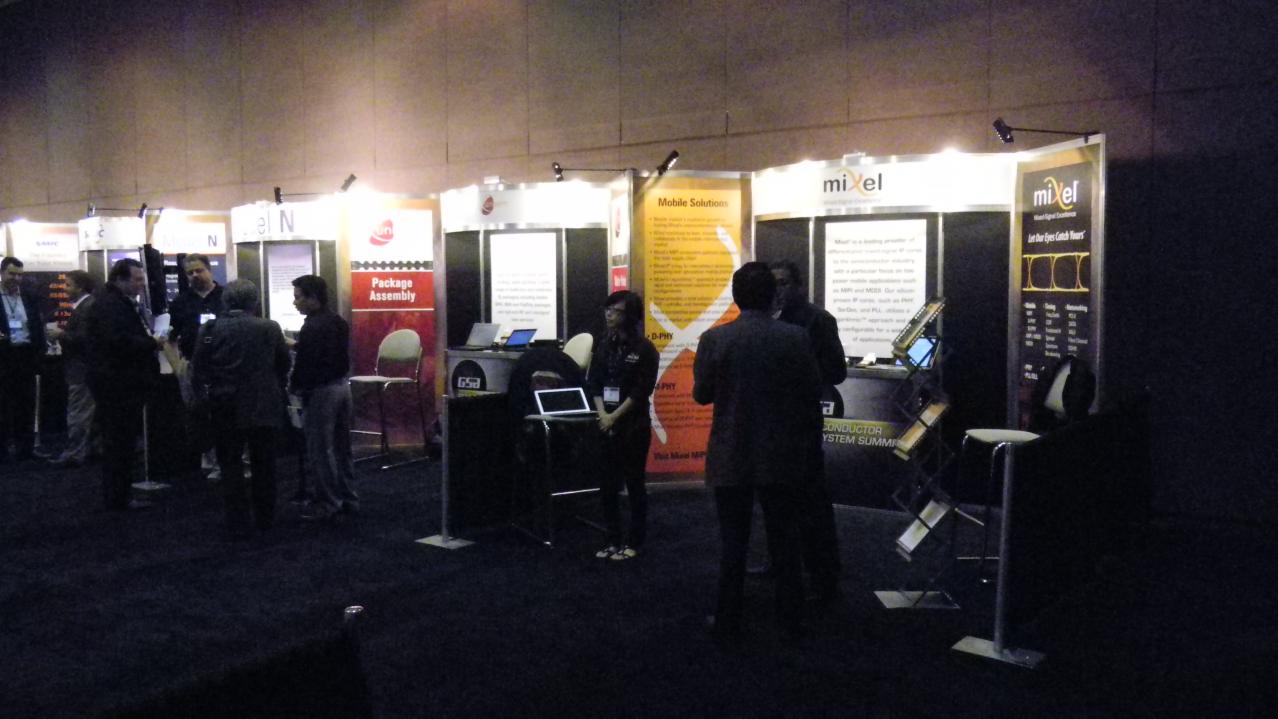 Mixel is at all of the conferences supporting the industry ecosystem for mobile design. Mixel is a leading provider of mixed-signal IP cores with a particular focus on mobile PHY such as MIPI D-PHY, M-PHY, and DigRF PHY. Google MIPI and you will see Mixel right under the MIPI Alliance. Google loves Mixel. Ashraf Takla, Mixel CEO, is the guy to talk to about MIPI.
I met Brian Gardener, Vice President of Business Development at True Circuits. I have not worked with True Circuits before but certainly know who they are. They develop a broad range of Phase-Locked Loops (PLLs), Delay-Locked Loops (DLLs), and other mixed-signal designs. Brian was there because True Circuits believes the GSA does the best job of bringing together and representing our customers– semiconductor suppliers–and their broad needs. You get to see the leaders of these companies, and hear the issues that keep these companies up at night. GSA has also been at the forefront of highlighting semiconductor IP issues, absolutely.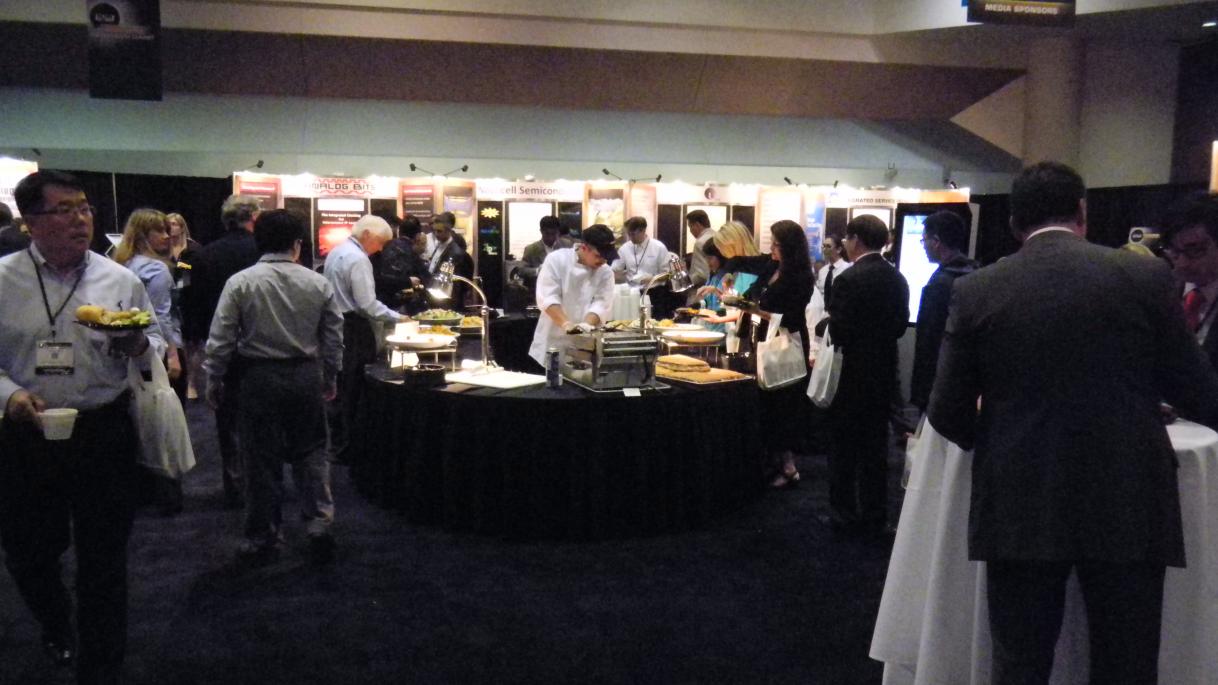 Lunch was great. Desert table really hit the spot! I blog for desert!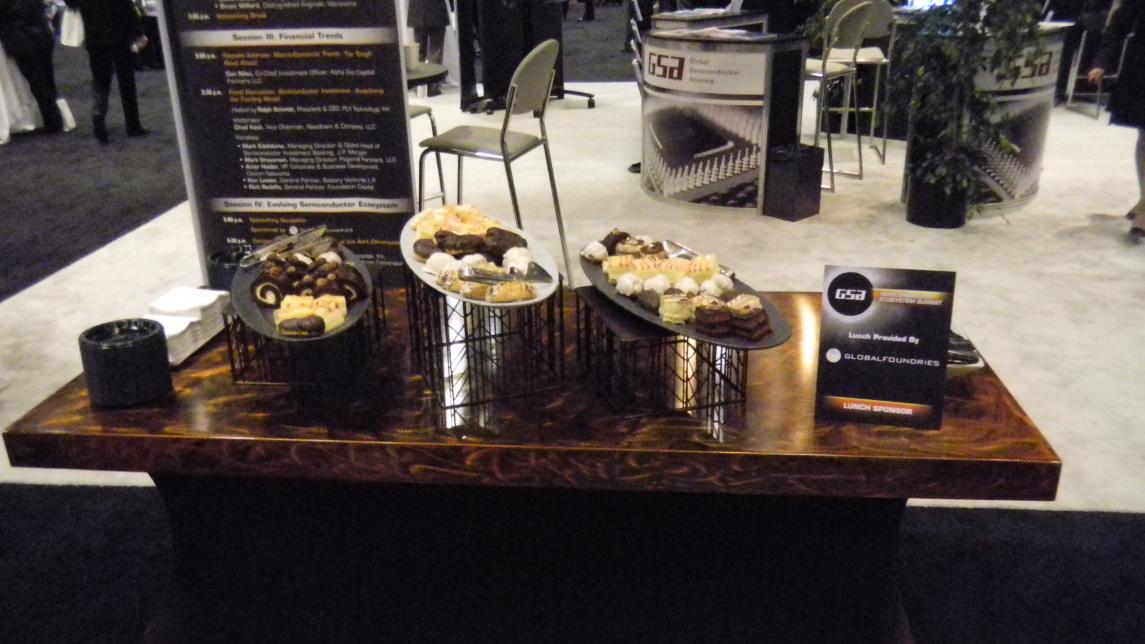 Tudor Brown, President ARM, did a Keynote Address: Security & the Smart Technology Evolution. It was largely ARM centric but here are my notes:
Mobile internet has redefined the WWW, which is out shipping desktop PCs, redefining consumer electronics.
Security is the big challenge. Smartphone attacks are increasing, android botnets, etc… A parity of what happened in the PC space, but of course a much larger market. Intel bought McAfee for this reason. Mobile is the security nexus. Phones do not crash. Who reads phone manuals? Phones are easy to attack.
Losing them is the #1 security hole, physical security. Expanded utility equals expanded security risk. Very personal data, our phones are our identity. Hardware, software, and services security is required. Hack attack is software that exploits weaknesses in the OS or Apps. Open OS's are much more vulnerable (Android?). Shack attack, as in Radio Shack, more sophisticated. Lab attacks, probe chips, electron level imaging, etc……


There is a much better security discussion on SemiWiki "Demystifying Cyber Security – Myths vs Realities' Perspective/Event Summary". I also did a security blog "Semiconductor Security Threat" that is worth reading.
Hopefully someone else will comment about the rest of the program since I had to drive carpool and missed it:
1:45 p.m. – 2:45 p.m.
Improving Device Performance — Simplifying Software/Hardware Integration
3:15 p.m. – 3:40 p.m.
Macro-Economic Trends — The Tough Road Ahead
3:45 p.m. – 4:45 p.m.
Semiconductor Investment — Redefining the Funding Model
5:30 p.m. – 6:30 p.m.
A State of the Aart Conversation with Scott McGregor
Anyone? I still have some iPad2s to give away.
Share this post via: