ASML put up good results with revenues of Euro2.285B versus street of Euro2.22B and EPS of Euro1.26 versus street of Euro1.17. Guide is for Euro2.55B versus street of Euro2.46B but EPS of Euro1.16 versus street EPS of Euro1.35 on lower gross margins, slipping from 48% to 43%.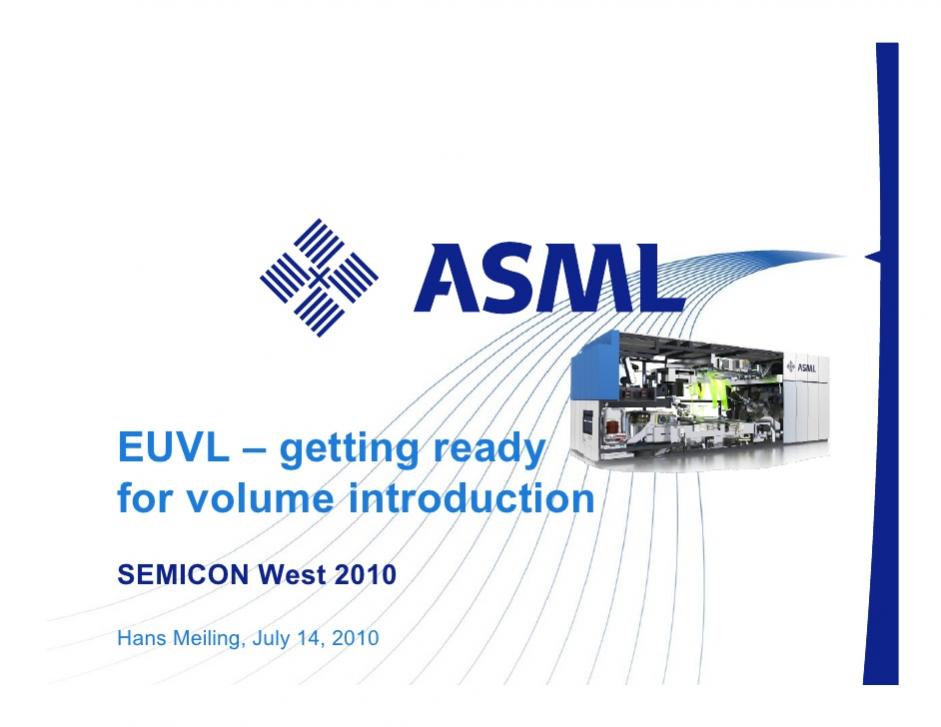 A couple of EUV systems have slipped out. This is not surprising given the hugely complex systems and surrounding environment. We would expect to see more slips going forward as customer acceptance and ability to ship may be impacted by many unpredictable variables.
The obvious issue is that the very high cost of EUV systems can make for lumpy quarters if a couple of systems shift around as we are seeing. We think this shifting is not likely to get better and could potentially get worse as customers may delay shipments or installs as they work the bugs out of their EUV process flow.
The gross margin may be more of a concern as investors could become worried that costs are getting away from the company as tools slip or problems arise that add to costs. Part of the issue can simply be product mix of lower margin EUV versus more DUV as experienced in Q1 but we think we need to watch for increasing costs associated with problems.
ASML is not the second domino after Lam
Investors have cause for concern after Lam's meltdown yesterday and today now followed by ASML's less than stellar guide as well. While both stock problems are due to guidance issues they are not tied to the same root cause.
In Lam's case, the concern is about a roll over in memory spending and in ASML's case it is more related to lumpy roll out of EUV and associated margin variation and revenue instability. The only commonality is that business is at levels that are so high that its difficult for things to get much better from here which means there is one direction of travel.
Everyone's in line for EUV & lining up for high NA
ASML said they will no longer talk about back log. The company has very solid backlog as no one wants to be shut out of EUV, or left behind, when the industry makes the transition. However, by the same token, no one wants to have a bunch of unproductive, very expensive EUV tools sitting around while bugs are being worked out of the process.
This is a very difficult balancing act and will contribute to pushes and pulls in EUV shipments. Though ASML surely wants certainty in ship dates and revenue, customers may want to game the system a bit more. With the announcement of 3 orders for high NA systems we can be sure that means Intel, Samsung & TSMC are the first 3 in line.
Big memory exposure
Memory sales jumped to 74% of business in March up from 53% which paralleled Lam's jump to memory at 84% of business. This obviously helped out with DUV's higher margins. As we mentioned yesterday, this also re-focuses investor attention on less memory centric tool makers such as KLAC, NANO or NVMI etc; who could have experienced a dip much as Lam or ASML did but it also may not be the case as yield management tools sell on a different cycle from wafer fab tools such as ASML and Lam.
Multiple E Beam
ASML also announced a significant step in its E Beam program with the successful test of a 9 parallel beam system. Though this is a very long way off from a highly parallel systems of many more beams, it is none the less a positive step that bears watching.
KLA missed E Beam when it canceled its program and whose engineer went on to found E beam at Hermes, which was highly successful, which is now inside ASML on its way to multi beam. KLA will have to double down on its actinic inspection that it has revived as ASML is not slowing down and continues to push all things EUV as hard as possible.
The stocks
Both ASML and LRCX are fighting to stay above their $200 price points. We think this is a critical support level that both stocks have continued to dance around. We think they will continue to be weak as there aren't any catalysts to go out and buy the shares. We wouldn't abandon ship and dump our position, we simply have no strong incentive to put more money to work in these names as we are fighting a negative tape and negative sentiment for the group. The secular story for both ASML and LRCX remain strong but the near term news will likely stop forward progress.
Share this post via: