TSMC pushing out equipment purchases
Covid/China trickles down to chip industry
SIA and SEMI ask for financial/govt help to keep up
The beginning of another down cycle?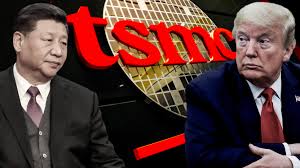 We have heard from a number of sources that TSMC has started to push out equipment orders as concerns grow about the second half of the year.
Right now is the most logical time for TSMC to hedge their bets as they have rolled out all the needed/important purchases to get 5NM finished and get manufacturing up to speed to support their number one customer, Apple, in its launch of the Iphone 12 in the fall.
As we have pointed out many times, in a yearly, repeating pattern,TSMC starts ordering equipment in Q4, installs in Q1/Q2 to be ready for the Q3 Apple push. Any equipment ordered or due to be shipped now won't help with the Iphone launch so its a good time to put the brakes on.
Covid & China trickle down to production
We have been saying for several months now that the second half of the year would get ugly as the double impact of Covid and China trade issues (Huawei) trickle down to demand and production of chips. The work at home economy won't offset 25% unemployment and Huawei getting cut off. An initial surge of demand related to servers and laptops needed for work at home is more of a one time event rather than a sustainable, permanent increase.
Almost every equipment company we listened to on recent earnings calls was very cautious and unwilling to talk about the second half as everyone seems to agree, in an unspoken manner, that things will get worse.
Perhaps a bigger question is wether the memory industry will also slow down along with the foundry industry. There is obviously more sustainable demand for memory for servers and cloud based applications but will consumer slowing offset that?
Given that the memory industry is always a delicate game of supply/demand balance we think the current global events will likely drop demand below a critical level needed to support current pricing. Perhaps not across all memory types but enough to weaken pricing and thus slow spending again. We are not that far out of a sharp memory downturn which followed an unusually strong memory up cycle. We could be returning to more "normal" memory cyclicality.
WSJ reports that US chip makers are asking for help
The Wall St Journal, which has been paying a lot more attention to the chip industry, reported over the weekend that the US chip industry is asking for help in the face of foreign competition in the chip industry. Semiconductor Industry to Lobby for Billions to Boost U.S. Manufacturing
The semiconductor industry association (SIA) is looking for $37B in help to support the US industry. SEMI, the trade group for equipment and materials suppliers, is lobbying for tax credits rather than a direct cash handout.
This is of course coupled with Intel's CEO, Bob Swan, directly lobbying Washington with plans for a US fab/foundry in competition to what TSMC is doing.
We hope that these proposals are taken seriously and moved on rather than ignored or watered down. As we have pointed out before, it is clear that semiconductor chips are more important than selling more soybeans (even though farmers may be in election battleground states and chips makers on the "left coast").
China is pouring tens of billions of dollars, as quickly as possible into the crucial semiconductor industry and will obviously re-double efforts given the current debacle. Meanwhile, the US semiconductor industry has been exporting both technology and production.
These aid efforts aren't likely to happen any time soon and may not happen until its too late but its certainly a good start, much like the US's efforts with TSMC.
We think the odds of an investment tax credit are likely pretty good. Direct cash infusions are likely more difficult to get but the $10B or so needed for a bleeding edge fab is small change and may fit in existing defense budgets
The Stocks
We are likely to see a fall off but perhaps not as much in the near term as there has been so much positive momentum in the stocks and investors may not believe the weakness. We would expect the stocks to more fully capitulate in July when second quarter numbers are announced and the effects of the slow down will show up in black and white.
Although most in the industry are not giving official guidance, they have been doing everything but. They will have to more openly talk about the slowing orders.
Its clear that while TSMC may be the first to slow down, they will not be the last as these things are always industry wide, its just that some companies are smarter and react faster.
We also think that sooner or later the full impact of the Huawei issue will be felt as alleged "loopholes" get closed and the impact grows.
We think Applied has a lot of exposure to TSMC as does KLAC. ASML may be less impacted as most of the demand for 5NM related EUV tools has mostly been shipped. Lam is usually the memory "poster child" and also may have less near term impact if Samsung continues to spend.
Semiconductor Advisors on SemiWiki
Share this post via: