Arm did it again. They continue to press their advantage, most recently with an announcement on their 2020 release of cores for mobile applications, in Cortex-A, in what they now call Cortex-X custom cores, in Mali GPUs and in the next generation of their Ethos neural net core.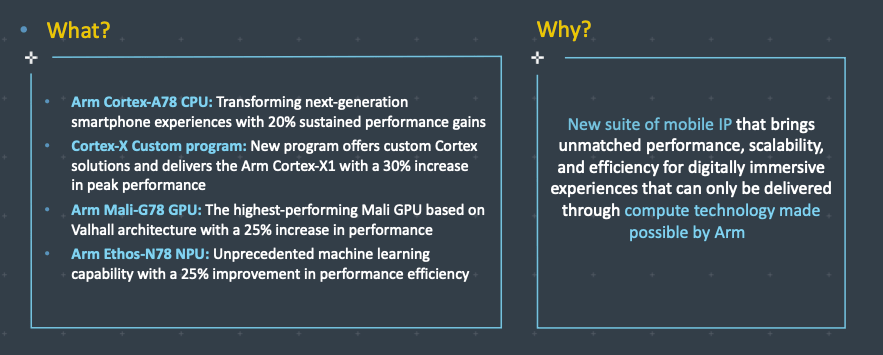 Paul Williamson, VP GM of the client line of business, presented this release as necessary to keep up with the digital immersion that is rapidly becoming central to every aspect of our lives, from remote meetings, to education, to telehealth, to staying in touch with family and friends. For most of us, that interaction is through our phones. And of course, machine learning is becoming an integral part of that experience, for all the usual reasons – clever image processing and bio-sensing – but also for better managing the device, in power management and behavioral security.
Cortex-A78 is the latest high-end CPU, offering 20% higher performance in the same power envelope as A77 for a multi-day battery life, and in a 15% smaller area footprint over A77 in an octa-core cluster with A55.
Paul also announced the Cortex-X program, a way for partners to work with Arm on the customization option they introduced recently. Rather than a "here's a way to add your custom instructions, good luck" approach, Cortex-X is a collaborative program in which partners work with Arm to develop differentiated and proven solutions with maximum performance as the primary goal. The first core in this class, developed with one or more partners (Paul wouldn't elaborate) is called the Cortex-X1 and provides 30% sustained performance over the previous generation.
In graphics, Paul introduced the Mali-G78, with 25% better performance over the previous generation, support for up to 24 cores, new technology to improve scalability and reduce energy consumption and 30% reduction in energy for a key math unit, lowering total power consumption. There's a big emphasis here in enhancing mobile gaming in rendering complex scenes like smoke, grass and trees. Arm has also put more into machine learning performance on the GPU, showing an average 15% performance increase over a variety of benchmarks.
Interestingly, Arm aren't only pushing the premium experience in these devices. They have also introduced a Mali-G68 core for phones in the sub-premium tier, supporting all the features provided in the G78 but scaling up to 6 rather than 24 cores. Which should make it a lot easier on OEMs to support common software and a common experience against a range of phones. Sub-premium users can also play Fortnite, just a little slower.
I for one was happy when Arm introduced their first true neural net core in Ethos. It was a natural for them to have an offering in that space, and this also looks like it will be a dynamic player in the line-up. The second-generation core in the 2020 announcement is the Ethos-N78, offering double the MAC capacity, new compression technology to further reduce off-chip memory accesses per inference, along with more than 90 different ways to configure the core. Stats show 2X performance using full MAC capacity versus N77 and more than 40% DRAM bandwidth efficiency.
All in all, the king just took a big jump forward in mobile support. Arm was always a good solution provider, competition is making them better.
Share this post via: