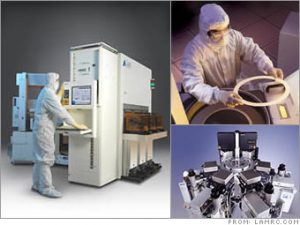 Nice house in a neighborhood in decline
Lam posted EPS and revenues ahead of reduced expectations, but guided the current quarter below street current estimates.
Is a "beat" really a "beat" if its against greatly reduced numbers? We would remind investors that we are looking at EPS cut more or less in half from a year ago.
Execution has been great as Lam management has done a great job of cutting opex and doing everything in their control that they can possibly do but it doesn't make up for a market continuing to decline quarter after quarter. $1.1B in stock buy backs this quarter when added to previous buy backs have taken 15% of Lam's shares off the streets also propping up EPS.
Management did not "call a bottom" as there is no bottom in sight but was hopeful for a better 2020. Right now 2020 is nothing more than a hope that the down cycle will be over and memory will recover—-but its a "hope" with no hard evidence.
Memory is still two thirds of Lams business – and in decline
While memory is no longer 85% of business it is still the vast majority as Lam remains the most exposed to memory.  As we had pointed out in our Semicon West report, and Lam echoed, foundry is recovering based on 5G early production. While this clearly helped ASML and will also help KLAC, Lam has less exposure than average to the foundry segment. Even Applied has more foundry exposure. While Lam has some unique applications that are not memory specific its not enough to offset the weak memory market….at the end of the day Lam is still a memory driven company…..
Memory buys are technology not capacity driven
We have said for many years that there are two cycles that underlie buying; technology buying cycles and capacity buying cycles. Technology buys obviously follow Moore's law and the progress in memory/logic technology. Capacity buys, which are higher in overall volume are based on market demand such as the switch to SSD's. Right now capacity buys are zero as equipment is still being idled to artificially reduce supply while technology buys to increase NAND layer count or migrate from 1Z to 1A continue.
Lam needs capacity related buying to come back before it can recover but capacity related buying will take a longer time to come back as the idled capacity will come back on line long before memory makers will need to buy new equipment for additional capacity purposes.
Still searching for a bottom….
Setting the "Limbo Bar" lower….
As we continue in a slow downward spiral, estimates continue to be lowered, resetting the bar ever lower so that the company can "beat" the new lower number and say they beat expectations, meanwhile the stock is up 50% on the year in a declining memory sector with EPS cut in half….go figure….  It might be reasonable if there was a clear or even a murky recovery coming together but right now there is no difference as most analysts continue to kick the can of recovery down the road another quarter or 6 months or talk about an "etheral" recovery in 2020. We would remind investors that the vast majority of so called analysts also thought that industry was no longer cyclical or the downturn was a one quarter "air pocket", are now calling for a 2020 recovery after previously calling for a 2019 recovery.
The problem is that no one really knows…..
Niche technology is nice but not impactful
Lam talked about some new areas of business outside of the core wheelhouse of advanced etch and dep.  Given the huge number of steps in chip manufacturing and many types of process there is a lot of fertile ground for new business which Lam is doing a good job of rounding up.  This too helps cushion but not offset the downturn in mainstream memory tools.  We think some of these applications could potentially be larger in a recovery scenario.
One that we find interesting, though not publicly mentioned, is "cryo" etch (or a "cold" etch) for buttery soft materials used in new memory types such as Intel's Optane. We remain a fan of the upside of these type of memory devices.
The stocks
If we put a 15X market multiple on Lams current outlook for the year we get a $210 price target…which is where we are today.  The problem is that the EPS outlook continues to come down and we think Lam should trade at a discount to the market as its business is in contraction mode not expansion mode. If we take a haircut to the EPS outlook and discount the multiple we get a target well below the current stock price.
All this is beside the point that the stock is up 50% on the year in a declining business.   We still have a lot of time to buy the stock prior to an upcycle cause we are still far off in the future.  Add to all this the uncertainty of China still out there.
We would consider taking money off the table as the downside beta is clearly higher than the upside at this point.
Other Stocks
ASML was driven by logic/foundry and an earlier recovery of litho tools.  KLAC has always been a logic/foundry driven company and not a memory company like Lam.  Applied has strong ties to the foundry market.
However, we need to be clear that the memory industry has grown so large and so fast that no tool company can remain immune to its weakness or escape the gravitational pull of the weak memory sector.  We would also caution investors that a "stabilizing " memory market does not mean that memory companies will rush out and start ordering tools in bulk again.  It could be a long slow climb of using up the idled capacity before we start buying new again.  Even if memory stabilizes in H2 2019 there is no guarantee of increased equipment purchases in 2020.
Share this post via: