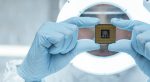 As the traditional ASIC business disappears before our eyes with the recent divestitures and acquisitions, I have been asking questions amongst the fabless semiconductor ecosystem and am getting few answers.
Who or what is going to step in to enable start-ups and new to silicon systems companies with application specific chips?
Interestingly, I met Gert Jørgensen at the Tower Jazz Symposium last week. Gert is the VP for Sales and Marketing at the ASIC company DELTA Microelectronics. Gert has been with DELTA since 1982 where he worked as test engineer, design engineer and project manager before moving to business development.
Just in case you missed that, Gert has been doing ASICs for 37 years at the same company. He is the closest thing to a chip design unicorn as I have ever seen in my 35 year semiconductor career, absolutely.
Coincidentally, or not, Gert and I are doing a webinar on "Choosing the Right ASIC Manufacturing Model for Your Business" next week:
ASIC production is a part-science, part-art discipline which requires extensive knowledge. The many available options, which combine various 3rd party services and internal resources, require an understanding of the technical intricacies, the pros and cons, and the financial implications of each option. The more knowledge you have, the cheaper ASIC production can be for your company.
This webinar examines three common business models for hardware implementation including IC production and the financial impact of each. Using a real-life project case, it then identifies production volume break even points, distinguishing where one production model has an obvious financial benefit over another.
The webinar is on Tuesday December 3rd at 10am PST. SemiWiki Webinars are generally 30 minutes but more importantly they give you access to key people inside the semiconductor industry even if you are not able to attend it directly. Just register and you will be sent a link to the replay when it is finished. I always ask the presenters to give their contact information at the end of the presentation and they do. I hope to see you there!

About Delta
DELTA Microelectronics is a European company. We offer services ranging from design (front and back end), development of test solutions, production testing of components, wafer probing, failure analysis and logistics for the supply of components including purchasing of wafers and packaging.
We allow the customer to get the most cost effective combination of services.
History
DELTA has been supporting microelectronics development since 1976, providing services to hundreds of successful integrated circuit projects for some of the world's best-known OEMs/IDMs and fabless semiconductor suppliers. We are a business unit of DELTA Danish Electronics, Light & Acoustics that was established in 1941.
DELTA Microelectronics is headquartered in Hørsholm, Denmark, and has an office in South Wales, UK.
Partners and in-house capabilities
A range of European and Far Eastern wafer and packaging partners enable DELTA to provide a full supply chain solution. DELTA has a large semiconductor test department where we can test wafers and components. Our test engineers ensure that the test hardware and software are customized to your chip. DELTA's experienced ASIC design team is specialised in very low power chips, payment systems, RFID designs, sensor interfaces and optical chips.
Share this post via: