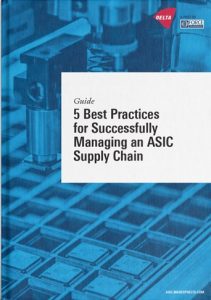 Managing the ASIC manufacturing is one of the biggest challenges of chip projects.
Building an ASIC supply chain requires specific expertise. Throughout the process you'll be confronted with hundreds of decisions that will require specific knowledge in order to be addressed correctly, avoid costly mistakes and lose time. How should your ASIC be designed for testability? Which packaging technology will ensure the optimal performance? How to
optimize test throughput and build up for volume production? How to quickly identify the root cause of failures?
Below highlights of some key points. For the full content, read the full paper, 5 Best Practices for Successfully Managing an ASIC Supply Chain.
Plan for Problems
With ASIC manufacturing, things may go wrong, and in most cases, they do. A design can change midway through the ASIC development process; an RF wire bond issue may be discovered; and yield may drop due to an unknown reason.
Analyse in advance the risks associated with your specific ASIC development project and make sure that both you and your partners clearly understand the risks and have a corrective action plan. Consider issues like response time, service, and relationship between vendors.
Aim for Just-in-Time Manufacturing
ASIC manufacturing can present a dilemma for smaller companies. On the one hand, producing larger quantities allows reduced costs and improved quality. On the other hand, producing larger quantities requires handling ASIC stock with special conditions.
Start by analysing the longevity and cumulative volume expectations of your product. Then, assuming you don't have the facilities, resources and conditions to store chips, try to plan for 'just-in-time' ASIC delivery.
Start with Quality, Then Price
At some point, every company that markets a product containing ASIC faces the manufacturing dilemma – how to go into production using the cheapest, most efficient and highest quality methods? Is it using an external full-turnkey partner or taking full ownership and working directly with semiconductor suppliers (Customer Owned Tooling, or COT model).
Each model has pros and cons. As an earlier stage company, cutting production costs may be one of your priorities. Nevertheless, you still need to focus on your design core competencies rather than take the full burden of manufacturing. Best is if you can find a hybrid, ASIC to COT model, which offers the best of both worlds.
Learn More
Read the full e-book, 5 Best Practices for Successfully Managing an ASIC Supply Chain
Share this post via: