It started slowly at first.  Then it began picking up steam. I'm referring to consolidation in the semiconductor sector. I had a front-row seat for what consolidation did to the ASIC part of semiconductor and that is the topic of this discussion. I was the VP of marketing at eSilicon, the company that invented the fabless ASIC model. I was there for the first five years and the last six years. In between, I was chasing other dreams – that's a story for another day.
The evolution of the ASIC business is actually a long story. Again, I'll save that for another day. The "ASIC void" situation we face is easier to describe. I'll focus on two forces of nature in this market – LSI Corporation, AKA LSI Logic (LSI) and IBM Microelectronics (IBM). Of course, there are many more excellent companies that have served this market, but the fates of LSI and IBM will illustrate my point. Beyond eSilicon, I've worked in the ASIC sector for most of my career and I can tell you that both LSI and IBM were formidable competitors.
Both had a substantial focus on the custom chip business. Both had an extensive library of differentiating semiconductor IP, access to and deep expertise with relevant manufacturing technologies, a bullet-proof design methodology and all the resources needed to get a chip through prototype and into production, repeatably and reliably. Both companies also had a flair for working closely with the customer, thanks to their extreme focus on the custom chip business.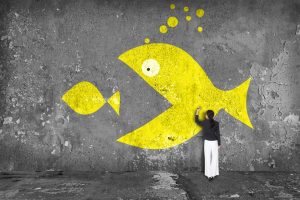 In short, they were both very, very hard to beat. Around 2013, there was a disruption in The Force and things started to change. First, Avago bought LSI. Then there were more acquisitions, with LSI ultimately being deep inside a large, substantial and diversified company called Broadcom. Singular focus on ASICs is hard to accomplish in such an environment. Two years later, GLOBALFOUNDRIES (GF) acquired IBM Microelectronics. Did that make GF a foundry, an ASIC vendor or both? There was debate on that topic. Then, three years later GF spun out its custom silicon business (the IBM part) as Avera Semiconductor. Then, last year Marvell acquired Avera.
All this churn created a void in the ASIC market. At eSilicon, we heard the same thing from many customers – they were looking for a dedicated, focused ASIC company that had the IP, the right technology experience, a strong production track record and a willingness to be a partner to build game-changing, critically needed custom chips. Thanks to its deep expertise in 2.5D packaging and complex digital designs, eSilicon became a tier-1 ASIC supplier for the data center, high-performance networking, AI and 5G markets to help fill that void. A few months ago, eSilicon was acquired by Inphi with certain assets sold to Synopsys.
Late last year Dan Nenni posted a discussion on this topic, Where has the ASIC Business Gone? In that post, Dan referenced DELTA Microelectronics, a company with a specific focus on ASIC. Then last month, Presto Engineering acquired DELTA.  I'll discuss the relevance of these events in my next post on this topic. For now, I would like to catalog what it takes to be a contender to fill an ASIC void:
Design and manufacturing expertise in a market that requires custom chips
Differentiating IP and the skills to integrate it into a customer design
A solid design methodology and the discipline to enforce it
A willingness to partner with the customer – a shared vision for success is key
A solid track record of successful bring-up of designs in target systems
I invite you to ponder this list. Are these the right attributes to be a focused ASIC supplier and thus address potential gaps in this market?
Share this post via: