In 2020 TSMC established its Net Zero Project with a goal of net zero emissions by 2050. I remember wondering how could this possibly be done before 2050 or at all for that matter. After working with TSMC for 20+ years I have learned never to bet against them on any topic and green manufacturing is one of them, absolutely.
TSMC presented on green manufacturing at the recent symposium in Silicon Valley. Clearly energy and water resources are critical parts of any net zero project but carbon emissions are also a of great importance and that means materials. In regards to semiconductor manufacturing materials we have experts here on SemiWiki.
EMD Electronics has a presence in 66 countries and over 100 years of invaluable experience in the electronic materials space delivering a broad portfolio of semiconductor and display materials for cutting-edge electronics.
EMD Electronics recently published a paper: INVESTING IN A SUSTAINABLE SEMICONDUCTOR FUTURE – MATERIALS MATTER.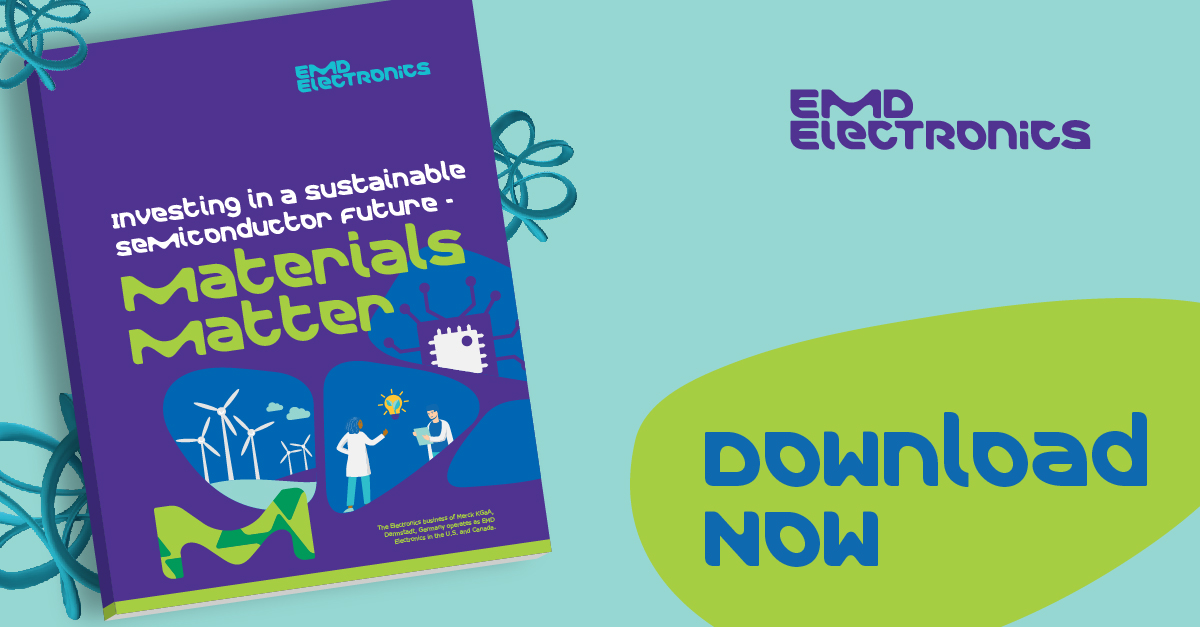 It is a very interesting comprehensive look at innovative sustainable semiconductor materials techniques that decrease carbon emissions, improve resource efficiency and productivity, and highly contribute to achieving net zero semiconductor.
"It is amazing where collaboration can take us. Sustainability is no longer the result of individuals; only by working together can we get closer to our goals for a sustainable future! Brita Grundke, Head of Sustainability, EMD Electronics"
Here is the introduction. This paper is freely available and well worth the read for semiconductor professionals at all levels:
Emissions from semiconductor manufacturing are a growing segment of global greenhouse gas (GHG) emissions. There are two reasons behind this trend. First, the demand for semiconductor chips is growing. Our technology appears in everything from mobile phones to automobiles, where the number of chips per vehicle increases every year. Data storage, which relies on the semiconductor industry, is exploding. Second, today's manufacturing processes have more deposition and etch steps than ever. Each step consumes water and electricity and creates GHG emissions.
Semiconductor companies large and small talk about achieving climate neutrality by 2030. That sounds like a great goal. But merely achieving that goal won't solve the emissions problem. How we get there matters.
Buying carbon offsets is an easy way out. It isn't the best long-term answer, because many offsets are not as effective as they claim to be. Some may even make the problem worse, defeating the purpose [1]. And relying on offsets can make internal actions seem less pressing. It is best to see offsets as a temporary or last-choice option.
Semiconductor industry leaders are, of course, doing more than buying offsets. They are investing in renewable energy, improving the energy efficiency of their processes, and finding ways to reduce waste. These actions are helpful, and we must do more. Despite modest success in reducing emissions per wafer or per revenue, demand for semiconductor chips is growing faster than the improvements can handle. We need more drastic reductions, and that starts by examining the sources.
Bottom Line: Climate change is real and semiconductor manufacturing is under a microscope now that it is being regionalized due to the shortages and supply chain issues we suffered during the pandemic. If you really want to know why semiconductor manufacturing left the US it was due to the Environmental protection Agency crack down on water, ground, and air pollution. I grew up in Silicon Valley so I had front row seat to the environmental issues of semiconductor manufacturing. Now that semiconductor manufacturing is coming back to the US and other parts of the world sustainability is front and center once again.
Also Read:
Step into the Future with New Area-Selective Processing Solutions for FSAV
Integrating Materials Solutions with Alex Yoon of Intermolecular
Ferroelectric Hafnia-based Materials for Neuromorphic ICs
Share this post via: