Podcast EP183: The Science and Process of Semiconductor Innovation with Milind Weling
Dan is joined by Milind Weling, the Head of Device and Lab to Fab Realization and co-founder of the neuro-inspired Computing Incubator of EMD Electronics. Previously he was senior vice president for Intermolecular. He led customer programs and operations where he drove the discovery and optimization of new materials, integrated module solutions and leading-edge devices. Milind is a senior engineering and management professional with extensive experience in advanced memory and logic technology development, DFM and design-process interactions, new product introduction, and foundry management. He holds 50+ patents and has co-authored over 70 technical papers, primarily focused on semiconductor process technology, device reliability and integration.
Dan explores the approaches used to achieve semiconductor innovation with Milind. The methods and processes applied to advance the state-of-the-art are discussed in detail, across several application areas. It turns out innovation is not driven by "eureka" moments of invention, but rather by focused and sustained work to find the best path forward.
Semiconductor Devices: 3 Tricks to Device Innovation by Milind Welling
The views, thoughts, and opinions expressed in these podcasts belong solely to the speaker, and not to the speaker's employer, organization, committee or any other group or individual.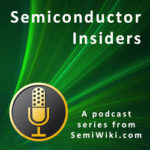 Share this post via:
---