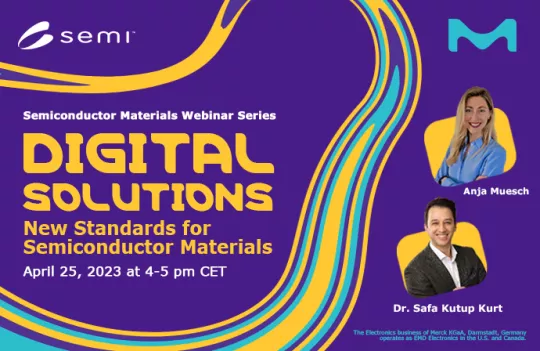 This is the 5th webinar in our series of webinars to explore trending topics on materials and semiconductor development. Join us to discover how digital solutions are forming new ways of operating in a fast-paced, highly demanding semiconductor industry.
With data analytics and digital tools, we are setting new standards for the way we develop new materials, manufacture, control our processes, and supply our customers. During this webinar, you will learn how we pair engineering principles with data analytics capabilities to firstly, drive digitalization with digital twin deployment and secondly, establish comprehensive data analytics methods to deploy descriptive, predictive, and prescriptive solutions throughout the organization.
Why attend? 
Our Semiconductor Materials Series attract professionals, business and technology leaders, researchers, academics, and industry analysts from across the electronics supply chain around the world.
In this webinar, you will gain practical insights on:
Data-based operations of a semiconductor materials supplier
Digital twin deployment in every-day operations
Advanced data analytics methodologies to drive innovation, increase transparency, and act with speed
Who should attend? 
Quality experts, process engineers, Supply Chain, Process, and Technology Development teams in semiconductor companies
Data enthusiasts and digitalization experts
Register today to access exclusive content and engage in the interactive Q&A session.
You will be able to apply innovative techniques and best practices to solve your unique challenges.
Attendees are invited to submit questions ahead of time at info_semi_webinar@emdgroup.com.
AGENDA
4:00 pm – 4:05 pm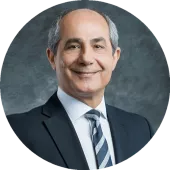 Laith Altimime
President
SEMI Europe
Welcome Remarks
Anand Nambiar
Executive Vice President and Global Head, Semiconductor Materials
The Electronics business of Merck KGaA, Darmstadt, Germany
4:05 pm – 4:45 pm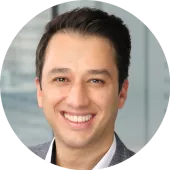 Dr. Safa Kutup Kurt
Executive Director and Head of Operations of Digital Solutions
The Electronics business of Merck KGaA, Darmstadt, Germany
Presentation
Biography
His organization is a key enabler to design and optimize products by using data analytics methodology in R&D, quality, and supply chain while ensuring data protection in sensitive environments. After gaining a bachelor´s degree in Chemical Engineering and Business Administration in Turkey, Kutup received a Master's degree in Industry 4.0 Technologies in Germany at the TU Dortmund University. He also gained his Ph.D. in Chemical Engineering at the same university. He and his team led several data-driven process optimization projects worldwide for Electronics and Life Science business sectors. He has co-authored over 16 technical papers and patents focused on smart and continuous manufacturing technology, equipment design, and process intensification.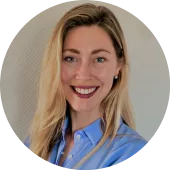 Anja Muesch
Head of Use Case Management of Digital Solutions
The Electronics business of Merck KGaA, Darmstadt, Germany
Presentation
Biography
Anja's work is focused on portfolio development and expansion of data sharing and analytics engagements. Her team manages Use Cases for customers and suppliers along the use case life cycle. She holds an MSc in Business Chemistry from the Heinrich-Heine University in Düsseldorf, Germany, and the Universiteit van Amsterdam, the Netherlands. She has in-depth experience in project management and strategy development focusing on Data and Digital.
4:45 pm – 5:00 pm
Live Q&A and Conclusions
REGISTRATION
Registration is FREE of charge. If you miss the live session, view the recording on-demand.
LEARN MORE
DIGITAL SOLUTIONS FOR THE SEMICONDUCTOR INDUSTRY
The semiconductor industry is demanding to drive higher yield, produce with zero defects and reduce time to market to meet the ultimate goal – the "ideal ramp".
Merck KGaA, Darmstadt, Germany, applies advanced analytics methods to design and optimize our products in R&D, Quality, and High Volume Manufacturing while ensuring data security in our sensitive environments.
Also Read:
Step into the Future with New Area-Selective Processing Solutions for FSAV
Integrating Materials Solutions with Alex Yoon of Intermolecular
Ferroelectric Hafnia-based Materials for Neuromorphic ICs
Share this post via: