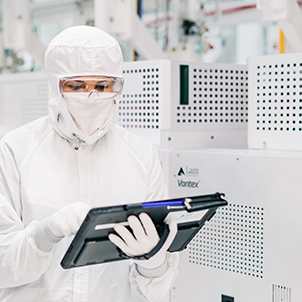 -Lam reported in line results on reduced expectations
-Guidance disappoints as memory decline continues
-Memory capex down 50% but still sees "further declines"
-Lam ties future to EUV maybe not good idea after ASML report
Lam comes in above grossly already reduced expectations
and misses on guidance
We always find it amusing when companies greatly reduce expectations and guidance then try to act like it was a "beat" of numbers. Lam came in at revenues of $3.87B and EPS of $6.99 which was down 27% sequentially. Guidance was for $3.1B+-$300M versus street expectations of $3.47B and EPS guidance is for $5.00+_ $0.75 versus $5.63. Lam continues to guide down more than the street is looking for as conditions worsen.
Backorders back to "normal"
As supply chain problems have more or less cleared up as demand has fallen off, Lam has used up most all of its backlog and is now in a more "normal" backlog position.
The company still has $2B of deferred revenue to keep it warm at night from pre-payments on shipments to China or Japanese customers awaiting acceptance , so a buffer still remains, somewhat.
Is Lam still a memory shop if foundry is top revenue segment??
Memory business at Lam dropped to a low that we haven't seen in a very long time as memory was 32% of overall business with foundry at 46%. Probably the bigger piece of the memory business is service, which also sequentially declined, as new tool shipments to memory customers are likely falling to relative near zero levels.
China tied Korea at 22% of business. Service was a huge 40% of business even with the decline as new tools sales obviously kept dropping.
Expecting "further declines" in memory
Lam made it clear that memory capex spend has not yet hit bottom as they commented that "further declines" in memory spending are expected. Memory capex spending was estimated by the company to be down 50% already as memory makers continue to reduce bit growth and bit output to try to shore up declining pricing.
It seems fairly clear to us that given the trajectory and momentum that memory will not recover before the end of the year and the strength of the recovery when it does eventually happen will be weak and slow.
Memory makers will have a ton of existing capacity to bring back online before they buy a single new piece of equipment or even think about expanding or adding new fabs.
In addition to the idled memory making equipment sitting turned off in fabs there are also technology shrinks that will add to capacity without the need to buy new equipment.
The bottom line is that with all the idled equipment, reduced output, and potential technology changes, memory makers could easily survive a year or two based on current demand trajectory without any incremental spending.
The bigger problem is that perhaps only Samsung will be financially able to spend after another year in the current loss environment.
Whenever the current down cycle is over , it will certainly not be memory that leads the way out.
China seems to be buying any chip equipment not nailed down
One of our other concerns that we continue to see is that China has been on a huge spending spree for non leading edge equipment. Its hard to figure out where all the equipment is going as it seems there aren't that many fabs in China (that we know of).
It has all the makings of the famous toilet paper shortage as people bought in expectation of a shortage.
China seems to be buying any and all equipment they can as they likely fear that they will be cut off from even non leading edge tools. We saw this in ASML's report this morning where 45-50% of DUV sales were into China.
This demand from China feels artificial and runs the additional risk of slowing because of increased sanctions or just running out of the stampede/herd mentality. This obviously adds to the risk of a longer/deeper downturn
Lam hitches wagon to EUV future (maybe not such a great idea right now…)
During the call, Lam went to lengths to show how it will benefit from the EUV transition and success. They claimed a 75% share of "EUV patterning" related technology (we assume etch) and also spoke about continued wins in dry resist technology.
While this certainly is good , the news from ASML this morning seemed to call into question how much of EUV sales would slow, be delayed or changed over the next year or two. As we previously pointed out this has a negative effect on tools associated with EUV including those made by Lam. It was probably too late for Lam to change their prepared script after the ASML call….
Is this a "second leg down" in the semiconductor down cycle??
As we have been saying and repeated this morning after ASML, we remain concerned that there is a second leg down in the current down cycle or at the very least we are certainly not at a bottom at which we feel comfortable buying chip equipment stocks at already inflated valuations for a down cycle.
Lam clearly called for further declines in memory and guided to further lower revenues in their business. There was no talk on the call about being at or near a bottom in business. The amount of China business is a double edged sword in that it helps soften the blow of the downturn but creates an additional risk in exposure to a politically unstable market.
The stocks
We have zero motivation to buy Lam or any other equipment stock after the run that they have had. We would expect some sort of rationalization of valuation after earnings season and investors and analysts figure out that we haven't yet hit bottom and there is further unknown downside.
Macro economic conditions certainly don't give us any comfort either.
From a Lam specific perspective, memory will likely be the last to recover and very slowly at that.
With today's set up from both ASML and LRCX we would expect that KLAC will have similar comments and AMAT as well though a month later.
We can't imagine anyone making positive commentary about the industry trajectory any time soon.
Bullish analysts who called the bottom a bit too soon will likely be out defending their position tomorrow or defending that Lam "beat" their numbers (if you can describe being down 27% sequentially a "beat")
Bottom line is that "it ain't over till its over" (Yogi Berra) and its not over yet…..
The light at the end of the tunnel could be an oncoming train….
Also Read:
ASML Wavering- Supports our Concern of Second Leg Down for Semis- False Bottom
Gordon Moore's legacy will live on through new paths & incarnations
Sino Semicap Sanction Screws Snugged- SVB- Aftermath more important than event
Share this post via: