On Wednesday, July 10th I got to sit down with Gary Patton, CTO and SVP of worldwide research and development of Global Foundries and get an update on how the company is doing.
We started with a discussion of Global Foundries (GF) general business health. Revenue for the year is expected to be around $6 billion dollars. They are focused on profitability and will generate over $600 million dollars in free cash flow after $700 million dollars of capital expenditure and $600 million dollars of R&D spending not including any transactions. In the past GF was cash flow negative and this is a huge accomplishment making the company self-funding.
The first key decision in achieving this was pivoting away from 7nm. 7nm is fine for TSMC and Samsung but is messy with EUV, etc. and the R&D and IP investments are very high. According to a graphic they showed me from Gartner, 7nm and smaller nodes are only expected to represent about 20% of the total available market in 2023 so GF is not missing out on a lot of opportunity.
A second key decision has been rationalizing their fabs. GF had 3 – 200mm fabs, with large fabs in Burlington and Singapore and a small fab doing MEMS (Singapore Fab 3E). They have now sold Fab 3E. They also had 4 – 300mm fabs with large fabs in Malta. Dresden and Singapore and a small fab in Fishkill. They have now sold the Fishkill fab to On Semiconductor. On's product have a lot fewer masks than GF's making Fishkill a more appropriate scale fab for them. Fishkill will transition to On over three years with 45RFSOI and Silicon Photonics transitioning to Malta and 130nm RFSOI going to Singapore, Dresden has 22FDX and 40nm RF SOI. Even after the fab sales GF still has plenty of space available for growth. Dresden is only about 50% full, Fab 7 in Singapore has some space and after moving out 7nm from Malta there is about 40% available space there. GF can grow revenue by 40% with current cleanroom space.
GF has also sold their ASIC business to Marvell making them a clean provider of foundry services. They are focusing on being a manufacturing service provider, not a product provider.
GF wants to focus on key market segments that are growing, mobile, automotive and IOT (smart devices). In mobile the BOM is switching to more FEM (Front End Module) where GF is strong (I have previously written about GF's broad portfolio of RF solutions here) and they are the only foundry with turn-key RF.
Some examples of applications for GF technologies are shown in the following slides.
Figure 1 illustrates GF technologies in wireless base stations.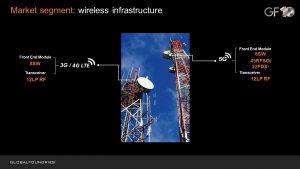 Figure 1. Wireless infrastructure applications.
Figure 2 illustrates GF technologies in smart phones.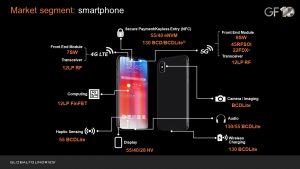 Figure 2. Smartphone applications.
Figure 3 illustrates GF technologies in automotive.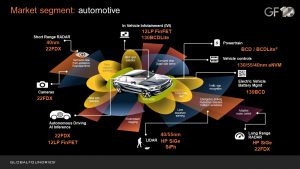 Figure 3. Automotive applications.
22FDX will have double the design wins this year and GF has restarted work on 12FDX. 12FDX is being developed in Malta on a slow ramp, they aren't being pressured by customers for 12FDX yet. They have two new $1 billion-dollar opportunities in the last year for 45RFSOI in Dresden. They think their embedded MRAM solution is more flexible than other suppliers and they have started to get design wins on MRAM and also mmWave.
After years of questions about GF's long-term survival they appear to be carving out a sustainable position in some key markets.
Share this post via: