As a full time financial writer/investor, I am always on the lookout for compelling risk/reward opportunities, particularly in small-cap tech. While the world of large-cap tech is generally well understood by the investment/analyst community, smaller cap names are usually under-followed and often misunderstood. One such example of this – and one of my highest conviction stock picks for 2014 – is CEVA Inc., a leading vendor of DSP IP blocks that primarily go into cellular baseband chips (although the company is expanding outside of this core business).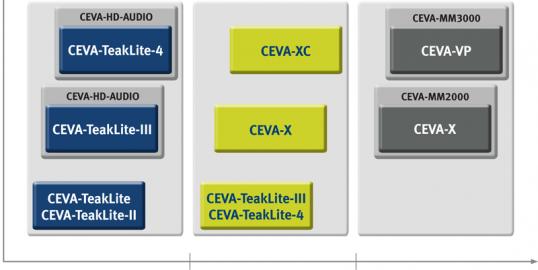 A Little History
Following CEVA's most recent earnings report (at which the company disappointed investors by missing top and bottom line expectations), the shares crumbled – dropping from just north of $18 per share to a low of $13.71. It is then that I took a position in the stock. But why did I do so?
Well, in order to understand why I believe CEVA's future is so bright, it's important to understand the difficulties that the company has had over the last few years. Really, the company's (biggest) problems can be summed up with just one word: Qualcomm.
Remember how I told you that CEVA's DSP blocks are used in the cellular modems from Samsung and Intel (via Infineon acquisition)? Well, the first "strike" was when Infineon Wireless lost the cellular baseband socket in the GSM version of Apple's iPhones. Tens of millions of units – each generating over 2.5 cents per unit in pure royalty profit – evaporated into thin air. Now, this is a pretty unfair characterization – while the leading edge iPhones were all Qualcomm modem (with a Qualcomm DSP) – the older generation iPhones still sported Infineon modems, meaning that CEVA saw a continued bleed until the iPhone 4 and earlier were no more.
But it got worse. MediaTek, one of the leading vendors of applications processors, actually picked up DSP IP vendor (and competitor to CEVA) Coresonic, which meant that CEVA's IP was given the boot in MediaTek's product lineup (and MediaTek is a rather high volume player in the handset market). This was an even worse blow from a revenue standpoint than losing the iPhone.
Finally, the last leg into its steep fall from financial grace, was the fact that none of CEVA's remaining baseband heavyweights – Samsung, Broadcom, or Intel – were able to deliver truly credible LTE solutions (yes, Samsung did its own but the vast majority of the phones that matter for Samsung use Qualcomm apps processors and baseband – this isn't by accident). This meant that Qualcomm basically took over the entire high end of the cellular baseband market, leaving nothing for the last two years for CEVA's big licensees.
However, the pain is almost over and I believe that CEVA's business is on the cusp of a major inflection point.

Samsung, Intel, and Spreadtrum: CEVA's Saviors
Intel formally announced that its XMM 7160 multimode LTE modem was shipping to customers now and that its second generation LTE-Advanced modem, known as the XMM 7260, would be shipping in devices during the first half of 2014. Samsung, too, has been rather clear about its intentions to use its own LTE-Advanced baseband across its product lineups next year. While Samsung's RF transceiver partner, Silicon Motion, doesn't yet know to what extent Samsung will be deploying its own solution (the modem is still in testing), everyone involved seems optimistic that Samsung will deliver.
Intel, too, has made it quite clear that there is significant customer demand for its upcoming XMM 7260, with Intel's wireless GM going so far as to tell the audience at the company's annual investor meeting that customers have been nagging him to pull in the schedule for this device by a month here and a couple of months there. Intel's modem looks quite compelling and possibly even good enough to give Qualcomm's top notch LTE-A modem a run for its money. Success for Intel here means success for CEVA.
Finally Spreadtrum, one of the leading vendors of integrated SoCs and cellular basebands for the Chinese handset market (and a rapidly growing one, too) leverages CEVA's DSPs for its LTE products (which, with the rollout of LTE on China Mobile's networks, should be selling in rather nice quantities shortly).

Yes, there's other stuff, too – but I don't care
While I do like that CEVA is aiming to put its DSP cores into other products outside of cellular baseband, the fact of the matter is that 87% of the company's royalty-bearing unit volume comes from cellular baseband chips. Further, if my thesis is right, CEVA will start to see a meaningful upward inflection in the number of basebands ship with its DSP cores as new products from Intel, Samsung, and Spreadtrum begin to ramp in earnest.
If CEVA's other businesses take off as well, then that's just more profit for CEVA and its investors, but the important thing to see here will be just how much traction CEVA's licensees gain in the baseband market. If Samsung moves most of its phones over to its own baseband, then there's no question that CEVA will see a nice unit volume spike. However, I'm frankly more excited about Intel here because I do think Samsung will still use a meaningful number of Qualcomm (i.e. non-CEVA royalty bearing) chips in many of its phones. Intel, on the other hand, is getting ready to attack both the discrete LTE/LTE-Advanced market during the first half of 2014 and then will be pushing hard with an integrated apps processor + baseband (presumably with CEVA IP since the modem block is based on the same one found in the XMM 7260 discrete modem). At any rate, my thesis is simple: as Qualcomm's monopoly breaks and as Samsung/Intel/Spreadtrum gain share, CEVA is poised to profit.

What if I'm wrong?
I could be dead wrong – no investor should believe in a 100% fool-proof investment thesis. Intel's baseband efforts could tank and so could Samsung's – there's a reason Qualcomm has held the top spot for so long and it won't be so easy to knock this behemoth off of its perch. That being said, even with baseband sales having plummeted (and, frankly, probably bottomed – it's hard to see how much more damage can be done here), the company still has a massive pile of cash (~$5.27/share in cash on the books), valuable IP, and is still cash flow positive (although nowhere near where it was when things were going well in 2010/2011). If things get really bad, I see no reason why Intel or Samsung wouldn't just peel off a couple hundred million from their massive cash flows and just buy the company. The IP is valuable and the engineering team has proven that it can consistently do a good job. If MediaTek bought Coresonic, does it really seem farfetched for Intel/Samsung to buy CEVA?
More encouragingly, after a bad quarter and a not-so-great forward guide, CEVA's shares found incredibly strong support in the high $13/low $14 range. The downside – from my perspective – just simply doesn't seem to be all that great (a few bucks per share) compared to what I believe could be a doubling in share price over the next couple of years if Intel/Samsung gain meaningful traction in baseband (and remember, the cellular market itself is growing wildly, so Intel/Samsung don't have to take an obscene amount of share for CEVA to see a nice uptick in royalty-bearing units being sold).

Conclusion
CEVA is a small cap semiconductor IP play that, in my view, represents one of the best, catalyst-driven plays in the space. I also like Imagination Technologies which could be a real winner if it can win back meaningful traction with MIPS and stave off ARM/Vivante/NVIDIA in the GPU IP business (and Samsung/Intel's own internal efforts), but the CEVA story just seems easier. ARM is the biggest, best-in-class semiconductor IP vendor but it is expensive and, in my view, the majority of the run has happened (although at today's market capitalization, ARM could easily issue some stock and buy CEVA…).
Those are just my view of things. What do you think, SemiWiki?
More articles by Ashraf Eassa…
Also read: A Brief History of DSP
lang: en_US

Share this post via: