We received some good feedback from our article on Intel's Back to the Future Buy of Micron and I thought I would present another story line that gives readers a better perspective of what may be possibly coming down the road. In this case, it is the story of AMD and Samsung partnering to counter Intel's platform play with Micron. The initial out of the box idea of Intel buying Micron is based on my theory that whoever controls the platform wins. The new mobile environment is driven by two components, the processor and NAND flash. You can argue wireless technologies, but Qualcomm is like Switzerland supplying all comers. Intel (CPU centric) and Samsung (NAND centric) are the two likely head to head competitors. Each one needs a partner to fill out the platform. Thus, Intel with Micron and Samsung with AMD.
The semiconductor world can operate in a unipolar or bipolar fashion, multipolar eventually consolidates to one of the former.
The challenge to the company who operates like a monopoly is that it slows down in the delivery of new products or fails to address new market segments. Intel has had a long run as the leading supplier of processors in laptops and notebook PCs. However, as most are witnessing now, they missed on addressing the Smartphone and tablet markets. In the notebook market, Intel could deliver processors with a 35 Watt (TDP) threshold. Now Intel is scrambling to redesign an x86 based processor that can meet the more stringent power requirements of iPhones and iPADs. The ultrabook initiative, which started in the spring, is an attempt to close the gap with tablets with a PC product that has much better battery life and is closer in weight.
It will take 2 years for the initiative to come to full completion.The new mobile world of iPADs, Smartphones and MAC Airs can trace their genealogy to version 2.0 of the iPOD. It was at this point that Steve Jobs converted Apple to a roadmap that would build innovative products around the lower power and smaller physical dimensions of NAND Flash. And with Moore's Law behind it, NAND Flash offers a path to lower cost storage for future products that will tap into the cloud. When one looks at the bill of materials profile of the components in Apple's iPhones and iPADs, one can see that the NAND flash is anywhere from 2 to 5 times the dollar content of the ARM processor. In the MAC Air the NAND flash content is 1/2 to slightly more that of the Intel processor. If you were to combine the three platforms, flash outsells the processor content by at least 3:1. Given current trends this will grow and therefore becomes the basis for Intel seeking to be a flash supplier. This is especially true if they can make a faster proprietary link between the processor and storage.
Turning to Samsung's side of the platform. They obviously recognize the growing trend of NAND flash in the mobile compute platforms. Samsung should look to leverage this strength into a platform play that also includes the processor. In this case, it includes ARM and x86. Samsung will also look for ways to separate themselves from competitors such as Toshiba and Sandisk. This is where pushing ahead early to 450mm Fabs could have an impact.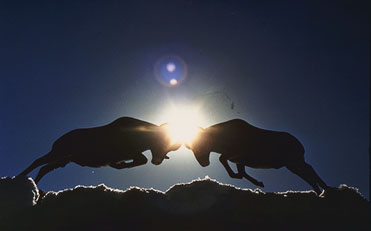 During the course of the next decade, there are three major platform battles that will take place between ARM and x86 processors. Today Intel has dominance in the server and legacy desktop and notebook PCs while ARM is dominating in the SSD based Smartphones and Tablets. The crossover platform is the MAC Air with an Intel processor and an SSD. Intel has been and will likely continue to increase ASPs in the server market as a value proposition on data center power consumption. In the traditional PC space, Intel is confronted with a slow growth market that will require them to reduce ASPs in order to prevent ARM from entering the space and to avoid losing share to the SSD based platforms. There is not a direct 1:1 cannibalization in this scenario but we will understand more fairly soon. ASP declines by Intel will in one way or another be a function on how to keep their fabs full.
As one can see, there are a low of variables in determining who wins and to what degree in all three of the major platforms. If Samsung wants to be a major player in all three then it needs an x86 architecture as well as a top notch ARM design team to compete against Intel. Assuming NAND Flash will grow in revenue faster than x86 processors, then Samsung should utilize AMD's x86 to strip the profits out of the legacy PC and the highly profitable server space. Intel will likely utilize Flash to enhance the platform in terms of improving overall performance relative to ARM. Due to the fact that Intel supplies 100% of Apple's x86 business, they will have a more difficult time offering discounts to non-Apple customers because any discount will be immediately subtracted from Apple's purchases. Since Apple is the growth player in the PC market, they will dictate Intel's floor pricing. AMD is not an Apple supplier, therefore it has the freedom to experiment with x86 pricing with the rest of the PC market. To implement a complementary strategy to the MAC Air, AMD needs to make adjustments to their processor line by developing a processor that moderates x86 performance for greater graphics performance. The combined solution (or APU in AMD terminology) must be sold for $50 – $75 or more than $150 less than Intel's solution. And finally the maximum thermal design power (TDP) of the processor should be in the rangeof 2-5W.
In the past month, many of the Taiwan based notebook OEMs have complained that they are unable to match Apple's price on the entry level $999 MAC Air. Apple can now secure LCD panels, NAND Flash and other components at lower prices. In addition, the PC makers must pay Microsoft an O/S license fee. For these vendors to be able to compete, they must utilize a non-Intel processor. The lowest cost Intel i5 ULV processor is roughly $220 and Intel will likely not offer a lower cost ULV processor until Ivy Bridge reaches the mid life cycle of its production sometime in 2013.
On the ARM front, Samsung needs an experienced design team to develop a family of processors for smartphones and tablets. The highly successful A4 processor was designed by a group in Austin called Intrinsity, which Apple snapped up last year. Mark McDermott, one of the co-founders, and someone I once worked with at Cyrix in the 1990s, has been designing ultra low power processors for 20 years. Experience counts and Samsung is in need of processor designers who can make the performance and power tradeoffs between processor and graphics cores. AMD is overloaded with engineering talent.
The platform wars, not just processor wars, are heating up as Intel and Samsung look to gain control of the major semiconductor content going into new mobile devices, legacy PCs and data center servers. It looks to be a decade long struggle that will be better understood after 450mm fabs are in place. What may have seemed to be out of the question a few months ago (e.g. Intel buying Micron or Samsung teaming up with AMD) is likely to be up for serious consideration. Who would have guessed a month ago that Google would buy Motorola or HP exiting the PC business. The tectonic plates are shifting.

Share this post via: