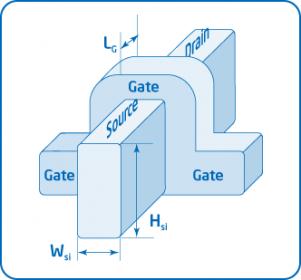 Intel had a big press event yesterday at which they announced details of their 22nm process. In a change from their current processes, it goes with a vertical gate. In fact 3 gates which gives them much better control of leakage through transistors that are switched off, along with more transmission through the on transistors. They claim to get 37% better performance and 50% power reduction compared to 32nm. Although vertical transistors have been talked about for nearly a decade, Intel's tri-gate is the first time anyone has brought them into volume production.
One speculation is whether the performance of Atom at 22nm hits a better power/performance than ARM does at 28nm in TSMC and other foundries. Of course the ATOM vs ARM battle isn't really just about technical specs but rather about ecosystems and partners. The mobile industry in particular are unlikely to suddenly switch everything to Atom for a small increase in battery life because it would be very expensive and risky.
Before the press conference there were rumors that Intel would also announce one or more foundry deals (they didn't). They are building 4 fabs to run 22nm which is a lot of capacity. Presumably they reckon that with their solid lead of 1-2 process generations against the competition they can wrench some big volume names from TSMC and Samsung. Apple, in particular, is one name that keeps coming up. Supposedly they are in transition right now from using Samsung as their foundry to using TSMC, mainly because Samsung competes with them in cell-phones and tablets. But Intel will have this problem too if they are a foundry for Apple. They just acquired Infineon wireless (so I'm assuming they must have an ARM license through that), but it's not clear how serious they will be since Infineon was not really a market leader and has struggled once Siemens got out of mobile-phones completely.
Intel clearly either needs to acquire some silicon hungry product lines or else bring on a lot of wafer foundry business if it is going to fill its 22nm capacity. I still don't see how Atom can realistically displace ARM because Intel has to run some ARM stuff (their own, Apple, someone else) so at least part of the ARM ecosystem will have access to Intel's manufacturing, and that probably isn't decisive anyway. Apple on Intel does make some sense though, giving them the possibility to keep its specs ahead of anything that its competition would be able to come up with.
*Note: to read/write comments you must log in.
Share this post via: