Talk about an unusual position. Intel finds themselves very much currently outside when it comes to mobile SoCs for phones and tablets. After several attempts at soul-searching and a true understanding of the term "low-power" (not meaning 3W, but instead < 1W), they finally have a part – in the form of "Medfield", aka the Atom Processor Z2460 – that can technically compete for business while their roadmap develops.

Intel is relying on several factors in a push to win business in mobile, but the two biggest are their fab footprint and their ability to optimize software. We'll discuss the fab implications shortly. In software, nobody knows how to get more out of an Intel Architecture than Intel, and their army of software denizens has moved into the world of Android and Tizen to help phone makers optimize for their chipsets.
There's the current Z2460, a single core solution, and later this year there will be samples of the Z2580 which brings a dual core to the table. Recall that Intel uses a forking strategy, introducing a product line and then breaking it into a performance path and a value path (which is often the manufacturing optimized, cost reduced instance of the first introduction). Both these parts are in Intel's 32nm high-k process.

CPU: a Intel "Saltwell" core drives both these designs. Core counts again are deceptive here. Intel has applied the usual attention to their branch prediction, L1 and L2 caching, and a dual channel LPDDR2 interface to get reasonable performance. According to one explanation, this architecture handles a lot more outstanding L2 misses compared to the ARM Cortex-A9. There's also some Silicon Hive knowledge going on inside. Most importantly, this design goes after power savings with clock gating and scaling. The core frequency moves in 100 MHz increments, up to 1.6 GHz (reports are they will have 2.0 GHz SKUs shortly) burst mode and 1.3 GHz sustained.
GPU: What's labeled as the Intel Graphics Media Accelerator in the Z2460 is actually the Imagination Technologies PowerVR SGX540, clocked at 400 MHz which gives it OK performance. Coming in the Z2580 is the PowerVR SGX 544MP2 clocked at 533 MHz, which will raise the bar significantly.
Baseband: Intel is leveraging their purchase of Infineon, but still doesn't have the baseband on chip. (Again, with the disparity in world carriers right now, I don't see that as a problem.) The Z2580 works with the XMM 7160 for LTE.
Before dismissing the seemingly pedestrian single-core Z2460, the CPU performance figures are surprisingly good. On this chart, we have from top to bottom a Qualcomm Snapdragon S4, a NVIDIA Tegra 3, the Intel Z2460, and a TI OMAP 4 all under Android (the Lava XOLO X900 isn't running ICS). This is more evidence against core counting.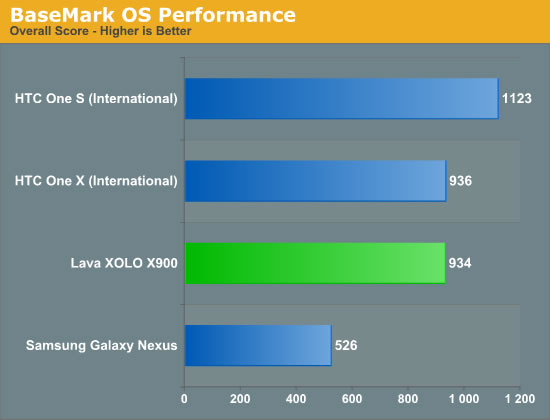 Then there's the wildcard: fab. At Intel's annual investor day on May 10, CEO Paul Otellini made a bold statement:
Our job is to ensure our silicon is so compelling, in terms off running the Mac better or being a better iPad device, that as they make those decisions they can't ignore us.
The endgame for Intel right now is 14nm, and their roadmap goes through 22nm in the Merrifield device. But notice how Otellini said this: he's leaving the door open for either Intel designs, or an Intel foundry strategy making Apple parts. The conditions that caused Apple to switch from Power Architecture to Intel Architecture on Macs aren't quite there for mobile phones. The one missing element is a relentless roadmap that creates a head and shoulders performance advantage and a pace 3x the rate competitive devices are introduced. Right now, Intel is coming from a laggard position to a pace about equal to their competition we've outlined in this series.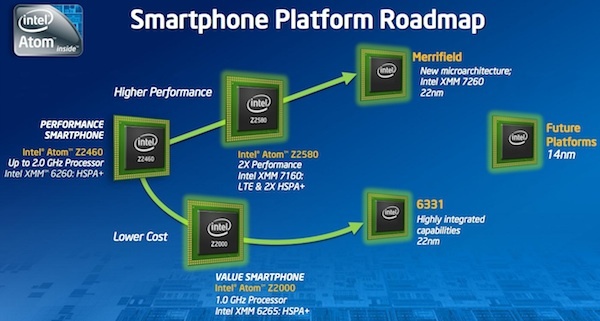 There's also some debate on the whole semi industry model, questioning if Intel is going to be the only option at 14nm and below. I know it takes $12B+ to put together an advanced fab these days. But it's been proven time and time again in technology: what you think is an unassailable advantage wears away over time, and other competitors step in. The whole ARM community evolved because Intel took too many transistors and too much power – something I'm discussing in my upcoming book. I wouldn't rule out TSMC and Samsung for sure, and maybe UMC and GlobalFoundries will have something to say long term, and there's still an asset model at TI to consider in the mix.
Along with the mentioned Lava XOLO X900, Intel also has a win in the Lenovo K800, a private labeled phone for Orange code named "Santa Clara", and agreements with Motorola and ZTE which we have few details on so far. (Speaking as a 14yr ex-Motorolan: they have one of everything. I'm not ready to declare that Motorola is making a wholesale switch from TI, as some pundits have. Not the first rodeo I've seen.)
Intel has to play their massive manufacturing engine to win in this market, and they could displace some of the incumbents if this roadmap comes to fruition and design wins happen. On the other hand, consider that Warren Buffet has seen the story and reduced his position in Intel dramatically. It's going to make fascinating tech watching.
Next up in the Smart Mobile SoC series: the Chinese.
(Disclaimer: Not sponsored by, or invested in, companies mentioned. Never free, never me.)
Don Dingee
Chief Story Officer, Left2MyOwnDevices
@L2myowndevices
http://L2myowndevices.com
Share this post via: