Anybody working in the wireless handset segment probably knows that CEVA is the provider of DSP IP cores, and if you are simply a wireless handset user, you should know that the baseband digital signal processing is the function allowing your phone to process the RF (analog) signal coming from the outside world. If you have been involved in the wireless segment before 2002, you may remember a company named DSP Group: the merge of the IP licensing division of DSP Group and Parthus has been named CEVA, and CEVA has enjoyed 90% market share for DSP IP products in 2011, according with the Linley Group. A 70% market share simply means that CEVA' DSP IP have been integrated into 1 billion IC shipped in production in 2011!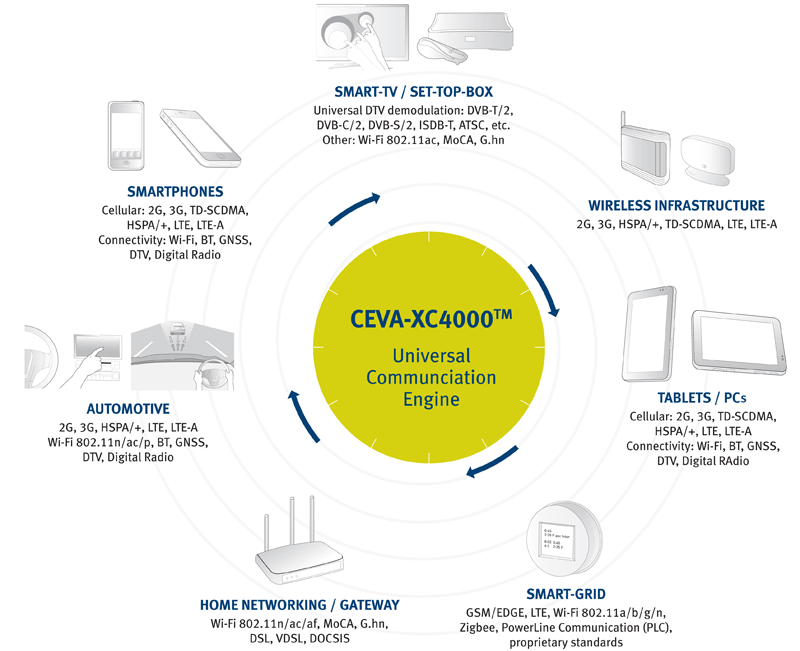 Some of you may remember that, during the 90's, when the wireless phone segment has been created from nothing, to emerge in 1995 and sky rocket in the 2000, the baseband processing was digital (by opposition of the very expensive but low sound quality analog wireless) and one company was dominating the IC market: Texas Instruments, thanks to their DSP. Initially, the handset made by Ericsson where even using the TMS320 DSP standard products from TI, before TI was pushed to propose a DSP core, which could be integrated into a more complex ASIC. But this was not a DSP IP core. In other words, Ericsson, Nokia, Alcatel and so on had to develop their devices, using TI ASIC technology, and TI fabs. At that time, it was seen as a very good strategy by TI: they had architecture a new DSP specially tailored for the wireless handset application and this core was the hook allowing to fill the fab with the devices which will eventually become application processor later on, except that, at that time, most of the processing power was in the DSP and the processor core was… an ARM 7!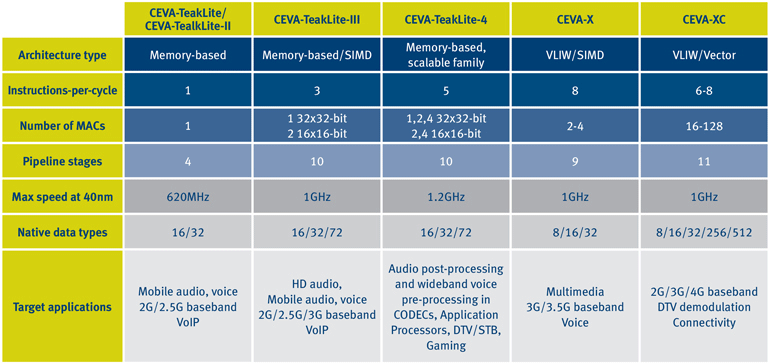 When DSP Group (CEVA today) came on this market, TI competition (VSLI Technology, STMicroelectronics and more) was certainly happy as they could propose an alternative solution to the Nokia et al., but it took some time before these OEM decide to move the S/W installed base from TI DSP to CEVA DSP IP core, that they had to do if they decide to move from TI to another supplier. It was a long route, but when you consider the 1 billion devices integrating a CEVA DSP IP, this means that (probably) 800 million of the 1,500+ million of wireless handset shipped in 2011 uses CEVA DSP, the remaining devices addressing a broad range of applications including cellular baseband, imaging, vision, audio, voice, voice-over-IP and more. In term of architecture, it was also a long route: if in 2000, it was possible to use a simple DSP IP core to support the baseband processing, today's communication standards including LTE-Advanced, LTE and HSPA+ are supported by CEVA-XC4000 architecture, offered in a series of six fully programmable DSP cores, running at speed up to 1 GHz, as you can see on the above picture.
The market share numbers (once again, 70%, a magic number for an IP vendor!) were published in The Linley Group's recent report, titled 'A Guide to CPU Cores and Processor IP', and have been commented by one of the co-author: "CEVA continues to be the most successful supplier of DSP IP — its licensees shipped more than one billion chips in 2011," said J. Scott Gardner, an analyst at The Linley Group. "CEVA has an impressive customer base for its DSP portfolio, especially in communications and multimedia. Furthermore, with the 4G transition well underway, high-performance programmable DSPs are required to efficiently handle complex multimode baseband processing. CEVA is well positioned to capitalize on this trend."
The next comment, from the CEO of CEVA, is reflecting the satisfaction of being the market leader with 70% market share, and I am sure I would have the same behavior, would I be in this position!
"CEVA is pleased to be ranked yet again as the worldwide leader in DSP IP by The Linley Group," said Gideon Wertheizer, CEO of CEVA. "Our unrivalled expertise in DSP technology for high volume mobile and digital home applications drives our success and is the reason we are the DSP-of-choice for many of the world's leading semiconductors and OEMs."
CEVA is also proposing Controller IP for SATA and SAS, we will come back to these IP in another blog. The focus of today was DSP IP core, and, like ARM IP core is coming in mind immediately when you consider a wireless handset phone or smartphone, CEVA DSP IP is the dominant solution for the same. Just a final remark: CEVA is claiming to be the only Israeli company who's product is integrated into the Apple iPhone, if anybody knows what product CEVA has sold to Apple (I strongly guess that Apple does not allow their supplier to communicate about this), feel free to put a comment, or to send me a note.
Eric Esteve from IPNEST –

Share this post via: