It was refreshing to hear a talk focused on emerging stronger from the downturn when the news and media are focused on the gloom. At the recent Siemens EDA User2User conference, Joe Sawicki, executive vice president, IC, gave an uplifting keynote talk to the audience. He highlighted a secular growth trend happening in the semiconductor industry, what is driving that trend, and what EDA's role is to support and drive this growth. Joe finished his keynote by identifying the thrust of Siemens EDA's R&D efforts and providing a couple of examples.
Here is a high level synthesis of Joe's keynote presentation.
Historically speaking, the semiconductor market has been a cyclical market with the memory market segment having an oversized influence on the overall market growth. Cyclical trends are affected by the boom and bust swings of the market. A secular trend on the other hand is one that is likely to continue moving in the same general direction for the foreseeable future.
Drivers Behind the Secular Trend
The worldwide aggregate data traffic growth rate is 2x per year with the data being created, transmitted, processed and stored by semiconductor devices. Semiconductors are taking a more important role than ever. This is reflected by statistics that show how the semiconductor content share of system product value has grown over the last few decades. From an average of 8.3% until the late 1980s to 16% until mid 2010s, it has reached 25% now and projected to go up. More and more intelligence is being built into systems. Systems companies have noticed this and getting directly involved in System-on-Chip (SoC) designs and tapping pure-play foundries. This is to ensure optimization of profitability of their systems and for the differentiated use of intelligence-driving technology into their products. The above are the drivers behind the secular growth trend for semiconductors. The number of design starts are projected to continue to grow at 5% driven by many new growth applications. Market Research firm IBS is predicting that artificial intelligence (AI)-driven semiconductors are going to be the major market driver behind the growth to the trillion dollar mark.
Three Pillars of Siemens EDA R&D Investment
Siemens EDA is focusing on three pillars of R&D investment to support the secular growth trend.
Technology scaling – supporting transistor scaling, silicon manufacturing processes, variability analysis of designs.
Design scaling – extracting more functionality and performance from the designs themselves on top of what the doubling of transistors every two years.
System scaling – system complexity is growing at a much faster rate than 2x. Understanding how a system will respond over time which in turn requires an understanding of how the ICs will respond over time. Looking at new ways of system level verification to help build better designs to solve the end customers' needs. For example, autonomous vehicle systems or other IoT based systems.
An area that cuts across all three pillars is the system technology co-optimization (STCO) for 2.5D and 3D ICs. Multiple Dies into one package in an optimal way to meet the cost, power, thermal and performance goals is not an insignificant challenge.
How Does Siemens EDA Support the Secular Growth Trend
At Joe's keynote was time-compressed to accommodate time for two more keynote talks, I followed up to gain additional context and insights for this post.
For a 10 year (2020-2030) CAGR for semiconductors, Market Research firm IBS [Report: May 2022] is projecting a 32.4% for semiconductors with AI content compared to a meagre 3.3% CAGR without. While the AI hardware will be the critical driver for applications and semiconductor volume, off-the-shelf IP will be insufficient to address power and performance. The ability to create unique AI silicon content rapidly is challenging but also a critical success factor for the next generation of applications. That is why, design scaling and system scaling are taking on even more importance going forward.
In the design scaling category, the areas of focus include creation of high-quality RTL, advanced digital implementation for out-of-the-box PPA, data-driven verification and end-to-end test solutions.
As an example, High-Level synthesis through GDSII (Siemens EDA Catapult) enables accelerated creation of unique AI IP. The premise is that moving the design to even higher level than RTL, say to C-level approach enables much more architectural exploration to be achieved.  For example, analyzing the effects of varying bit widths, memory structures, etc. Integrating the results from these analysis into a detailed place and route environment makes it possible for very good prediction of overall performance.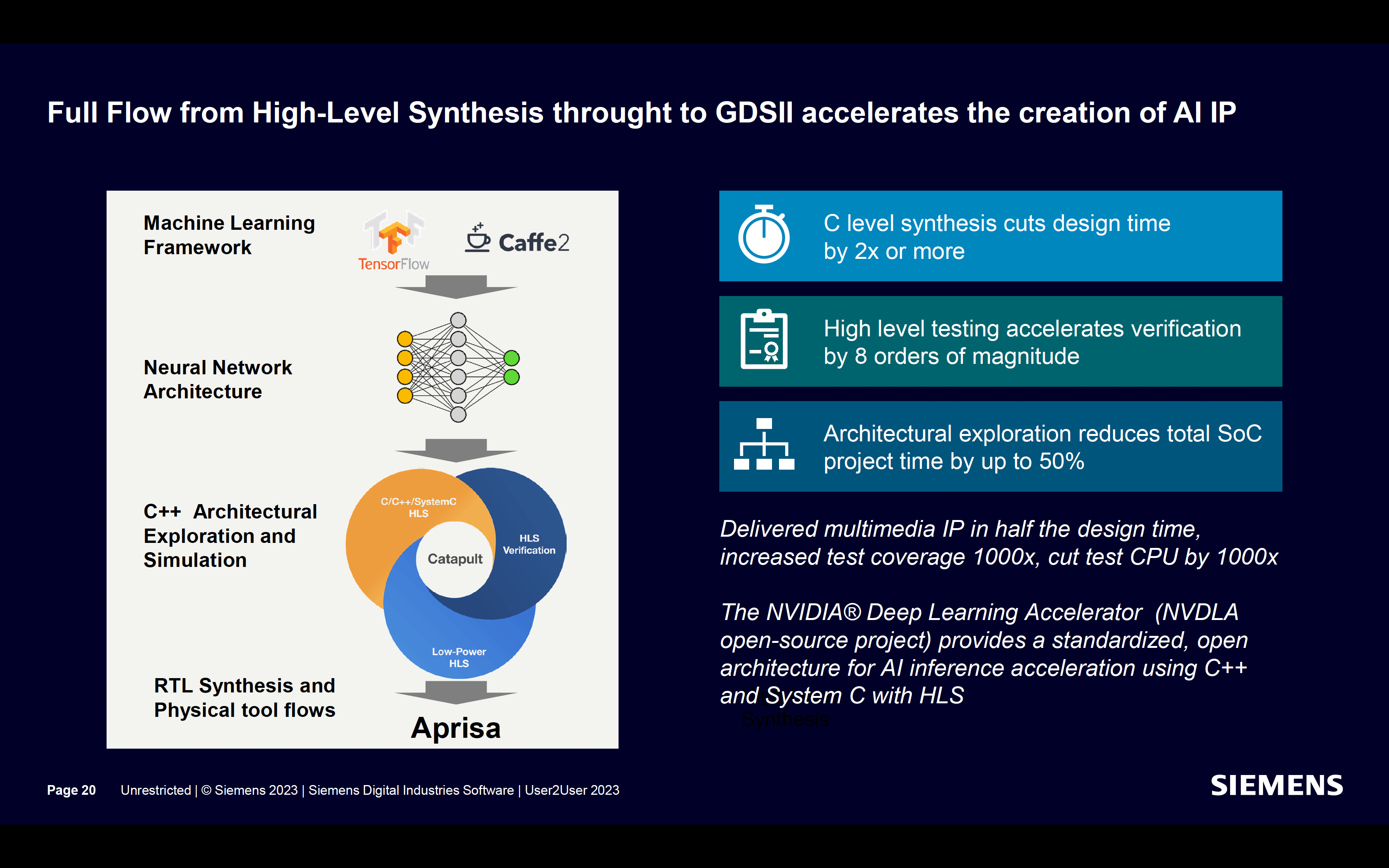 As for system scaling category, execution of system software on the SoC is critical. And so are the integration and validation within the system context to ensure the correct operation of complex systems. The scope of what Siemens EDA brings to its customers to support their system scaling requirements is immense.
Following is an automotive system example that Joe shared during his talk. It takes sensing and traffic data, connects to a decision framework and then to an actuator braking system. The breadth and depth of the processing and Multiphysics analysis to be performed to simulate an accident scenario in a metaverse city environment is tremendous. Siemens EDA customers are able to get these capabilities under one roof. Siemens PAVE360 is one such demonstration. PAVE360 is a complete autonomous verification and validation environment modeled as a system that represents a twin image of the physical vehicle and its driving surroundings. Siemens PAVE360 powers the needs of OEMs and suppliers to explore, design, build and train/validate compute solutions critical to the future of connected and autonomous driving cars.
Summary
The semiconductor industry has become a central point in the awareness of most governments around the world with the tail wind likely to further strengthen the secular trend presented by Joe. During the User2User conference, many customers provided substantiation of how Siemens EDA's various tools and solutions are addressing their market requirements and the secular growth trends. SemiWiki will be posting separate blogs on many of these presentations.
To learn more about everything Siemens EDA has to offer, visit this page.
Also Read:
Tessent SSN Enables Significant Test Time Savings for SoC ATPG
Using ML for Statistical Circuit Verification
Achieving Optimal PPA at Placement and Carrying it Through to Signoff
Share this post via: