During 2018, Menta looked quiet if you consider communication as the main indicator of activity. In fact, the eFPGA vendor was hyper-active in developing future business and reports two main design-win. The first is with the European Processor Initiative (EPI) and Menta has announced in December 2018 that it has been selected as the sole provider of embedded FPGA IP for this European project.
This is significant for Menta in driving programmability in a large share of new high-performance computing and automotive applications. Members of the consortium include Atos, BMW, CEA, Infineon and ST Microelectronics.
The second design win officially announced by Menta a few days ago is with a Telecom company in China, as "eFPGA IP from Menta Selected by Beijing Chongxin Communication Company to Enable Programmability in 4G/5G Wireless Baseband SoC". It's important to show that eFPGA IP is now considered as mature enough to be integrated into a wireless SoC addressing the very competitive 4G/5G market.
In other words, all design win doesn't weight the same. Winning a prototype project developed by a research team working in a prestigious university is great, but integrating an eFPGA IP in a SoC expected to go in production is even better and demonstrate that embedded FPGA is moving from lab to industry!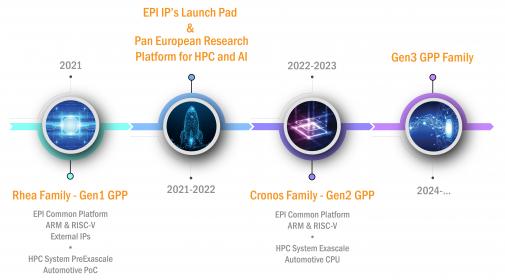 Nevertheless, being selected to serve the EPI is a wise investment to serve the automotive industry in the future. If we must select one industry segment where Europe is competitive, automotive certainly comes in first. The main goals of the EPI project are:
European independence in High Performance Computing Processor Technologies.
EU Exascale machine based on EU processor by 2023.
Based on solid, long-term economic model, Go beyond the HPC market.
Address the needs of European Industry (Car manufacturing market).
I love the last two goals, showing the willingness to keep pace with long-term economic model and to address the needs of the automotive industry. It looks obvious today, but such big project may have failed in the past to be economy-compatible. And, because car manufacturing is a competitive market, we know that it can turn into an economic war between USA, China and Europe. In modern wars, you need to consider semiconductor as ammunitions!
We can expect the automotive CPU issued from EPI to integrate eFPGA IP, as it's the best way to provide efficient flexibility to a SoC. Especially when this SoC will be integrated to a car and must be functional for at least a decade, but also be able to be updated when needed.
If we consider the total European automotive industry, the production volume is in the 20 million vehicles range. To obtain the SoC production volume TAM, you have to multiply the number of cars by the number of CPU per car… It may become a huge number, approaching the billion SoC per year (just look at the next picture). Yes, eFPGA IP design win in EPI can be a very wise investment!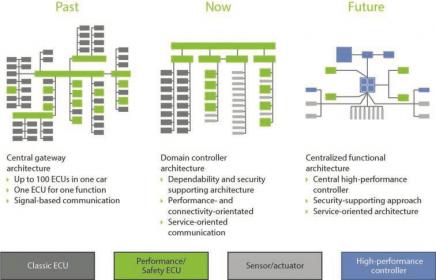 The other (officially announced) design win, the baseband SoC from Beijing Chongxin Communication Company is expected to support both the existing 4G LTE infrastructure while also offering the programmability required to address the emerging 5G NR wireless specification. And Mr Tao Hu, VP of Engineering of Beijing Chongxin Communication Company, seems to be completely convinced by the benefits of integrating eFPGA IP.

"We are pleased to select Menta's eFPGA IP for our 5G NR SoC. The eFPGA IP surpassed all other available options on the market in terms of flexibility, technology portability and customer support," said Tao Hu, VP of Engineering of Beijing Chongxin Communication Company. "Menta's IP supports of the specifications of our next-generation wireless communication products, including re-configurable and software-defined features. The portability of their IP to all process technologies makes them an ideal long-term technology partner."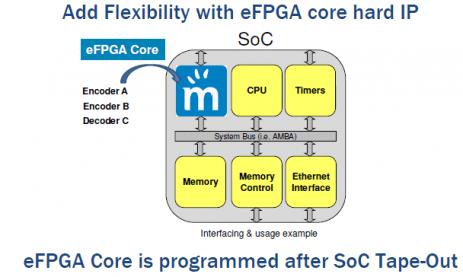 As a conclusion, I will share again that I wrote in 2017 in Semiwiki: "As far as I am concerned, I really think that the semiconductor industry will adopt eFPGA when adding flexibility to a SoC is needed. The multiple benefits in term of solution cost and power consumption should be the drivers, and Menta is well positioned to get a good share of this new IP market."

These two design wins represent a fact-based confirmation of this prediction, isn't it?
From Eric Esteve from IPnest

Share this post via: