I've followed the enthusiastic market acceptance of FPGA chips over the decades, and even semiconductor companies like  Intel acquired Altera, while AMD tries to acquire Xilinx. The idea of field programmable logic makes a lot of sense for use in systems designs today, and it was inevitable that a company like Menta would offer both soft and hard IP for embedding an FPGA into an ASIC design. At the #58thDAC I met with Yoan Dupret, the Managing Director & CTO at Menta, who has also done stints at Altis Semiconductor, Infineon Technologies, CSR, Samsung and DelfMEMS.
Q&A
Q: The FPGA architecture has been around for awhile, so are there any patent issues with your approach?
A: Patents aren't much of an issue now, we already have patents applied for using pure standard cell IP.
Q: What is the embedded FPGA design flow like for your customers?
A: The design flow is a standard ASIC flow, and we provide setup and guidelines to make regular structures for the best density. With our soft IP approach to embedded FPGAs, we train and guide our customers to be most successful.
Q: How did Menta get started?
A: Our company started back in 2007, and it's a University spin-out. Two generations of IP have already been done, we started out privately financed, and then in 2015 a new investor came in and we changed to use a standard cell approach.
Q: Where can your embedded FPGAs be used?
A: With our soft IP product any foundry with standard cells can be used.
Q: What kind of customers are using Menta technology?
A: We have multiple Space & Defense customers in the US and Europe – indeed since 2015 – and also edge customers, including 5G.
Q: Do you sell IP generators or instances of FPGAs?
A: We don't sell IP generators, although we do use our own internal generators, then deliver the FPGA instances. We also help our customers to use the IP in their SoC. Menta has chip architects in house to advise customers.
Q: When did you announce the eFPGA as soft IP?
A: We just announced our eFPGA as soft IP this week at DAC.
Q: What is the process to get an eFPGA as hard IP?
For hard IP we start out with the specification, and the time to reach a physical implementation is about 1-5 months, all dependent on the foundry and size of the FPGA.
Q: How many process nodes have you used for eFPGA IP?
A: We've implemented our IP on more than 10 technologies so far, ranging from 180nm to 12nm, with even smaller nodes now in progress. We have a custom IP delivery model. Our technology must be the most efficient to fit the requirements, by combining LUTs and DSPs, Multipliers, Adders, Filters, and Memory inside of an FPGA instance.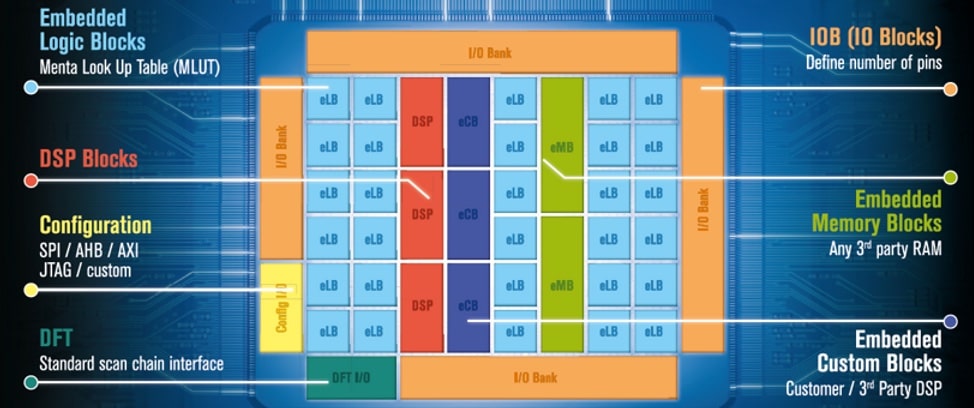 Q: How long does it take to get an eFPGA using soft IP?
A: With our new soft IP technology, we can go from  IP Spec in, to RTL verified out in just a few days.
Q: What are some typical application areas?
A: Anywhere that the electronic specifications or standards are still changing, like 5G, AI, cryptography and telecom. With the RISC-V community, they always want ISA extensions. Even a micro-controller chip can be adapted with new functions by using an eFPGA.
Q: Where is Menta physically located?
A: We have three offices: France, New York and Armenia. Our company is in growth mode, so I expect our staff to double in the next 6 months.
Q: Who are you partnered with at DAC this year?
A: At this DAC we have several in booth partners (Codasip, Andes, Secure IC). At the IP Track session we presented with Secure IC. There's a Poster session with Andes and Codasip. We also brought a demo board in our booth, which is running an algorithm and filtering images.
Q: What makes your eFPGA soft IP different?
A: The fact that it is a soft IP makes already a large difference. We also own completely our software which allows our customers to integrate and re-distribute it within their SDK. Yield, reliability, test, flexibility to provide on any node and delivery time are all differentiators.
Q: How experienced is the management team at Menta?
A: There's an average of 22 years experience at Menta within our management team.
Q: How long have you been attending DAC?
A: I've been attending DAC for about 10 years now, and I joined Menta in 2016.
Q: Where did the name Menta come from?
A: There is a book and movie called Dune, and part of the plot has people called Mentats, and the performed logic, computing and cognitive thinking.
Related Blogs
Share this post via: