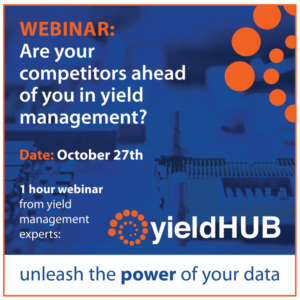 The semiconductor industry is fiercely competitive. This is widely known by the SemiWiki community. When it comes to critical design parameters such as power, performance or area you're either in the envelope that defines the market or you're not a player. Yield management has a similar impact. Those who can stay ahead of the yield curve are contenders.  Those who fall behind are not. This is why a webinar I recently had a chance to preview got my attention.  The title of the webinar is quite simple and direct, "Are your competitors ahead of you in yield management?" Presented by yieldHUB, this webinar discusses topics that should be top of mind for every semiconductor company. Viewing this webinar will show you how yieldHUB can help semiconductor companies be more competitive.
The webinar begins with a presentation by Carl Moore, a yield management specialist at yieldHUB. Carl has a long history in the semiconductor industry at places like Allegro MicroSystems and Maxim Integrated. Carl explains that yieldHUB was founded in 2005. The company has a worldwide footprint and has a singular passion for yield analysis. He cites an impressive list of companies that yieldHUB has worked with from early product introduction to high volume delivery. Some of them include Microchip, Infineon and Habana Labs. There are more logos that are quite impressive. You'll need to watch the webinar to see who else is on the list.
Carl then describes the impact effective yield management can have on new product introduction, or NPI. This was the topic of a post I did a few months ago.  Carl then discusses the benefits of several automated aspects of the yieldHUB software and what kind of impact this technology can have.
Carl is followed by Kevin Robinson, director of customer success at yieldHUB. Based in the UK, Kevin also has a long career in the semiconductor industry. Drawing on his industry experience, Kevin shares some perspectives on internally developed vs. outsourced yield management strategies. Kevin begins by sharing his view of the attributes of an internal yield management system, which include:
Custom, focused
Very good at a small number of things
Often not well supported
Key individual business vulnerability
Scalability often an issue
Seemingly low-cost option becomes very expensive
Takes focus away from key business purpose
Looking at an outsourced yield management system, Kevin uses three primary attributes. They are:
Agile

New capabilities developed when needed
Grows as you scale
On tap resources

Supported

Contracted support
Dedicated specialists
Wide view of changing environment

Thought Leadership

Up to date with industry best practice
Common issues and variations already solved
Innovative solutions to go beyond industry standard
I think you can begin to get the picture. I spent a fair amount of my early career working on data analytics for yield management. This was at a time when there were no commercial solutions. In later years we had the chance to compare our internally developed capabilities with an emerging group of commercial offerings and I completely agree with the contrast Kevin is describing.
Kevin then discusses the differences between a multi-tool, mixed data location environment vs. one unified system. A unified system can be thought of as a vertical software-as-a-service (SaaS) offering, which is typically cloud-based. Kevin provides a number of compelling advantages for the vertical SaaS model. Some of the topics addressed here include data management and the cost to become proficient in the system. Kevin also provides examples from several relevant case studies. You need to watch the webinar to see these proof points for yourself. 
The webinar concludes with a Q&A session that addresses many probing and on-point questions. If you work in the hyper-competitive semiconductor industry, I think you will find this webinar useful and relevant. The event was broadcast on Tuesday, October 27, 2020 at 1:00 PM PDT. You can register for the REPLAY here. I highly recommend you check it out to see how yieldHUB can help semiconductor companies be more competitive.
Share this post via: