For companies who need to optimise yields, yieldHUB combines semiconductor industry expertise with the latest database, on premise and cloud technologies, to provide a cost effective complete solution.
We are an Irish company with engineers and sales agents across the world.
Customers include top 20 semiconductor companies such as Infineon, Microchip, On Semi and Rohm.
We continuously invest in our people and our technology so that our customers profit from deeper and deeper insights into their manufacturing performance.
Our Data Model is unique and hugely scalable. You analyse data without having to download it first. This means you can analyse hundreds of wafers worth of data in seconds though clever data processing and innovative database design.
The analysis is done using your web-browser with no additional software needed for users.
We provide leading support for Fabless, IDM and OSAT companies.
Our On Premises option is popular for larger companies – our Cloud option for small to medium sized companies.
"It's easy to operate and can provide diverse reports." Senior Manager, GS Tek, New Taipei City, Taiwan, a loyal customer since 2010.
If you are thinking of developing your own in-house YMS, you could do worse than looking at this article first.
Our team of experts work around the world. Our Headquarters is in Limerick, Ireland and we have offices in the UK, the US, the Netherlands, Taiwan and the Philippines with sales agents also representing us in Korea and Japan. (We are currently on the look out for a partner for mainland China). Find out more about some of the key team members here:
John is an electronic engineer with much of his career spent in test development and product engineering. He holds several patents in the area of test development including a machine learning method in 1993 (although that terminology was not used then) to speed up testing of ADCs and DACs. John founded MFG Vision whose trading name became yieldHUB in 2018. User experience is of huge interest to John and a breakthrough of his career was when he realised in 2005 that big data analysis (although that terminology was also not used then) could be made much easier and faster if users did not have to download any data first and if much of what the engineer needed to do was predicted by the database designers. MFG Vision and now yieldHUB came out of that insight.
JEROME AUZA, DIRECTOR OF ENGINEERING
Jerome is a twenty year veteran of the semiconductor industry. He is our installer-in-chief at sites worldwide, and manages our Asian software and IT team. Jerome has particular expertise in data processing and databases. He enjoys traveling to our customers and training their IT teams where On Premises is the chosen option for yieldHUB deployment.
KEVIN ROBINSON, DIRECTOR OF CUSTOMER SUCCESS
Kevin is an expert in product and test engineering and our leader in Agile Software Development. He travels widely (except during the present pandemic!) and makes sure that our customers are benefiting to the max from our technology. He makes sure yieldHUB delivers what we promise to our customers on time and with high quality.
ANDRÉ VAN DE GEIJN, BUSINESS DEVELOPMENT MANAGER
André has been in the semiconductor business, manufacturing and IT for almost 30 years. He started at IBM in France to work on the PowerPC processor, then worked on complex video processor ICs. He moved to semiconductor manufacturing, and quickly became manufacturing IT architect for NXP in Bangkok for over 4 years. André is passionate about manufacturing and tools that support time-to-market deadlines, traceability, quality and automation. In his spare time, he likes to use his hands, and bring software, hardware, electronics and creativity together in his model train.
CARL MOORE, YIELD MANAGEMENT SPECIALIST
Carl has over 35 years in the Semiconductor industry, holding technical management positions in Product Engineering, Test, Assembly, Manufacturing, and Design. He is passionate about yield analysis, and has broad experience in manufacturing test, with over 300 days spent in Asia. In his spare time, Carl plays competitive Pickleball  and enjoys competing in tournaments.
CHARLES MIGRINO, CUSTOMER SUCCESS ENGINEER
Charles started as a Front-End Developer back in 2014. He is now involved with projects across all divisions of the development team and is a key Customer Success Engineer for the team in the Philippines. Charles provides technical support for customers who need direct access and information from the development team. He ensures customer concerns are heard and handled appropriately
ENID CHEN, APPLICATION MANAGER
Enid Chen is an expert in foundry process engineering and IC design house product engineering and quality engineering. She studied chemical engineering in National University of Taiwan and works in engineering because she is interested in troubleshooting and team work
About yieldHUB 
yieldHUB supplies world-class data analysis solutions to the semiconductor industry. For companies who design and manufacture semiconductors, the cloud-based software provides a complete understanding of their product performance and yields.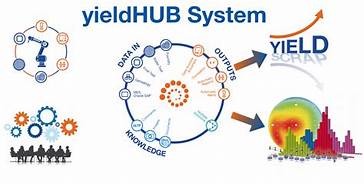 Share this post via: