If Cadence is making money with large VIP port-folio, Synopsys has successfully deployed an acquisition strategy to build a large Design IP port-folio. Looking at these acquisitions will help understanding Synopsys positioning in the IP market. When they have started this acquisition campaign, back in 2002, their market share was a few % of a market weighting less than $1 Billion…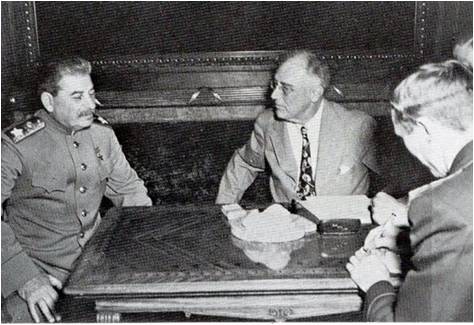 The first acquisition was InSilicon in July 2002. Synopsys bought IP for interface standards such as USB, PCI, Ethernet, and 1394. This was their first step in the Interface, standard based, IP market and they keep playing in this segment, doing pretty well as they are now the undisputed leader as we will see further in this blog.
Then they have acquired Cascade in October 2004. Cascade, was one of the very first companies involved in the new (at that time) PCI Express protocol. They plaid the game pretty well, their Controller IP being selected by the PCI-SIG as the reference system to be used for testing any new PCI Express system (IP, ASSP or board) during "plugfest", in order to get the certification. Thus, CASCADE was were very well positioned to enjoy the first sales of PCIe IP, when you can charge for the license a price which is X3 or X4 that it will be a couple of years later! Even if Synopsys had already a design team developing a PCIe Controller (and PHY) IP, acquisition was a quick and efficient way to kill a dangerous competitor, and to jump start in this market with the positive image of an Innovator. At that time the PCI Express IP market, as reported by Gartner, was pretty small. Amazing to notice, three out the four companies ranked in the top 4, Rambus, ARM and Cadence have exited the market in the meantime (2007-2008). Rambus and ARM because it was not on line with their new business model. But Cadence came back in 2010 when they bought Denali, it's too early to know what will be their success.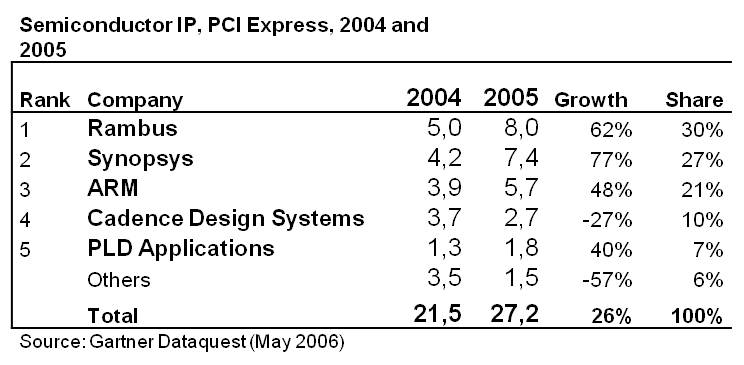 In 2007, Synopsys was enjoying business growth –and good market share- in almost every segment of Interface IP: USB, PCIe, SATA, except Memory Controller (DDRn). This market segment was strongly dominated by Rambus and Denali, which make sense as both companies where involved for long time in development around DRAM. As the ASIC market was moving to a SoC market (ASIC + embedded core), the need to integrate a Memory Controller to interface with external DRAM, in a more and more complex manner, was pushing the DDRn Controller IP sales. Once again, Synopsys decided for the faster and easier (providing you have deep pocket) way: they bought Mosaid in July 2007 and get access to the DDRn Controller IP market, which was not so big at that time: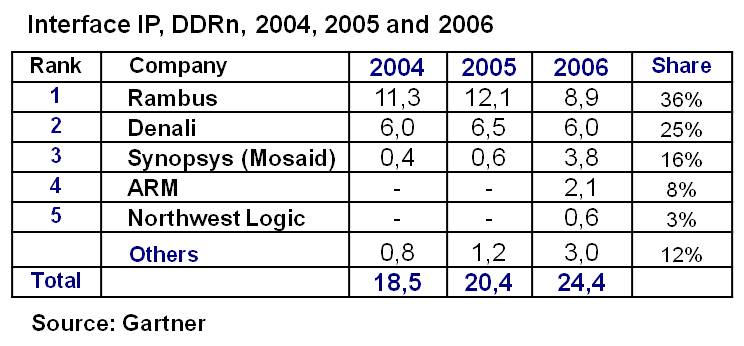 In 2009 they were doing well in every segment of the Interface IP market, so the acquisition of the mixed-signal IP division of MIPS (in fact Chipidea bought in August 2007 for $147 million in cash!) in May 2009 for a mere $22 million was an opportunistic move. First, it brings a large port-folio of mixed signal IP (ADC, DAC and many more), allowing Synopsys to expand the penetration in the IP market, in a segment they have ignored so far. It was also a way to definitely kill any competition in the USB IP market, where they enjoyed already more than 60% market share and ChipIdea/MIPS 26%…

Also to notice, the fact that Chipidea was involved in two recent if not emerging protocols: HDMI and MIPI, even if this was not the reason for buying. This acquisition was just the kind of opportunity you can't miss, and the reason why MIPS accept such a discounted price had to do with the recession, but also with the fact they didn't succeed in running a mixed signal IP product line, where every design-in is almost a redesign, completely at the opposite with processor core.
So you could think that it was enough acquisitions. But the next important move on the chessboard came from cadence: they acquired Denali for $315M in May 2010! I am sure (even if I share no secret as I don't really know it by fact) that Synopsys has to do with this pretty high price (a x7 multiple of Denali revenue), and that they have pushed up the bidding. Nevertheless, Denali was doing very well with DDRn Controller IP, and many analysts propose predictions above $100M for this IP segment. If you look for a way to expand your business by going in a place where you are not (Memory compilers and Libraries), and consolidate your share in DDRn Controller IP, then Virage Logic looks to be the right acquisition to do, and a smart way to answer to Cadence acquisition of Denali, is'n it? That was the last acquisition made by Synopsys, in June 2010. When you look at the DDRn Controller IP market figures for 2009, and when you know that the target was $10M for Virage Logic for 2010, you better understand it, even if adding a $40M to $50M yearly revenue coming from Memory Compilers and Libraries was also part of the equation, but the expected growth for these segments is almost null: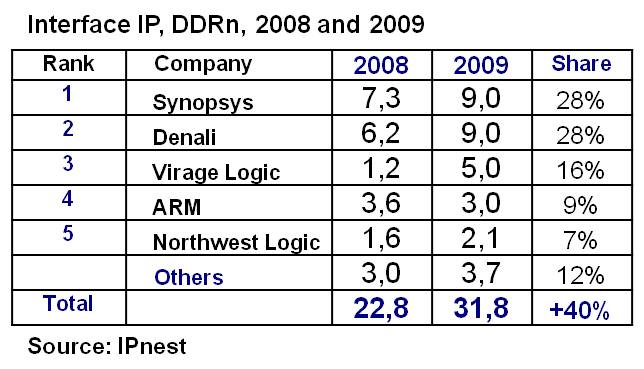 So, acquisition after acquisition, Synopsys has built a wide port-folio including:
and they have a dominant position in each product line. They have also acquired ARCprocessor core product line (through Virage Logic), and they clearly have a weak position here. Moreover, does Synopsys really want to compete with ARM core's business? I am not sure, but we will see what will happen in the future…
Eric Estevefrom IPnest(a lot more about Interface IP here)
Share this post via: