Synopsys is launching a broad IP portfolio to support SoC development dedicated to emerging automotive complexes functions, like Driver Assistance (ADAS), Driver Information, Vehicle Network or Infotainment. I was never involved into IC design for Automotive, but I have designed ASIC for avionics (CFM56 motor control) or for railways (TGV boogies instability) and I can guarantee that the requested level of quality is high, very high. The goal is to guarantee a safety level that you don't expect for an Application Processor or a Set-Top-Box SoC. Indeed the requested safety level is similar for Automotive than for Avionics or Railways, with the difference that emerging automotive applications are now consumer oriented: TTM plays an important role and OEM wants to differentiate by bringing always more features. We could say: Automotive = Avionics + Consumer!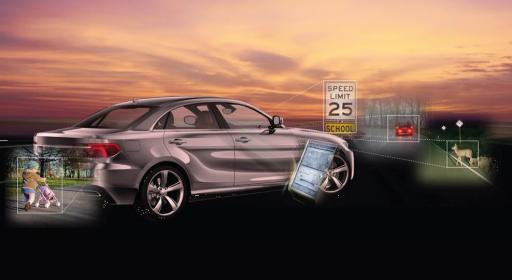 Automotive Grade requirements for IP are multiples, and well documented. To reduce risk and accelerate qualification for automotive SoCs, Synopsys's IP must comply with these requirements:
Automotive Safety Integrity Level (ASIL) B Ready
Accelerate ISO 26262 functional safety assessments to help ensure designers reach ASIL levels
Reduce risk & development time for AEC-Q100 qualification of SoCs
TS 16949 Quality Management
Meet quality levels required for automotive applications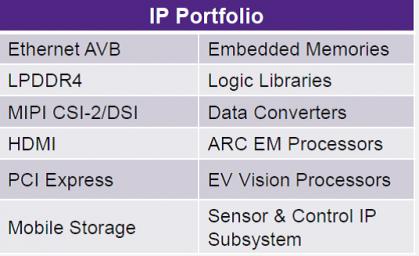 These quality requirements impact the complete above listed IP Portfolio. ASIL B ready IP, including complete safety package documentation, count: ARC EM SEP, Ethernet AVB, LPDDR4 and embedded memories. ASIL B compliance is in progress for HDMI, MIPI CSI-2/DSI, PCIe, mobile storage, data converters, logic libraries, NVM, Sensor & Control Subsystem & EV vision processors.
Synopsys has introduced ARC EM Safety Enhancement Package (SEP) to support ISO 26262 targeted solution. This means that the ARC processor core integrates hardware safety features like parity support, ECC support, user programmable watchdog timer, export state (Lock step), Lock step monitoring system and memory protection unit. Moreover ASIL D ready MetaWare Compiler enables development of ISO-26262-compliant software. When the IP vendor invests upfront for high quality level, the SoC design team benefit from TTM advantage as the software is automatically ISO-26262 compliant.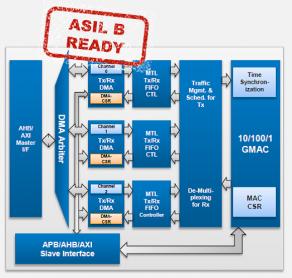 Synopsys offers as well a 10/100/1G Ethernet QoS Controller safety package. This Ethernet controller may be used for ADAS module-module network traffic and supports IEEE Audio Video bridging specifications. This controller is optimized for synchronized automotive multimedia, supporting safety critical operation features as well as data prioritization, bandwidth reservation, traffic shaping and universal timing. This UNH tested Ethernet controller enables predictable & reliable networks.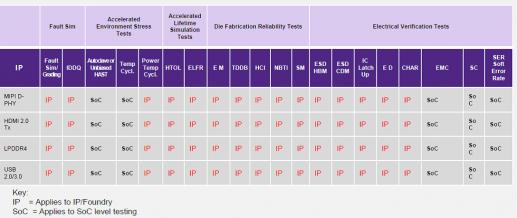 The AEC-Q100 industry standard specification outlines the stress tests and reference test conditions for the qualification of automotive grade SoCs. Synopsys is investing in providing IP that meets AEC-Q100 requirements, enabling designers to reduce design risk and development time for SoC level AEC-Q100 qualification. We can appreciate the high level of investment when looking at the above table. The specific test are ranging from fault simulation, accelerated lifetime simulation test, die fabrication reliability test to ESD, latch-up and characterization impacting IP (or Foundry) quality when accelerated environment stress test, EMC, SC and soft error rate (SER) are applying to the SoC only.
All Automotive SoC have to comply with AEC-Q100 standard, offering such an IP port-folio to automotive design team allows shortening qualification effort and reduce Time-To-Market… remember that these emerging automotive applications like ADAS or Infotainment are mixing avionics like requirements with consumer-like TTM!
You will find an exhaustive list of Synopsys Automotive Grade IP HERE.
From Eric Esteve from IPnest
Share this post via: