Every development team has been through this challenge: finding a tool that looks fantastic, then heading off to the manager one or two levels up who has enough signature authority for the purchase order. Signatures for amounts reading more than a couple of trailing zeros on POs are rarely free, or painless.
Most managers understand you wouldn't make that walk to find them without doing some homework. Inevitably, for an unfamiliar tool the question is: "So, what does this thing do?" Assuming you are not blessed with the golden aura of implicit trust or the power of compromising social-media-ready photos of higher-ups in your organization, you now need something more than: "This Synopsys HAPS-DX will help us prototype IP 3 times faster!"
Bear in mind, this is a two part test. First, your manager is testing your ability to communicate crisply, explaining a complicated concept in just a couple of minutes – the "elevator pitch", as it is commonly known. Second, in most organizations of any size, someone is going to challenge that manager, perhaps a higher level manager, a finance person overseeing budgets, or their go-to technology wunderkind serving as a reverse mentor.
Until the manager is confident they get the story and can replay most of it, that pen in their hand is going to shake uncontrollably. Then, the short attention span kicks in, punctuated a few nods and uh-huhs and ending with the utterance of convenience: "I gotta run to a meeting, let's talk later." (Quit laughing! It's only funny when it's not happening to you.)
Teams that have been through this justification dance more than once have a better plan, like what time is best to have that kind of chat with that manager, and what kind of assurances they need to cover to move forward. Most technology managers moved up through the ranks and have some background, but the story still needs to connect the dots quickly and convincingly.
I'd like to say that SemiWiki has had the privilege of covering the Synopsys HAPS-DX since its launch, and you could just have your manager read our related articles below. Then again, I know better – that would require reading, and what manager has time for that? No, you need something more foolproof, right from the source. Fortunately, we live in an age of video, and Synopsys has just the thing: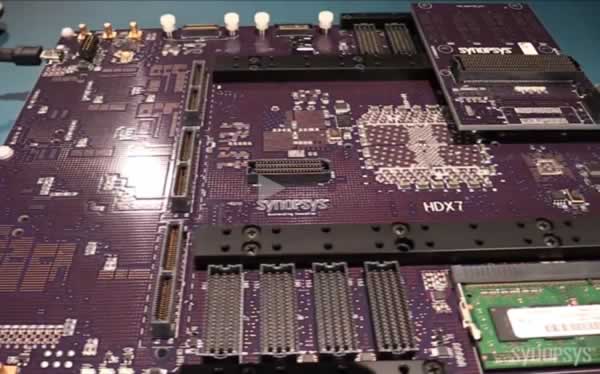 Neil Songcuan, senior product marketing manager at Synopsys, talks through the elevator story of HAPS-DX in four and a half minutes in "Speed IP Bring-up and SoC Validation with HAPS-DX". It's not an overview of the gory details of FPGA-based prototyping, but rather a quick and easily digestible story of how HAPS-DX helps hardware and software teams speed up their development.
"Prototyping is not easy." But as we've seen as we've shared the HAPS-DX story, it is getting easier and delivering impressive results. The emphasis in this story is on schedule reduction, driven by everything needed in one box and a well thought-out design of both hardware and software. Songcuan emphasizes ease of debug, and decomposing larger SoC designs into manageable IP blocks validated on the HAPS-DX.
You'll find this short video, along with more FPGA-based prototyping videos, on this Synopsys page.
Note that the HAPS-DX price tag isn't followed by that many trailing zeros, but it still takes some justification – ideally, multiple units would help teams of developers working on different IP blocks and software, the more the merrier.
Personally, I'd start with my manager by sending a link, saying: "Let's talk about how we reduce our IP, SoC, and software development schedules when you have a chance." Unless, of course, you're happywith your current IP, SoC, and software development schedules.
Related articles:
Share this post via: