After the launch of ARC based complete sound system IP by Synopsys last month, which could be the effective starting point for subsystem IP offering, providing the initiative will be successful (this was not really the case in the past, as we discussed it in our blog), the company proposes a webinar focusing on:
The growing complexity of audio requirements for advanced SoC designs
How a pre-verified, integrated audio IP subsystem solution, consisting of hardware, software and prototypes reduces integration effort, lowers risk and accelerates time-to-market
The feature requirements for implementing audio functionality into a SoC
How configuration of a complete audio IP subsystem can be done in hours
Considering that the trend towards internet-connected consumer devices is driving an increase in the audio requirements and complexity of today's SoCs, and that these designs need to support elements such as multi-channel, high-definition audio formats as well as plug seamlessly into the host application software, Synopsys is offering a pre-verified, although configurable solution. This allows designers to integrate dedicated audio subsystems to offload the audio processing from the host processor, thus reducing design complexity and improving performance and efficiency of the SoC.
To register to this webinar, just go here, and remind that it will be held on Thursday, April 26.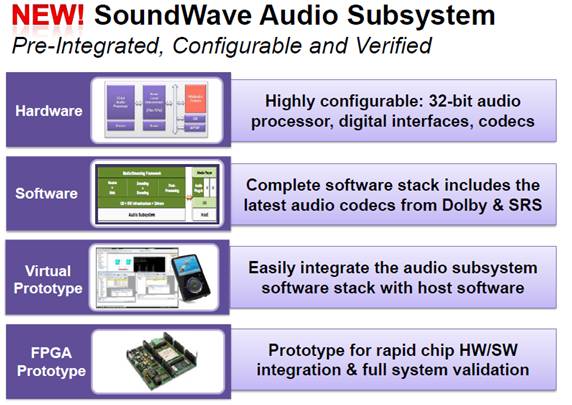 As far as I am concerned, I will carefully monitor this initiative from Synopsys, as the potential move from a single IP function to a complete subsystem, looking very attractive –in theory- may change the IP market behavior as we know it today. Would the initiative be successful, the market changes could be deep, offering opportunities to new comers to enter and generating partnership between small vendors (like it was the case between PHY and Controller IP vendors in the 2005-2010, but unfortunately not yielding as expected). It could be also an opportunity for one of the two others to attack again the IP market, but with a renewed strategy… We will se.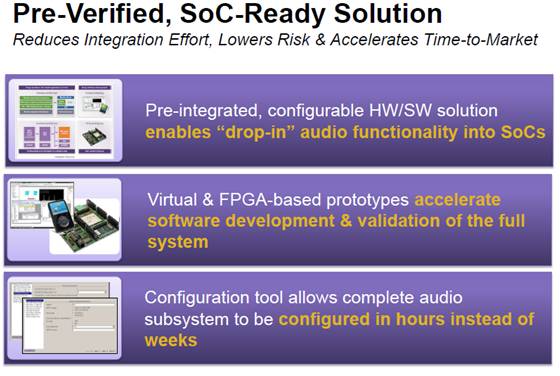 From Eric Estevefrom IPnest
Share this post via: