Solido has announced webinars for North America, Europe and Asia on October 12-13. They will be describing the variation analysis and design solutions in the TSMC AMS Reference Flow 2.0 announced at the Design Automation Conference this year.



"We are pleased to broaden our collaboration with Solido in developing advanced variation and design methodology in AMS Reference Flow 2.0. TSMC customers can use Solido Variation Designer with TSMC 28nm process technology to achieve better product quality in their AMS designs." Suk Lee, Director of Design Infrastructure Marketing, TSMC.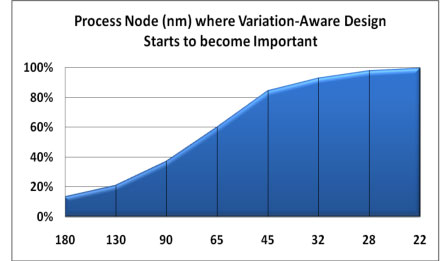 Variation effects are critical to consider for designers working on nanometer designs, impacting the design's electrical characteristics. In a recent survey, variation-aware custom IC design was ranked the #1 area requiring advancement over the next two years. The survey showed 53% of design groups missed deadlines or experienced re-spins due to variation issues, designers experienced an average 2 month delay due to variation issues, and designers spent an average 22% of design time on variation issues.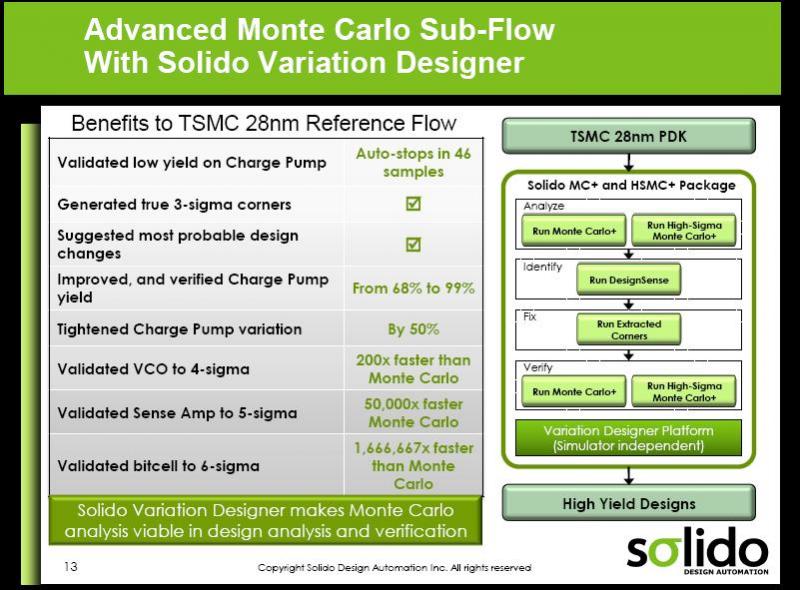 Solido Variation Designer products were selected for TSMC's Advanced PVT and Advanced Monte Carlo sub flows. Solido products work with TSMC process and device models, improving design performance, power and area, maximizing parametric yield and avoiding re-spins and project delays.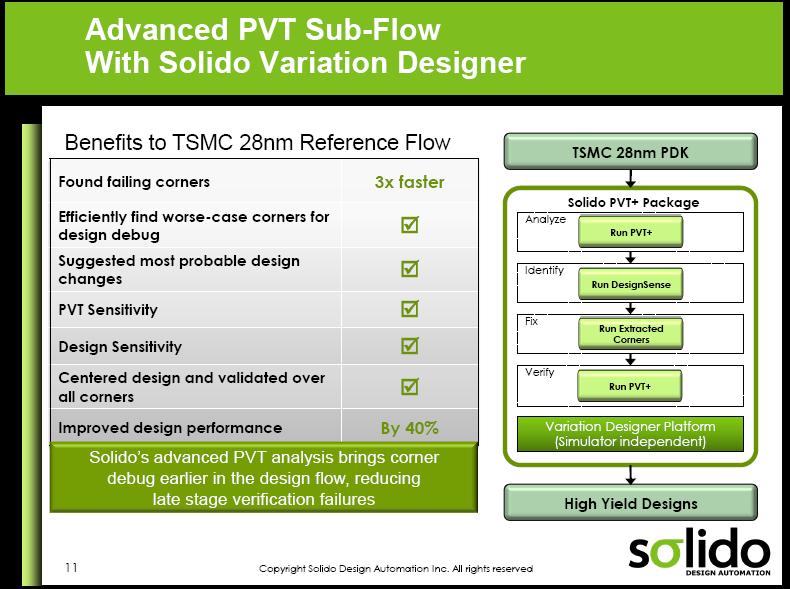 The webinar will be presented by Nigel Bleasdale, Director of Product Management at Solido and Jason Chen, Design Methodology and Service Marketing at TSMC. Topics covered will be:
[LIST=1]
Variation challenges in custom IC design
Variation-aware solutions available in the TSMC AMS reference flow
Methods to develop and verify designs over PVT corners in less time
How to efficiently apply Monte Carlo techniques in design sign-off
How Monte Carlo is really possible up to 6-sigma
Customer case studies of the above methods

Register here (www.solidodesign.com/page/tsmc-solido-webinar/) for a 1 hour webinar:
North America: Wed October 12, 2011 – 10am PDT
Europe: Wed October 12, 2011 – 2pm BST/3pm CET
Taiwan: Thurs October 13, 2011 – 9am CST
Japan: Thurs October 13, 2011 – 10am JST
Korea: Thurs October 13, 2011 – 10am KST

Share this post via: