Ethernet's continual adaptation to meet the demands of a data-rich, interconnected world can be credited to the two axes along which its evolution has been propelled. The first axis emphasizes Ethernet's role in enabling precise and reliable control over interconnected systems. As industries embrace automation and IoT, Ethernet facilitates real-time monitoring, seamless communication, and deterministic behavior, fostering a new era of industrial and infrastructure advancements. The second axis underscores Ethernet's capacity to handle the burgeoning volumes of data generated by modern applications. From cloud computing to AI-driven analytics, Ethernet serves as the backbone for data movement, storage, and deep analysis, accelerating insights and innovation across diverse domains. The next speed milestone in ethernet's evolution is 1.6T and this transformative leap requires a meticulous approach to meet the requirements along both of the above axes.
The advent of 1.6T Ethernet heralds a new era of connectivity, one where data-intensive applications will seamlessly coexist with latency-sensitive demands. Through the convergence of 224G SerDes technology, flexible and configurable MAC and PCS IP developments, and optimized silicon architectures, the networking industry can deliver solutions that not only meet but exceed the requirements of 1.6T ethernet systems. This is the context of a Synopsys-sponsored webinar where Jon Ames and John Swanson spotlighted the focus areas of design for achieving efficiency and delivering performance.
Key Considerations for 1.6T Ethernet Success
At the heart of the Ethernet subsystem are the application and transmit/receive (Tx/Rx) queues. Application queues handle data coming from applications and services running on network-connected devices. These queues manage the flow of data into the Ethernet subsystem for transmission. The Tx/Rx queues manage the movement of packets between the Media Access Control (MAC) layer and the PHY layer for transmission and reception, respectively. Efficient queue management ensures optimal data flow and minimizes latency. Scalability, flexibility, efficient packet handling, streamlined error handling, low latency, support for emerging protocols, energy efficiency, forward error correction (FEC) optimization, security and data integrity, interoperability and compliance are all key considerations in an Ethernet subsystem.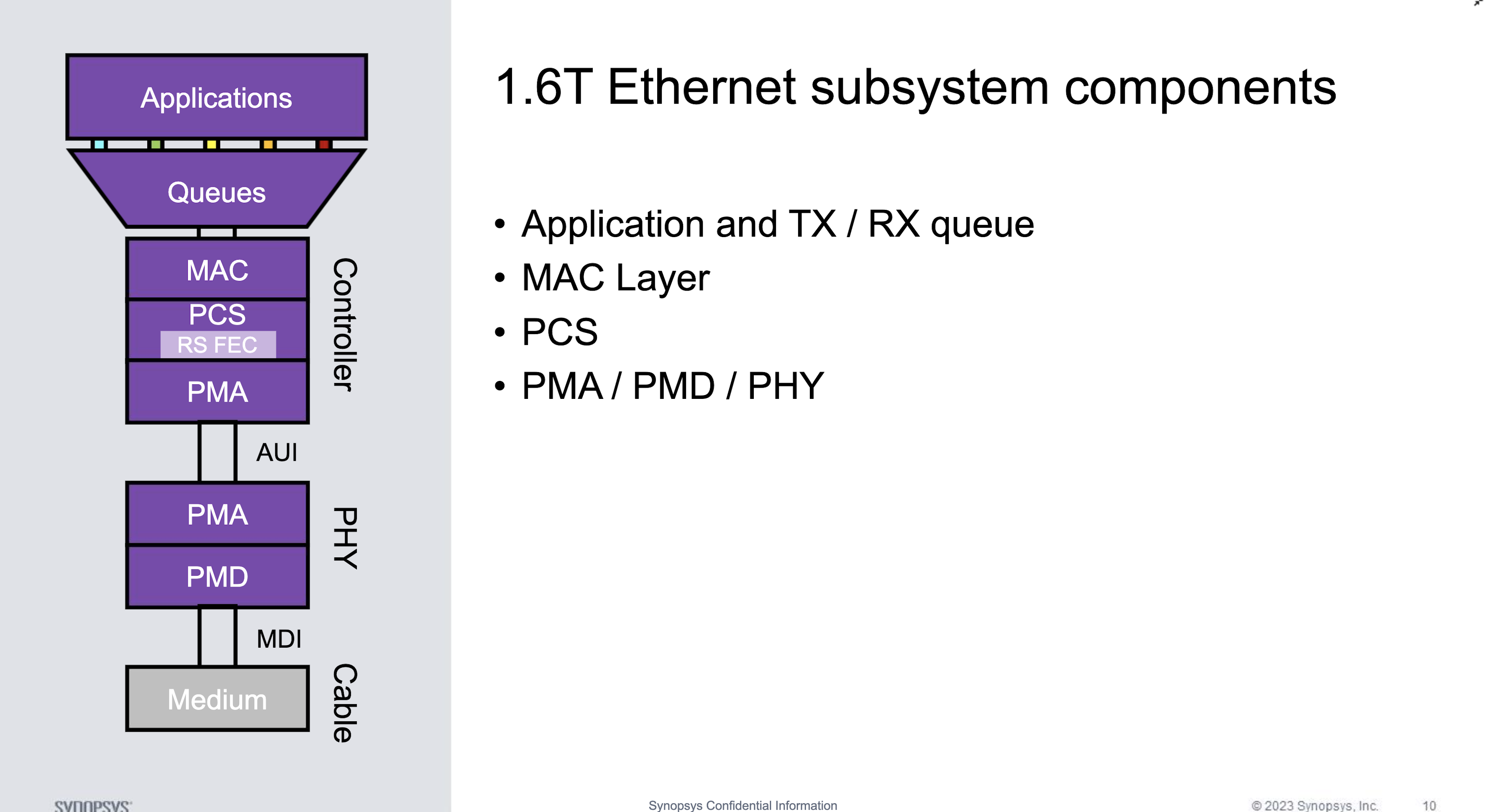 The MAC layer is responsible for frame formatting, addressing, error handling, and flow control. It manages the transmission and reception of Ethernet frames and interacts with the PHY layer to control frame transmission timings. Timing considerations are crucial to ensure proper communication between the PHY and MAC layers, especially at high speeds.
The Physical Coding Sublayer (PCS) is responsible for encoding and decoding data for transmission and reception. It interfaces between the MAC layer and the PMA/PMD layer. The PCS manages functions like data scrambling, error detection, and link synchronization. It prepares data from the MAC layer for transmission through the PMA/PMD layer.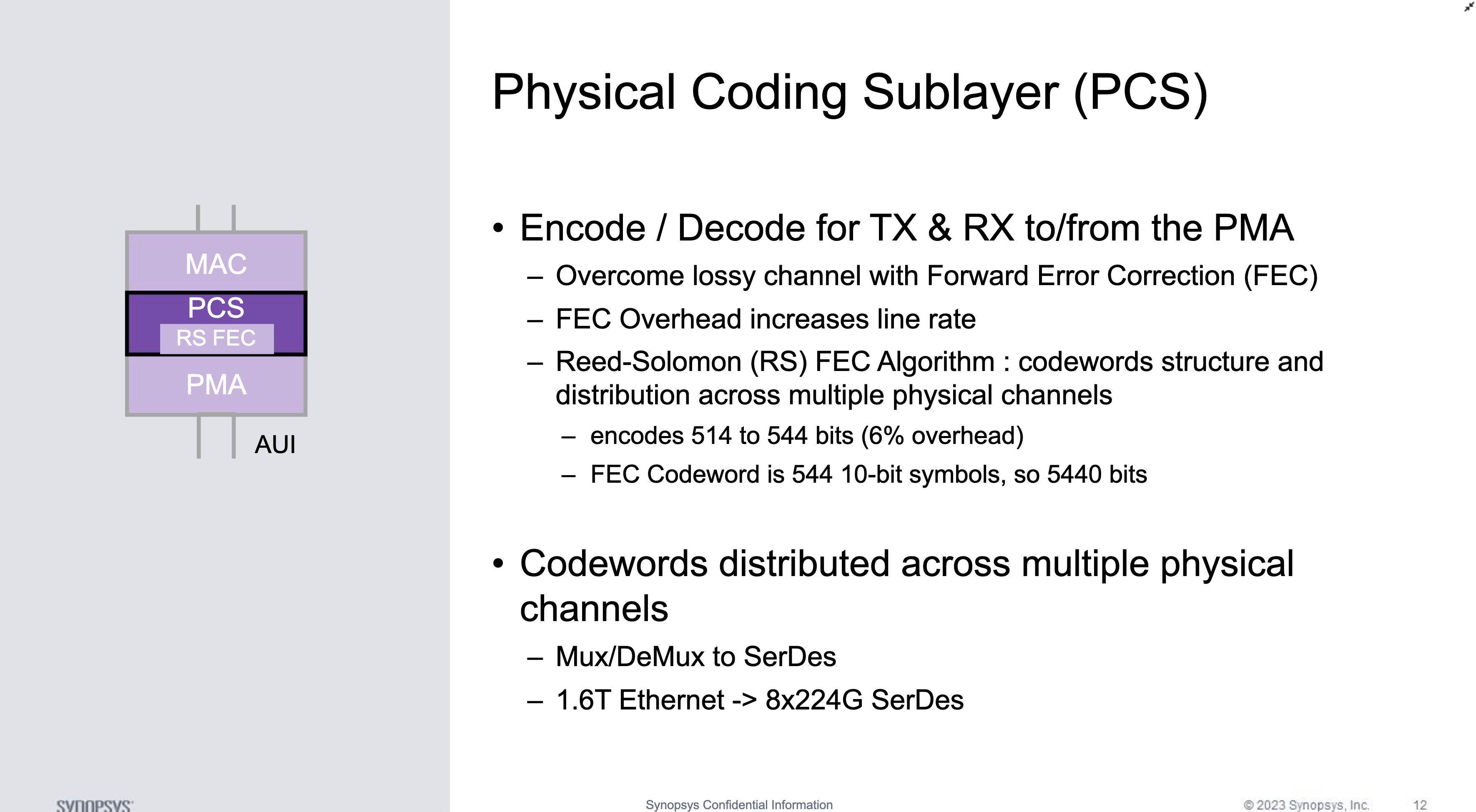 The PMA (Physical Medium Attachment), PMD (Physical Medium Dependent), and PHY (Physical Layer) collectively handle the physical transmission of data over the network medium, be it copper cables or optical fibers. The PMA/PMD layer performs functions like clock and data recovery, signal conditioning, and modulation. The PHY layer manages signal transmission, equalization, and error correction to ensure reliable data transfer at high speeds.
The synergy between cutting-edge 224G SerDes technology and the development of innovative MAC and PCS IP is poised to redefine the accessibility and scalability of 1.6T Ethernet. These components play a pivotal role in the realization of off-the-shelf solutions that seamlessly align with forthcoming 1.6T Ethernet standards. The 224G SerDes technology offers the crucial physical layer connectivity required to sustain the high data rates demanded by 1.6T Ethernet. Achieving successful communication at high data rates requires close coordination between the PHY and MAC layers, accurate timing synchronization, and the implementation of effective error correction techniques. These factors will collectively contribute to the reliability, efficiency, and performance of 1.6T Ethernet networks.
Synopsys Solutions
Synopsys MAC, PCS, and 224G SerDes IP solutions come with pre-verified and optimized designs. This means that the IP has already undergone rigorous testing and validation, reducing the need for extensive in-house verification efforts. This accelerates the development process by providing a reliable foundation to build upon. The IP solutions are designed to comply with IEEE 802.3 Ethernet standards and ensure interoperability and compatibility with a wide range of devices and network configurations. Designers can rely on the IP's adherence to these standards, saving time that would otherwise be spent on custom protocol implementation. The solutions often come with configurability options. This enables designers to tailor the IP to their specific application requirements without having to build everything from scratch. This configurability streamlines the design process and reduces the need for extensive manual modifications.
Summary
As the race toward 1.6T Ethernet intensifies, the development of silicon solutions capable of delivering optimized power efficiency and minimal silicon footprint becomes paramount. To harness the capabilities of 1.6T Ethernet without compromising on energy consumption and design complexity, engineers must craft architectures that seamlessly merge efficiency with innovation. This involves meticulous digital design, ensuring that the intricate interaction between hardware components and software layers is harmonious, thereby producing networking solutions that are both efficient and robust and help accelerate first pass silicon success.
For more details, visit the Synopsys Ethernet IP Solutions page.
You can watch the entire webinar on-demand from here.
Also Read:
WEBINAR: Why Rigorous Testing is So Important for PCI Express 6.0
Next-Gen AI Engine for Intelligent Vision Applications
VC Formal Enabled QED Proofs on a RISC-V Core
Share this post via: