Cadence made waves a while back with its innovative Clarity 3D Solver, a FEM solver for near field EM analysis. Now they are shaking things up with their new far field Clarity 3D Transient Solver. System level EMI and EMC analysis has often exceeded the limits of simulation tools, leading to expensive and time-consuming prototype development and measurement. Previous solvers were not architected for parallel processing and suffered from capacity limitations.
EMI and EMC are extremely important in consumer electronics, automotive systems and healthcare devices. Each of these markets can benefit from high accuracy, high capacity far field EM simulation. Medical devices often require optimized wireless communications, especially when interacting with the human body. Likewise, there are strict criteria necessary for device safety. Consumer electronics designs often have to trade off emissions, antenna placement, cooling, specific absorption rates (SAR) and other factors to arrive at a carefully balanced solution.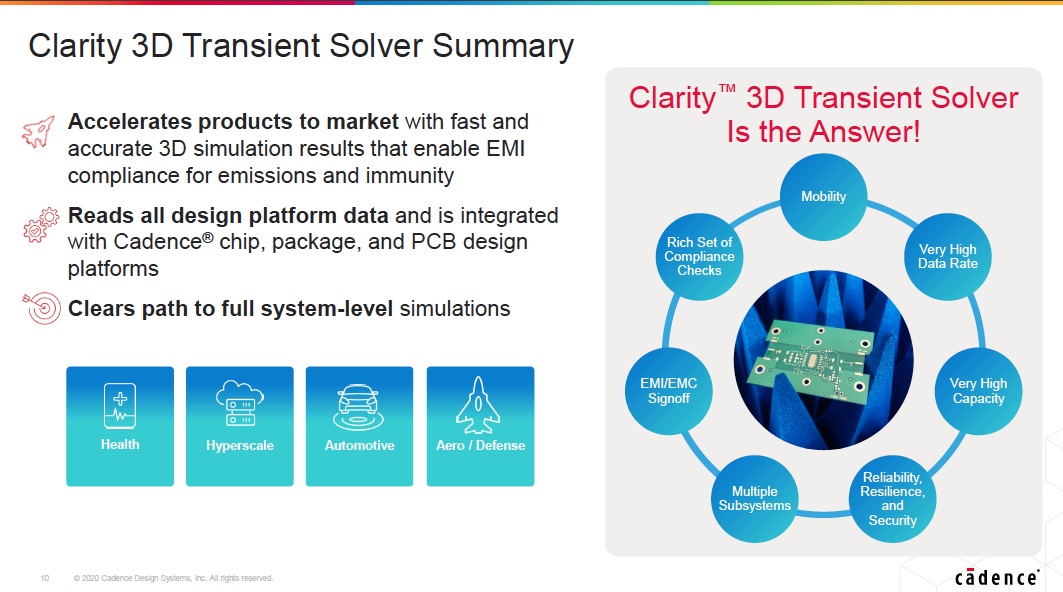 I recently had a call with Cadence Product Management Group Director for Multi-Physics System Analysis Brad Griffin to go over the features and capabilities of their new Clarity 3D Transient Solver. He pointed out that the solver can use GPUs or CPUs to achieve nearly linear scaling of runtime with increased processors. Because it can use hundreds of processors the capacity is practically unbounded. Cadence also offers access to the Clarity 3D Transient Solver through their Cloudburst Platform that runs in the cloud. Access to Cadence tools is optionally provided through the Cloudburst web interface which also enables high throughput file transfers of design data.  This virtually eliminates IT overhead for cloud accessibility for Cadence customers and offers massive scalability when needed.
Brad talked about their pre-announcement engagement with Ultimate Technologies, an EMI/EMC testing company, that was able to compare Clarity 3D Transient Solver results to actual measurement data. The solver was very accurate and enabled their automotive customers to pass EMI testing months sooner, often saving as much as 30% of the design cycle time. Simulation allowed rapid iterations to get to the final passing version of the systems.
According to Brad, board level screening can be accomplished with Sigrity Aurora in-design analysis to catch many common design mistakes that produce excessive EMI. Then the entire system, including enclosures, etc. can be run with high accuracy in the Clarity 3D Transient Solver. Similarly, near field simulation models can be generated in their 3D FEM solver and supplied to the Clarity 3D Transient Solver to assist in getting the most comprehensive results. The solver is fully integrated with Cadence chip, package and PCB design tools. CAD data from 3D mechanical design tools can also be imported into the Clarity 3D Transient Solver. When the MCAD data is merged with Cadence electrical CAD design data, not only can problems be found, but they can be fixed and re-simulated.  Brad emphasized that the combined design and analysis solution makes the EMI signoff task much more efficient than when just point tools are used for analysis.
Cadence has shown a consistent and strong execution of a complete flow for designing electronic products and systems. With the Clarity 3D Transient Solver they have moved into new territory. In many markets, such as automotive, much more complex systems are being designed that have interactions with each other and their operating environment. It's good to see well integrated solutions that can scale with the complexity of the design challenges. More information about Cadence's new Clarity 3D Transient Solver can be found on the Cadence website.
Also Read
The Most Interesting CEO in Semiconductors!
Covering Configurable Systems. Innovation in Verification
Tempus: Delivering Faster Timing Signoff with Optimal PPA
Share this post via: