Anirudh is an engaging speaker with a passion for technology. Acknowledging the sign of the times, he sees significant value-add in AI but reminded us that it is a still supporting actor in system design and other applications where star roles will continue to be played by computational software that's founded in hard science, math, and engineering technologies. This is Cadence's singular focus—continuing to advance computational software methods in EDA and other domains while leveraging AI techniques where appropriate.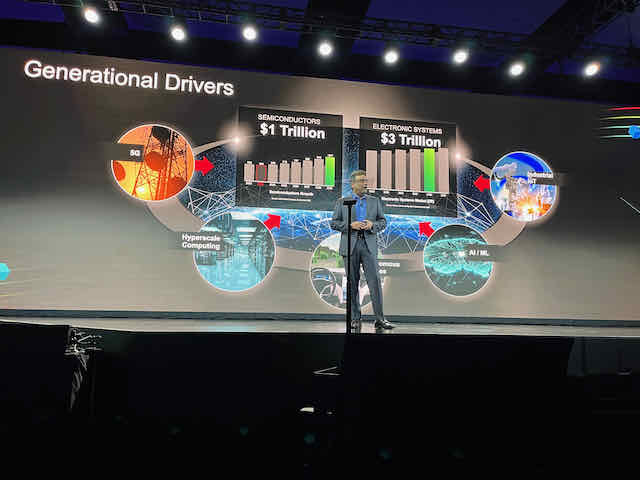 Market drivers
I was talking to an analyst recently who thought that because manufacturing activity is down, semiconductor design must also be suffering. So, I'm not surprised that Anirudh kicked off the discussion with a nod to this being a tough year for semi revenues following multiple years of massive growth, attributing the correction to over-stuffed inventories.
And yet (maybe someday analysts will understand this), design continues to be strong, in part because design cycles are much longer than manufacturing cycles, in part because no one can afford to come out of a downturn without new products ready to launch, and in part because design starts continue to grow as systems companies, now delivering 45% of Cadence business, are accelerating their own design activity.
Anirudh believes that the semi-industry will reach $1 trillion in revenue by the end of the decade, a 2X growth from today, and that electronics and related systems will reach $3 trillion in revenue in a similar period. Manufacturing may be in a slump right now, but we already have an appetite for hyperscale computing, 5G, autonomous vehicles, AI and industrial IoT. That appetite won't disappear, so manufacturing will surge back at some point. The winners at that point will be companies ready with new designs. Cadence is very optimistic about the long-term tailwinds behind design for such products.
Computational software and AI
Computational software is all about precision at a massive scale of complexity of the object to analyze (billions to soon trillions of transistors) and in the nature of the analysis (PPA optimization and/or multi-physics). Foundational methods are grounded in well-established hard science advances like finite element analysis with origins in the late 1800's. Maxwell's electromagnetic equations from a similar period, thermal diffusion first described by Fourier even earlier, and so on and so on. The EDA industry has been developing technologies over at least the last 50 years.
In contrast, AI is all about probabilistic inferencing, delivering impressive responses with, say, 97% certainty, in some cases better than we can manage. But, at the same time, we don't want to hear that in 97% of cases our car won't crash, or the robot surgeon won't make a mistake. We want the precision and reliability of computational software in building and analyzing systems with AI as a layer on top to help us explore more implementation options.
Developing and maintaining that technology is not cheap. Cadence has about 10,000 people with 65% in R&D and 25% in customer support. 90% of its staff are in engineering, which is comforting to know. Designs built using these technologies will be reliable, safe, secure, and eco-friendly. But how does that scale? By 2030, designs are expected to grow by at least 10X in transistor count. Technology companies are already struggling to add staff, but none can afford to grow staffing by 10X. We need to become even more efficient by abstracting architecture design to higher levels, parallelizing even more, and relying more on AI-assisted decision-making.
AI in Cadence products
Reinforcement learning has become a dominant technique for optimization in EDA. One significant advantage is that it doesn't require gradient-based estimation to find good search directions to advance. Gradient methods work well when optimization metrics vary relatively smoothly and can be computed quickly but not if they vary rapidly or take hours to compute on each change. Cadence has been talking over the past couple of years about advances in AI with the delivery of products like Cadence Cerebrus, Verisium and Optimality, which all utilize reinforcement learning over multiple runs to guide optimization. These are all cases where computing metrics with precision may take hours, making reinforcement learning essential to advance optimization options.
Evidently results are impressive, as judged by numbers Anirudh shared. There have already been 180+ Cadence Cerebrus tapeouts.
Last month, Cadence announced Virtuoso Studio, covered in more detail by my colleague Daniel Payne. Briefly, this offers more place-and-route support in analog and a claimed 3X productivity advance for designers. There's more support for heterogenous integration in 2.5D/3D packaging, adding analog and RF into the same package. It also includes integrations with the digital design tool suite, integrity analysis, multi-die packaging, AWR analysis and multi-physics analysis for thermal, electromagnetics, etc.
Cadence also recently announced Allegro X AI for PCB and package design, which it automates placement and routing and reduces physical layout and analysis challenges. For 3D-IC Cadence offers Integrity, starting development in Allegro back in 1995, long before most of us had even heard of chiplets (remember system in package and modules?). Around 2015, more capabilities were developed, though the industry was still not quite ready. More recently, Cadence has been working very closely with its foundry partners to refine Integrity support leading to their latest AI-driven 3D-IC solution.
Onward and upward
It's easy to see the computational software focus in everything I described above—from chip design and analysis to package and system design and analysis. Where is Cadence going with some of their recent acquisitions? In May of last year, Cadence announced a partnership with the McLaren Formula 1 team who are looking to its Fidelity CFD software to optimize aerodynamics for McLaren's race cars.
Cadence acquired Future Facilities about a year ago. They provide electronics cooling analysis and energy performance optimization solutions for data center design and operations using physics-based 3D digital twins. Just to prove they are even more versatile, only a few days ago, Cadence announced a partnership with the 49ers, to evaluate ways to optimize energy efficiency and sustainability at Levi's stadium.
Last year, Cadence also made an investment in molecular sciences company, OpenEye Scientific. Anirudh is very excited about this, seeing huge synergy in simulating molecules. He sees (of course) significant similarities between OpenEye simulation and the Cadence Spectre platform with physics models for molecules looking rather like BSIM models for circuit simulation!
Energizing stuff. I look forward to next year's update.
Also Read:
Petri Nets Validating DRAM Protocols. Innovation in Verification
More Software-Based Testing, Less Errata
What's New with Cadence Virtuoso?
Share this post via: