2017 was a banner year for semiconductor sales as they topped $400B for the first time, an increase of some 20%, there is happiness in Silicon Valley, Taiwan, South Korea, and well, everywhere. With the foundries pushing to ever-smaller process dimensions and even going back to mature nodes and offering more variations that are more power or area efficient, I am noticing a proliferation of process nodes to choose from. The big challenge that crops up is how to get all of that much-needed semiconductor IP onto the latest process node in order to attract new customer design starts. I've been following one semiconductor IP provider in the UK called Moortecthat has embedded in-chip monitoring blocks that allow chip engineers to dynamically monitor the Process, Voltage and Temperature (PVT). What's new this week is their announcement that the TSMC 12nm FinFET process called 12FFC is now supported by their PVT monitoring IP.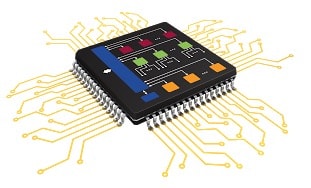 The 12FFC process from TSMC has a new six-track (6T) standard cell library, compared to the 16FFC node that used 9T and 7.5T. So going from the 16FFC to 12FFC process you would expect an area decrease up to 18% and about 5% faster speeds. Nominal supply voltage level can go down to 0.5V.
Related blog – Top 10 Updates from the TSMC Technology Symposium, Part II

TSMC 12FFC photograph. Source: TSMC

Related blog – Embedded In-chip Monitoring, Webinar Recap
So why do you need in-chip monitoring?
Here's seven good reasons to consider using in-chip monitoring:
Optimize SoC performance
Detect process variations per chip
Enable Dynamic Frequency and Voltage Scaling (DVFS) to optimize power
Gate delay measurements
Critical path analysis
Dynamic voltage analysis
Monitor aging effects of the FinFET transistors
OK, you like the concept of PVT monitoring and see the benefits, but how do you communicate with this IP?
Moortec IP uses AMBA APB interfacing and you can even have multiple instances of monitor IP on the same chip, then you connect with a test access port.
Read the latest press release from Moortec here.
Share this post via: