Global semiconductor capital spending is headed for another decline in 2013, following a 12% decline in 2012. Gartner's September forecast called for a 7% decline in 2013. Most of the major spenders expect flat to declining expenditures in 2013. Intel in July estimated 2013 spending of $11 billion, flat with 2012 and down from its April forecast of $12 billion. Samsung expects a 4% decline in 2013 spending compared to its April estimate of flat. The two largest foundry companies expect strong growth in 2013 capital spending. TSMC stated in January it planned 2013 spending of $9.5 billion to $10.0 billion, up 14% to 20% from a year ago. GlobalFoundries estimated an 18% increase in spending.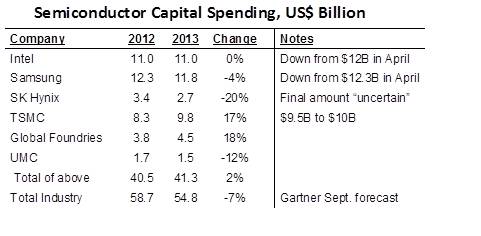 The total 2013 capital spending of the six companies listed is $41.3 billion, up 2% from $40.5 billion in 2012. This represents 78% of Gartner's forecast of $54.8 billion in total semiconductor industry capital spending in 2013, compared to 69% in 2012. The numbers imply a drop of 26% in 2013 spending by the rest of the industry outside of the six companies listed. However it is likely several of the six companies will announce lower 2013 spending plans when they release their third quarter results in October.
The expected decline in 2013 semiconductor capital spending is confirmed by the trend in semiconductor manufacturing equipment. SEMI (Semiconductor Equipment and Materials International) and SEAJ (Semiconductor Equipment Association of Japan) each release monthly bookings and billings data based on inputs from their member companies. Combining the SEMI and SEAJ data shows a downward trend in bookings and billings beginning in June 2013. Billings for the year 2013 should be down about 8% to 12% from 2012.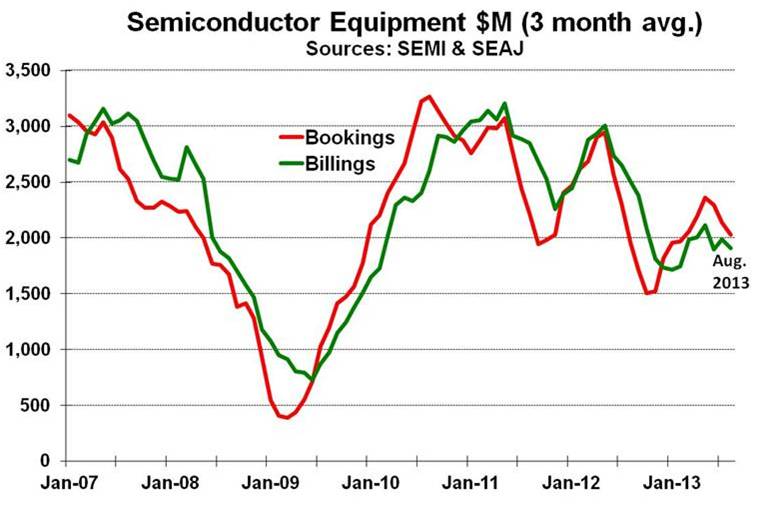 SEMI and SEAJ cooperate on quarterly estimates of global semiconductor manufacturing equipment shipments by region. The chart below shows data from 2007 and 2011. In 2007, the peak year prior to the great recession, shipments reached $42.8 billion. After steep declines in 2008 and 2009, shipments recovered to exceed the 2007 peak, reaching $45.3 billion in 2011. Shipments declined 15% in 2012 to $36.9 billion.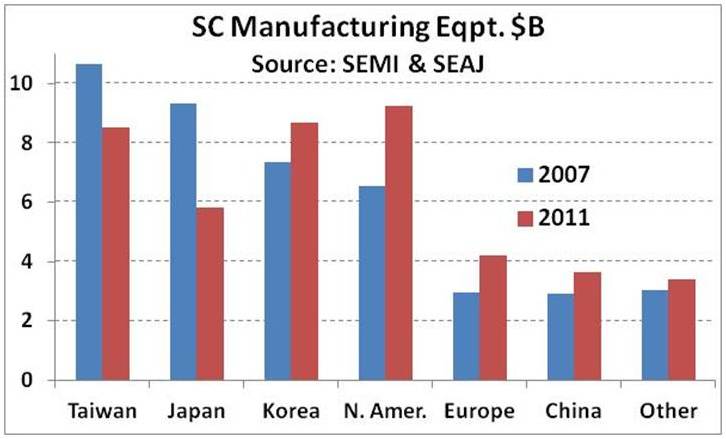 Although total semiconductor manufacturing shipments in 2011 were roughly equal to 2007, the trends by region differed significantly. The two largest markets in 2007 saw significant declines by 2011. Japan dropped $3.5 billion and Taiwan dropped $2.1 billion. North America became the largest market in 2011 with an increase of $1.7 billion from 2007. All other regions showed growth. Interestingly Europe showed more gain in shipments from 2007 to 2011 (up $1.3 billion) than China (up $0.7 billion). Assuming the U.S. accounts for the vast majority of North America shipments, the U.S., Taiwan, South Korea and Japan accounted for 74% of shipments in 2011 versus 79% in 2007. Although the overall semiconductor industry has become globalized, semiconductor manufacturing remains heavily concentrated in just four countries.
lang: en_US

Share this post via: