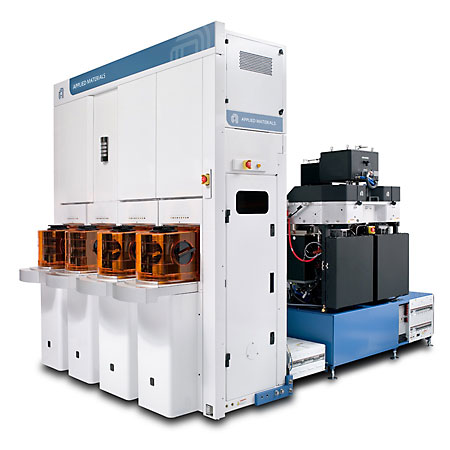 "Puts & Takes" "Reduced NAND Expectations" 2019 to be down from 2018. Applied Materials reported a good quarter coming in at $1.22 EPS and $4.567B in revenues versus street of $1.14 and $4.45B.
However if we back out the buy back of 4% it would have been around $1.17 so a slight beat. Guidance was for EPS of $1.17 +-4 cents versus street of $1.16 but revenues of $4.43B +- $100M versus street of $4.53B.
So basically we had an in line quarter with a down guide.
On the call management said there were "Puts and Takes" in customer orders (which is code for cancellations). Management pointed out weak smartphone sales as the reason for the "re-adjustment" of business from customers.
Also on the call management said their expectations for NAND business in 2018 was "reduced" from prior expectations. This is no surprise as NAND has been feeling a bit "toppy".
Perhaps the most interesting comment was management's view that 2019 will be a down year. If we try to read into the numbers it sounds like a roughly 10% drop in 2019 versus 2018.
This seems to imply that we are at or near a peak in AMAT's business. This may not be a sharp peak and feels a bit more like a plateau that will slowly fall off as management made clear that customer spend has been more rational.
Finally , as expected OLED display business was off while LCD TV business was OK.
Did AMAT just call a "market top"?
It kinda feels like it…..
With a projected down 2019 and near term "puts and takes" coupled with reduced NAND expectations it sure sounds like we are at or near a peak for the year or maybe for this entire "supercycle". Add to that the OLED issues in display which will last through at least 2018 and we are very hard pressed to see the upside.
"Puts and Takes"
Puts and takes is usually code for pull ins and push outs of orders but usually only gets said when the push outs exceed the pull ins. Given that the comment was associated with smart phones we can only deduce that TSMC was backing off spending as they mentioned the same thing on their call. This is obviously the first sign of a deteriorating market in foundry.
"NAND expectations for 2018 reduced"
NAND has obviously been on fire for well more than a year and along with DRAM has been the vast majority of semiconductor tool spending. Apple's comments said they expect memory pricing to moderate later in the year and this comment may reflect that.
Make no mistake, NAND spending is still huge but it will likely be less huge in the future and perhaps the rate of growth will slow or get negative.
Display will be down in 2019 – OLED off
As we had suggested in our preview note, OLED spending has slowed which reflects the comments from Samsung. Next gen LCD TV spend is still OK also as expected. We don't see a bounce back in OLED any time soon and it sounds like AMAT expects that weakness to continue. Management expects 2019 display to be down.
The stocks
Given the cautious comments made by management on the conference call coupled with the flattish guide and 2019 down guide its clear that the stock trades off tomorrow. Management sounded overly defensive during the Q&A session. The stock is already off 7% as we write this and our preview piece suggested we could get back to a $4 handle , down 10%, and that's what it feels like right now after listening to the call.
Bulls will try to defend it but the company made some key negative comments that are going to be hard to overcome.
Obviously this will be negative for the overall group but we did already get a similar flat/down from LRCX so we don't see a major impact on that stock, but it will be down. KLAC remains the outperformer of the group but will likely be off a bit in sympathy as well.
It was a nice cycle while it lasted…….
Share this post via: