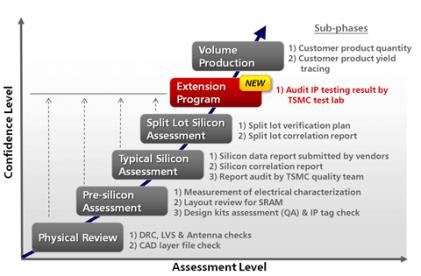 It is important to note that the System On Chip (SoC) revolution that is currently driving mobile electronics has one very important enabling technology and that is Semiconductor Intellectual Property. Where would we be without the commercial IP market segment? Computers and phones would still be on our desks for one thing, and our appliances certainly would not be talking to us. Semiconductor IP; soft cores, hard cores, foundation IP, interface IP, etc… not only reduce the cost and time to market of SoCs, it also dramatically raises the innovation bar via competition.
Don't ever forget that TSMC is in the business of selling wafers and IP is a key enabler which is why TSMC spends an incredible amount of time and money on IP quality. A bad IP block can delay or even kill a wafer sale, right? Dan Kochpatcharin, Deputy Director, IP Portfolio Management at TSMC, presented some interesting IP Quality data at the Semico Impact Conference this week. You can find the slides HERE.
"Nobody in this room makes money until the IP comes together on a piece of silicon in production. TSMC's role is to help host the ecosystem for interoperability, quality, and availability, so that our customers can deliver products. That is what OIP and the TSMC9000 IP quality program is all about."
The TSMC9000 program consists of a set of rigorous quality requirements for IP designed for TSMC process technologies. Members of the TSMC "Grand Alliance" submit reports and test chip results. This data is available on-line enabling customers to better judge the quality and risk level of the IP before integrating it into their design. Taking IP quality a step further, TSMC has an IP Validation Center (staffed by 30+ TSMC employees) which audits silicon testchip results. This effort is all about trust and clearly in support of the TSMC credo:
Our mission is to be the trusted technology and capacity provider of the global logic IC industry for years to come.
If you look at the IP usage trends over the last five process nodes (65nm, 40nm, 28nm, 20nm, 16nm) the number of unique IP per tape-out is increasing while the ability to re-use IP across nodes is dropping. And thanks to the ultracompetitive mobile market with new products coming at us everyday, design cycles are incredibly short and complex. Do you really want to spend your precious time and resources qualifying IP? Even worse, do you want to risk integrating one of the many pieces of IP into your SoC that does NOT pass TSMC9000 scrutiny?
The fabless semiconductor ecosystem started with TSMC more than 25 years ago and today it is a force of nature that no one company can control. Hundreds of companies, thousands of products, hundreds of thousands of people, and more than a trillion dollars in yearly investment drive this ecosystem and there is no stopping it, absolutely. You will be able to read more about IP and the fabless ecosystem in the soon to be bestselling book "Fabless: The Transition of the Semiconductor Industry" which can be previewed HERE.
More Articles by Daniel Nenni…..
lang: en_US

Share this post via: