There is an interesting article on Seeking Alpha, "A More Profitable Semiconductor Company Than Intel", and for a change the author does not PRETEND to know semiconductor technology. Refreshing! Personally I think the stock market is a racket where insiders profit at the expense of the masses. But if you are going to gamble you should do as much research as possible so you don't end up on the wrong end of a pump and dump.
INTC was highly successful in capitalizing on the PC revolution showering investors with outsized returns. INTC, teamed up with Microsoft (MSFT) to form the famed Wintel combo that basically owned the PC market, much to shareholders delight. Alas, this is no longer 1998, and a new wave of competitors has emerged knocking INTC of its once mighty perch. The article below, will detail why Taiwan Semiconductor (TSM) is a far better play in the semiconductor space.
I certainly like how this article starts. Intel is in serious trouble and very few financial people seem to really understand it. Unfortunately, comparing Intel and TSMC is like comparing an apple to a grape since TSMC customers (AMD, QCOM, NVDA, etc…) compete with Intel not TSMC. I suggested the author do a similar comparison between Intel and Samsung since Samsung has made it very clear that they will be the #1 semiconductor company in the very near future. Considering what they have done to Apple in the mobile space, my bet is on Samsung.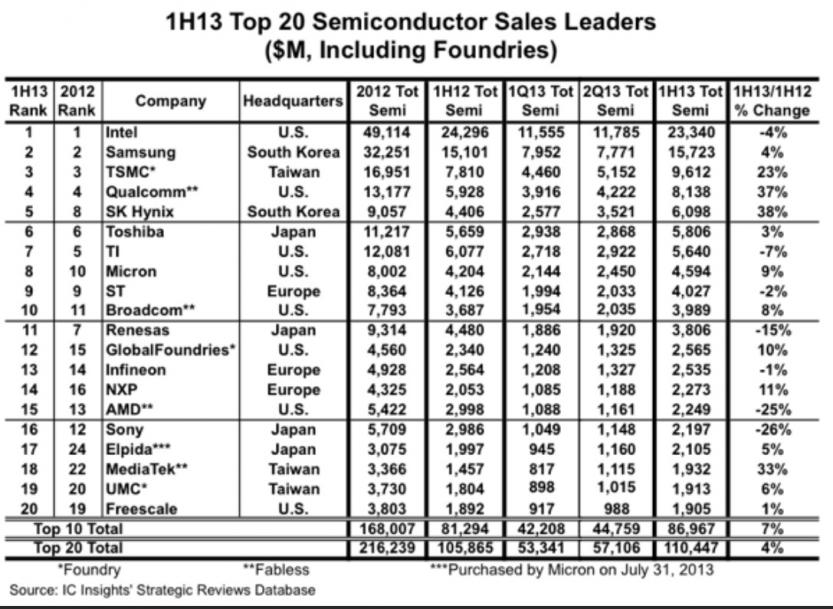 Without a doubt, TSMC created what is today's semiconductor foundry business model. While at Texas Instruments, Morris Chang pioneered the then controversial idea of pricing semiconductors ahead on the cost curve, sacrificing early profits to gain market share to achieve manufacturing yields that would result in greater long-term profits. This pricing model is still the foundation of the fabless semiconductor business model and nobody does this better than TSMC.
Today the fabless semiconductor ecosystem is a force of nature. According to IC Insights' August Update to the 2013 McClean Report, the top 20 is now dominated by foundries, fabless, and fab-lite companies. Intel is down 4% while Qualcomm, MediaTek, and TSMC each scored more than a 20% year-over-year growth. It's all about mobile devices. The writing is on the wall yet the Intel fan club is still calling for $30 per share. My bet would be that INTC and TSM will both be $20 stocks after FY2013 numbers are announced. But then again, I think the stock market is a racket.
lang: en_US

Share this post via: