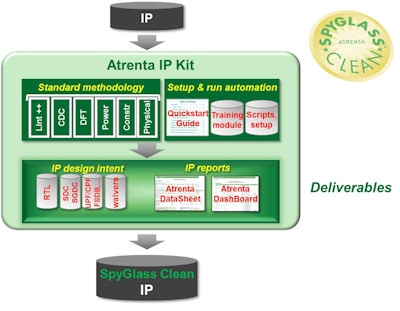 Back in 2011, TSMC announced it was extending its IP Alliance Program to include soft, or synthesizable IP. Around that time it was also announced that Atrenta's SpyGlass platform would be used as the sole analysis tool to verify the completeness and quality of soft IP before being admitted to the program. Since then, the program has grown quite a bit. At present, I believe TSMC is closing in on 20 IP Partners that have qualified for inclusion in the program.
Why would TSMC want to focus on soft IP, and why the love affair with Atrenta? If you dig a little, it all makes sense. The third-party IP content in most chips today is 80 percent or more. The winner is no longer the company with the most novel circuit design, it's the company who picks the best IP and successfully integrates it first. Because of the need for competitive differentiation, soft IP is becoming the preferred technology. You can tweak the content or function of soft IP; it's a lot harder to do that with hard IP.

"Atrenta will be known for its relentless focus to deliver high quality, innovative products that help to enable design of the most advanced electronic products in the world. Our customers routinely benefit from improved quality, predictability and reduced cost. We maximize value for every customer, employee and shareholder."
So TSMC is on to something. Why not close the customer earlier in the design flow? If I have a choice of two foundry vendors, and one tells me about soft IP quality and one doesn't, I know who I'm calling back. In sales terms, TSMC is expanding the reach of their "funnel". So why is SpyGlass the only tool used at the top of that funnel? The aforementioned love affair between TSMC and Atrenta seems to be based on a one-stop shopping approach. TSMC's quality check for its Soft IP Alliance looks at a lot – power, test, routing congestion, timing, potential synthesis issues and more. SpyGlass has been around a long time and covers all of those requirements. The other option is to work with multiple vendors to get the same coverage. It seems to me as long as SpyGlass is giving reliable answers, it will continue to be the sole tool at the gate to the Soft IP Alliance.
This doesn't necessarily say Atrenta has a monopoly on the program. TSMC recently announced an endorsement of OaSys as another tool in the Soft IP program, see TSMC ♥ Oasys. I expect more such announcements. It's a good idea for Soft IP suppliers to have multiple options to help achieve the quality and completeness TSMC is requiring.
If you want to learn more about what TSMC is up to with this program, I'm moderating a Webinar on March 5th that will cover all the details. See Unlocking the Full Potential of Soft IP (Webinar)for more information.
Agenda:
Moderator opening remarks – Daniel Nenni (SemiWiki)
The TSMC Soft IP Alliance Program – structure, goals and results – (Dan Kochpatcharin, TSMC)
Implementing the program with the Atrenta IP Kit – (Mike Gianfagna, Atrenta)
Practical results of program participation – (John Bainbridge, Sonics)
Questions from the audience (10 min)
Anyone who is contemplating the use of soft IP for their next SoC project should attend this webinar, absolutely!

Share this post via: